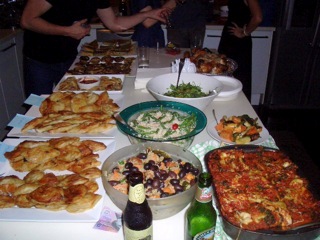 That beautiful selection of food you see here was a sight to behold. Unfortunately we didn't get to enjoy it in its intended environment!!! Let me explain. Our hard working Biteclub secretary Jason, had organised a boat cruise on Sydney's magnificent harbour to celebrate the end of summer. A group of friends, enjoying the last rays of sunshine, eating and drinking together whilst taking in the beautiful sights of Sydney harbour. Unfortunately for him and us, Mother Nature unleashed her anger in the form of a tropical storm one hour before we were due to depart!!! Of all days. Anyway, with a mountain of food we made our way to his cool inner city premises to enjoy our "Clayton's" cruise.
There was food everywhere!!! Pea and Pancetta Tart, herbed ricoota fritters, roast chicken with stuffing, home made vegetarian lasagna, Maltese pastizzi, Jason's home made sausage rolls…the list was endless. Party food at its best!!! It was good to see everyone had made an effort. We feasted and drank and danced to some old LP's Jason had from his teen years. Who needs the SS Minnow now?
A variety of cous cous salads and Michael's home made veggie lasagna. It was all perfect and we need that recipe Michael.
Myself and Maria on the left. Nessy and Ryan on the right.
Jason, our Biteclub Secretary and boat cruise organiser, is in the orange, on the left with Lisa and Hilbert. Sal, on the right with Katie and Juliet.
And finally the desserts came out. A beautiful selection of Italian and Greek cakes. Arthur and Ryan had also made their famous Peach and Raspberry Tart. A fun night indeed and we were quite full by the end of it. All that food and dancing. I also wanted to say thank you to Jason again for going to all the effort of organising this event. It might not have gone the way we intended it to but we certainly made it up for it other ways. Thanks again Jason.
Pete