As you may have read previously, Thai food is an absolute favourite of mine. It's a cuisine which manages to blend all senses of the food spectrum and make it succeed. Having been spoilt over the years with my many trips to Bangkok, I held a particular snobbery to Thai food here in Australia. I always found the local Aussie version of Thai food to be too sweet and devoid of any character. Well wouldn't you know it. I discovered a place recently that transports me to Bangkok with every morsel off the menu.
Located in the CBD end of Surry Hills is SPICE I AM. (Don't you just love that play on words!!!). It's a smallish place and it has received rave reviews here in Sydney for its original presentation of Thai cuisine. Sujet and his very capable team pack them in every night. Start queing at 6 pm if you want to be sure of a seat. None of the dishes disappoint. All the favourites are there including a number of specials every night. Join me on another photo journey of beautifully created food.
Crispy spring roll pastry encasing a medley of vegetables. All perfectly cooked. served with a sweet Chilli dipping sauce.
My absolute favourite dish ever. Thai style fried rice. I had mine with beef. This dish is a staple of mine in Thailand. Presented with freshly cut limes and cooling cucumbers, I also add lashing of fish sauce with chilli or Prik Nam Plah as its known in Thailand.
When I saw the Som Tum on the menu I was nearly emotional. This is another classic Thai food found almost anywhere. Grated green papaya mixed with peanuts, tomatoes, chillis, lime juice, dried shrimp and fish sauce. It was true to its origins and tasted exactly like the one in Bangkok. Mmmmm….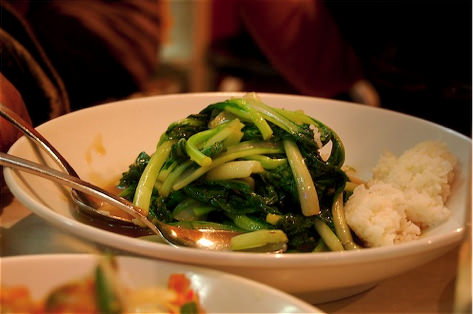 Baby Kai lan with oyster sauce
In order to balance out our eating we also ordered the baby Kai lan stirfried with oyster sauce, chilli and garlic.
A Thai inspired dish of stir fried prawns with garlic and chilli. Spicy and mooreish. It was ravenously consumed. This was a featured special that evening.
Another avourite. Chicken stirfried with basil and chilli. Succulent, moist, sweet, pungent, sour..all the senses were being awakened. Man this stuff is good. All our dishes were accompanied with steamed Jasmine rice.
I just had to feature my favourite Thai condiment. This stuff goes on just about most things I eat with Thai food. I love it. I love the way its presented here at Spice I am.

If you live in Sydney or if you plan on visiting here do yourself a favour and check it out. The best Thai food ever. Ever.
SPICE I AM
90 Wentworth Avenue
Surry Hills
Sydney 2010