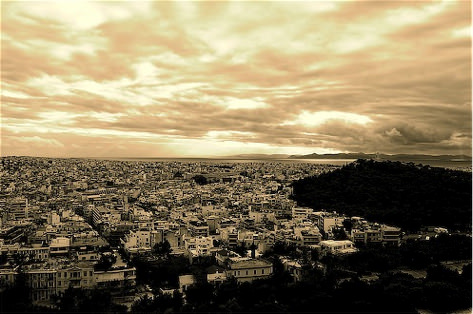 The city of Athens…viewed from one side of the Acropolis
Finally after nearly four weeks of holidays I have returned back to Australia. And I'm tired, both physically and emotionally. I had returned back to my parents' homeland after an absence of nearly 30 years. I took about one thousand photos and I have tried to cull this down to give you a good indication of what I got up to when I was away. Of course I also want to show off my photography skills!!! So, enjoy the view and have a laugh at my adventures.
My first stop in Greece was Athens. It had taken me nearly 40 hours to get here. I discovered a city filled with cars, smog, scooters and humidity. The traffic was noisy and my cab driver abused everyone as we zoomed through automobile mayhem. It was only 3 pm and this city was pumping. It was a lot to take in and as an experienced traveller I could feel the onset of culture shock. People often laugh as I explain this. It doesn't matter how worldly you are, it can still happen. I had a lot of nervous excitement about this journey and it had been building up for a while.
After a decent rest I managed to get a few good days here in Athens. It's an an interesting city. Its over populated and very crowded in my opinion. It's best described as organised chaos. Its comparable to some other European cities as in life is very fast paced here. No matter which way I say this it will come across as nasty but I can assure you its not. It's a jungle. You have to be tough here or you will get chewed up and spat out. Before I say anything nice, I have to warn anyone who is planning a holiday there. BE CAREFUL OF THE TAXI DRIVERS!!!!! They will attempt to rip you off at every opportunity. ( That's if they take you as a passenger in the first place…lol.). I had three incidents with these scum and I was lucky that I spoke the language. Always ask for a printed electronic receipt and never allow the cab driver to force you to share a taxi with a stranger (this happens a lot!).
Besides nasty cab drivers the shopping here is quite good. Some local brands compete with the usual clothing suspects. Eating is also good and you can eat cheap and tasty souvlaki for about 8 euro in a "cheap eat" style restaurant. (I'll save the food pics for a few posts time). The thing that amazes me about Athens is how the Ancient ruins stand side by side with modern urban existence. I mean people have houses right under the Acropolis!!!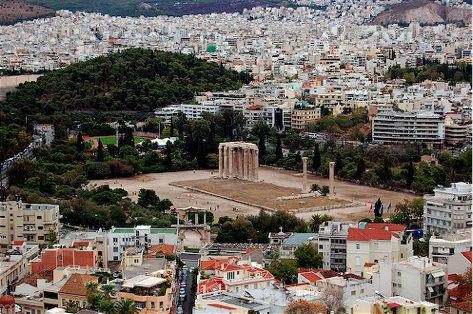 Another view of Athens…with ruins of course!
I quite liked "Monastiraki" and "Glyfada". These areas have great food and entertaining options and are very tourist friendly without being overly cheesy i.e. no "Zorba" music playing in the background. The "Plaka" area and "Syntagma" are also fantastic to visit. The Plaka has pricey cafes and bric a brac shops selling all sorts of Greek goodies, from wine to cheesecloths. It's located right under the Acropolis so it attracts many visitors, especially in the evenings. "Syntagma" is a central square where Greek Parliament resides. Here you'll find some great shops also. There are also many hotels in this area of Athens.
One fascinating feature of Greek Parliament (politics is lived and breathed in Greece and is almost religious) is the giant marble plaque that stands as a tribute to the "unknown soldier". This plaque is representative of all soldiers who have died in war. It's also guarded by two soldiers wearing traditional Greek headress. They stand silently guarding the plaque and Parliamentt House staring into the distance. They do this for 6 hours straight and every 15 mins change over sides. It's a big process with great pomp and ceremony and lots of saluting. Naturally there are people clicking away furiously (yours included in this).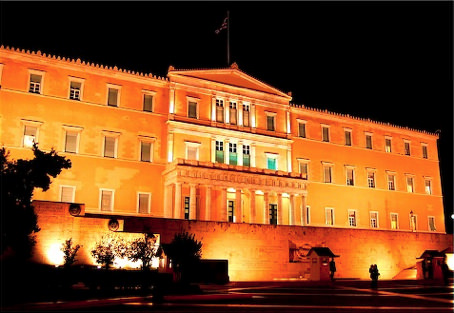 Greek Parliament House aka "Syntagma"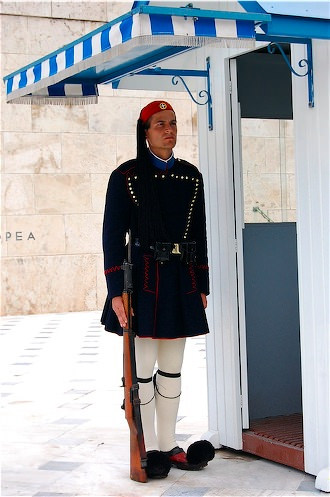 Soldiers in traditional dress guarding Parliament House..standing silently
Tomorrow: The Acropolis