Continuing in my (delayed…sorry!) Greece series of recent adventures, I made my way to the port city of Nafplio. What a delightful change from the hustle and bustle of Athens. It was October and the weather was hovering around the mid 20's mark. It was so "summery" and I could just imagine how busy this place would be in the bustling summer months. It serves tourists very well and there are a lot of ancient areas nearby that can easily be explored. Nafplio is located on the Argolic Coast, Northeast in the Peloponnese, one and a half hours south of Athens. The "older" part of the city, is situated on top of a peninsula, which faces the gulf.
As with most parts of Greece, there is a lot of history here. Both ancient and modern. The city once served as the capital of Greece and was once considered to be part of the Ottoman Empire stronghold. There is a famous castle/fortress that overlooks this beautiful city, where many prisoners of the Greek war of independence were held. As I made my way up the castle I could see the emerging areas of the gulf and the whole city below me. Just amazing! I also had a chance to wander the many small streets, where rooms are offered for rent to tourists and restaurants prepare for the days trading.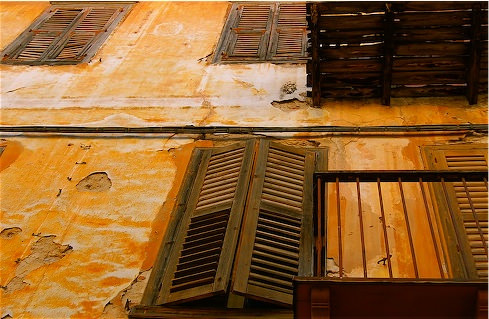 Shutter windows and balconies of the many apartments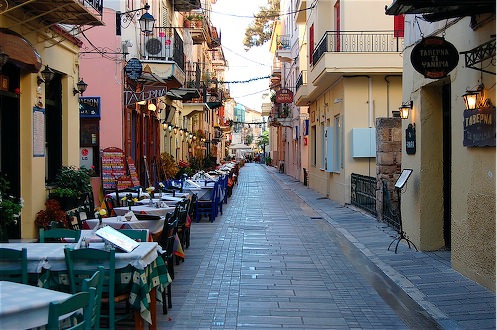 Cute streets with plenty of dining options
I also relished at the opportunity to visit the ancient city of "Epidavros" or Epidauras, located about a half hour's drive away. More history surrounds this area and I am constantly amazed at how much history there actually is in Greece and the attempts to preserve it, by the government. The famous landmark here at Epidavros is the amphitheatre. Used as a source of entertainment in old times, concerts are still performed here in the summertime. The thing that stands out here are the acoustics. It's been said and also documented through various modern trials that you can hear the strike of a match all the way up at the top of the theatre' seats. It was also good to read while I was here, that this area of Epidavros had been listed as a UNESCO World Heritage Site. There is also lots of restoration work going on as a means of maintaining the local history.