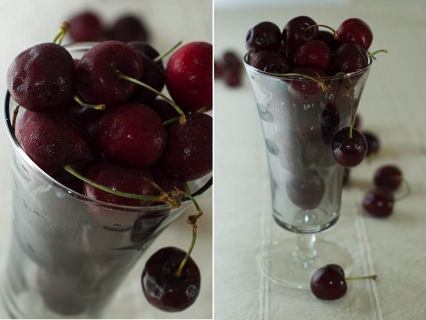 Cherries are abundant this time of the year
Hope everyone had a few busy days. I did. I had problems with my blog and couldn't get out my Xmas wishes to everyone. That's modern technology for ya. Anyway, it's all been sorted out and I can write about one of my favourite fruits. Cherries. They are everywhere this time of the year here in Australia. Juicy, dark red and full of flavoursome goodness. It's funny because as a child I had never tried one of these beauties fresh. They were either "glace" in some hideous dessert or deep in maraschino liquer. The first time I tried one I was hooked. I served them the other day as a sweet treat after lunch. Simply dipped in a good couverture dark chocolate and cooled in the fridge. Better than strawberries any day.
I had a few spare after Xmas lunch the other day and was wandering how to use them. I scanned my trusty cookbook collection and found a recipe for poached cherries. Very easy and delicious. It's basically 500g of cherries with their stones removed, 1/2 a cup of sugar, the juice of one lemon and a dash of your favourite liquer or port all left to simmer on a low heat in sauce pan for 10 mins. This allows the cherries to soften and release all their wonderful juices. Once the poached cherries had cooled, I put the next part of my plan into action. I grabbed some left over Pandoro (that famous Italian xmas cake) and sliced it thickly. I then toasted it and placed the poached cherries on top. The final touch was to use some left over mascarpone. A good dollop of that and I had a quick and easy dessert.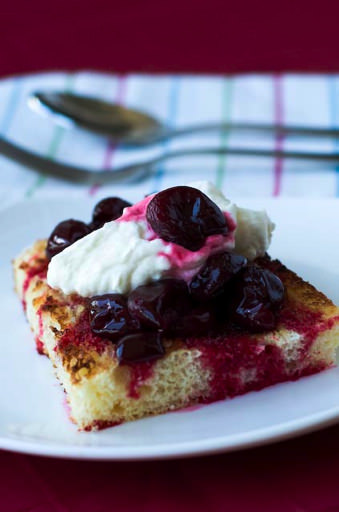 Try this…you won't be disappointed
This was a real winner and a perfect way to use up leftovers. By the way, best wishes to all this holiday season.
Pete