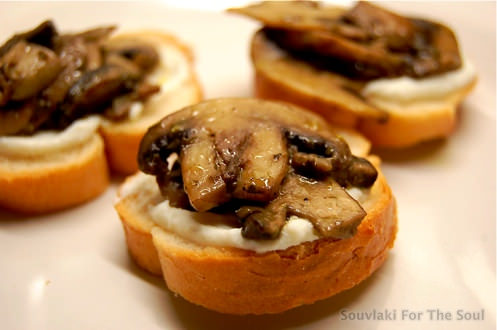 Mushroom on Crostini with Ricotta
Continuing in my series of Xmas party foods, I present another simple, delicate creation. Mushrooms on crostini with ricotta. Crostini are basically pieces of sliced bread that have been toasted. You can use a baguette to do this and each piece is perfect for your guests to pick up with their fingers. You can also get creative with the toppings. Just be mindful about flavours and not sticking too many items on the toasts.
I use sourdough for my crostini because I love the flavour of that bread. For the mushrooms I make a basil paste in the food processor by whizzing up a bunch of basil leaves with some olive oil and a little garlic. The mushrooms I use are a combination of swiss brown,button and shitake. I fry them in a mixture of olive oil and butter and add the basil paste at the end. The mushrooms take on a different character once they have been married with the basil paste. They get all glossy, shiny and sexy! And you should smell them! The basil does wonders. For the ricotta, I simply squeeze a little lemon juice with salt and pepper to taste. I give it a good stir and let it rest in the fridge.
It's great when you serve the crostini because you can make them earlier and then top them with your favourite ingredients at the last moment. Voila! Instant party food.
Heres the recipe and instructions. (play around with the amounts to your liking. You may want less basil and more mushrooms etc…)
CROSTINI
Slice up a sourdough baguette. Each slice should be about 2cm. Place them on an oven tray and spray them using an olive oil spray. Bake them in a 180 deg C preheated oven for about 5-7 mins. Once they have toasted take them out and let them cool. Once cooled you can store them in an airtight container for later use.
MUSHROOMS
Slice up one kilo of your favourite mushroom combination. Remember they do shrink when cooked so always buy more than you think. Fry them in a combination of olive oil and butter. At the last moment toss through some basil paste (basil, olive oil and garlic whizzed in a food processor). Once the mixture has cooled you can store it in a container in your fridge.
RICOTTA
Simply squeeze some lemon juice into some fresh ricotta. Add salt and pepper to taste.
When you're constructing these for your guests make sure you're organised. Have your oven heating at 180-200 deg C. Pop the desired amount of crostini in and warm them up a little. This will ensure you bring back some life into them! Zap (yes zap!) your mushroom mixture in a microwave oven for about 45 secs to 1 min. Once they have warmed through a little they're ready. Take your crostini and dollop some ricotta over it. Top with some mushrooms and serve immediately.