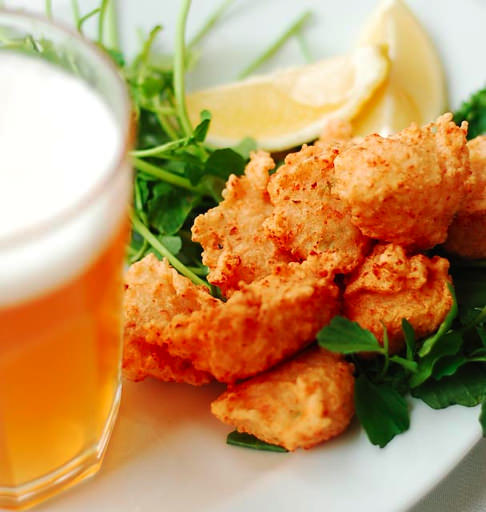 Fried prawn cakes…on a bed of watercress. Served with a glass of cold beer.
Before this turns out to be a blog about the weather, let me just clarify about the kind of weather we have here in Sydney during the summer months. Whilst we can have traditional "hot" days, with blazing sunshine and high temperatures we also experience sub tropical weather. Think sticky, humid and thunderstorms. Its quite unique and something I still cant bear. I find myself showering three times a day during the humid months. But I digress… I wanted to showcase some more summer recipes. Primarily, food that you can enjoy with a glass of cold beer. Admittedly you will be frying these lovely morsels but I promise it won't be too long.
I found a recipe for fried prawn cakes made by the domestic goddess herself. They're very easy, very simple and you won't be able to stop at just one. They have a bit of a Spanish influence with the addition of sherry but you could easily "Thai" them up! (We'll get to that in a second). I have to admit to two things here. Firstly, I'm not a big fan of Nigella but these looked too good to pass up. And the recipe turned out quite nicely. Secondly, I'm not a big fan of deep frying. I have no patience waiting for the oil to get to the perfect frying temperature. But I am learning as I go along. I wait for the oil to heat up on a medium temperature and that way it ensures everything is cooked evenly and not too quickly. Once they're cooked enjoy them with a glass of your favourite cold brew. Perfect tropical eating…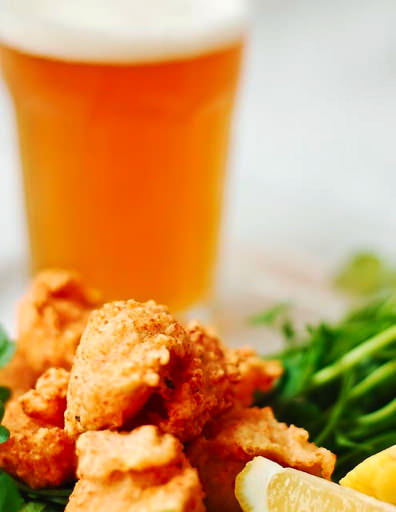 FRIED PRAWN CAKES RECIPE (Adapted from Nigella Lawson's "How to eat")
500 g of shelled, cleaned and deveined prawns finely chopped (that's shrimp to our North American cousins)
2 garlic cloves finely minced
4 spring onions finely chopped
1 tsp of dried chili flakes
salt and pepper to taste
50 ml of sherry
120g of plain flour
sunflower oil for frying
Mix all the ingredients together with enough water to make a batter. Look to make a "thickish" batter. Let it stand for a few hours covered with plastic wrap. Once your oil has come to a nice cooking temperature, drop teaspoonfuls of the batter into the oil and fry evenly. Drain the cakes on a paper towel. Serve sprinkled with sea salt and lemon wedges. Aioli would also work well as a dipping sauce for the prawn cakes.
You may also want to make a Thai version of these as well. I thought about his after I had made them. Perhaps substituting the sherry for fish sauce and adding some coriander, lime juice and a small portion of palm sugar. Its fun to play around with food ideas isn't it? Now where's that beer?..