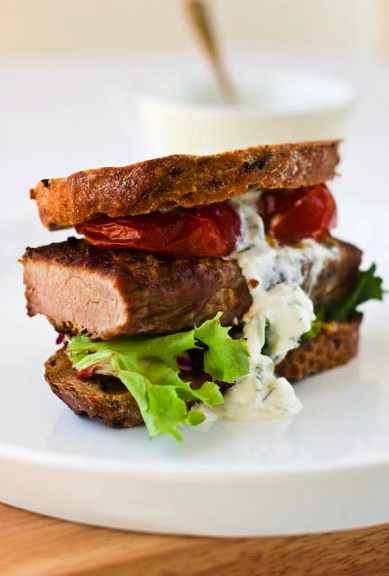 Woah! The tzatziki recipe I posted the other day certainly had a lot of "passionate" responses. It was good to see.

Everyone loves their food and has a particular way of preparing tzatziki. I learnt a few things myself and this is why I love blogging. You can really learn a lot.

Peter kindly pointed out to me that I forgot to salt the grated cucumbers. Its a good step to remember as the salt helps to draw out the extra moisture. Thanks Peter.

Ivy pointed out that you could try tzatziki mixed with mustard. I'd never heard of that and I was quite interested to know more.

Jenn noted that it tastes great with low fat yogurt, but it should be the FAGE brand. I know that brand but I haven't seen it here in Australia. That yogurt is delicious and the low fat one is pretty thick.

Thank you to everyone who responded with such kind suggestions.
My post today will cover another way to use tzatziki.
In a hearty steak sandwich.
It basically utilises some of the ingredients that I prepared in my antipasto. I had some leftover roasted tomatoes, tzatziki and olive ciabatta bread. I wanted to play around in the kitchen and see how far I could stretch these ingredients. Then I thought about making a steak sandwich and using the tzatziki as my sauce.
It was hearty and very filling. It's a real no brainer and very simple to prepare.
I used a thick (quite thick actually!) piece of lamb fillet that I marinated in some olive oil, oregano, salt and pepper. I then seared it in a "chargrill pan" (one with ridges in it) for about 5 mins and then cooked it in the oven for about 10. I let it rest and then made my sandwich with the other ingredients, which included some beautiful organic salad leaves and roasted amoroso tomatoes.
The only thing I think this sandwich could have benefited from is some fried onions. Overall I was very impressed and it was a good way to use the leftover tzatziki.
Happy eating everyone!