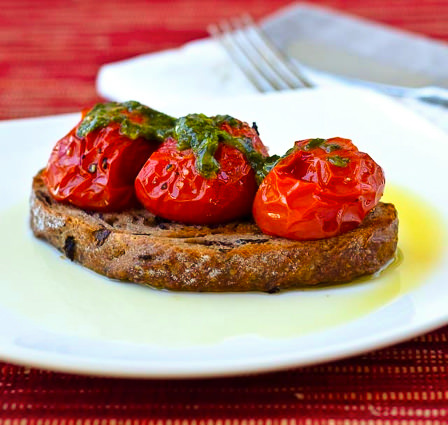 Continuing on from our Summer Antipasto I wanted to highlight some of the options individually and how you can utilise them as other dishes. Take for example our roasted amoroso tomatoes and olive ciabatta bread. These two items are another one of those relationships that were destined to be together. I mean how could they fail. The tomatoes are so juicy and sweet this time of the year. Ripe and ready! None of those floury varieties those multi chains like to push on us.
I had visited my local bakery in the morning and he had some wonderful ciabatta bread made with the addition of olives. My mind went into overdrive as I thought of the endless possibilities that could be achieved with this bread. I simply sliced it and drizzled some more of that lovely extra virgin olive oil (I can't help it..its addictive!). I then "toasted" it , by placing in one of those groovy pans that have ridges. I made sure it was hot before I put the bread in and I "toasted" each side for about 2 mins. Now its very easy to construct. Put the tomatoes on top of the freshly "toasted" bread and drizzle some basil paste. For the final touch drizzle some more olive oil around the plate. How easy is that for a starter. Summer or not!
Roasted Amoroso Tomatoes on Olive Ciabatta Bread
Ingredients
6 medium tomatoes (pick your favourite-heirloom, Amoroso, Roma etc…)
Good quality bread such as ciabatta, olive bread, focaccia etc..
Extra virgin olive oil
sea salt and black pepper
basil paste or pesto (optional)
Instructions
Pre heat your oven to 200 deg C
Rinse the tomatoes and pat dry.
Drizzle with some olive oil and season to taste
Cook for approximately half an hour until the tomatoes have just cooked through and wilted. they should display a little "charring" on the top and around the edges.
Leave to cool before serving and top with basil pesto if using.
Preparation time: 10 minute(s)
Cooking time: 30 minute(s)
Number of servings (yield): 3
5 :  ★★★★★ 1 review(s)