Its that time of the year again. Its approaching Valentines Day. You know you want to impress your loved one. Instead of going out for dinner and paying the over exorbitant prices they charge for that one day of the year, stay at home and cook something sensual. Before I proceed, I know there's a lot of folks out there who don't buy into the commercialism of celebrating Valentines Day. That's fine and I respect that. I just think its a good excuse to get cooking. (What else?). That's why I plan on highlighting a few recipes over the next few days that you may wish to cook and impress your loved one. Simple recipes. Ones that will leave you time for other things later….
Pana Cotta is that beautiful dessert hailing form Italy. I immediately fell in love with it the first time I tried it many years ago. It has a soft, gelatinous texture. Almost silk like. Panacotta literally means cooked cream. I thought I could "spice" up the original with some rosewater. The perfect romantic ingredient. Rosewater is a liquid used primarily in the Middle East. Its mostly used in sweets and I remember my mother dousing "kourabiethes" (the shortbread almond biscuits covered in icing sugar) with them once the biscuits had come out of the oven. The aroma is so hypnotising. And its even more magical when added to the cream. I was actually afraid to make this because I was scared of the gelatine. But it all worked out in the end.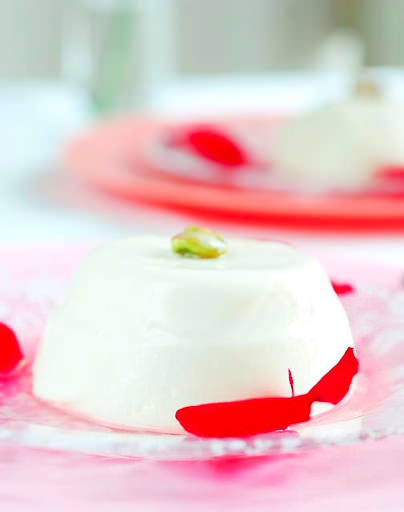 ROSEWATER PANACOTTA
This recipe will make about six. Perfect you can always have seconds!
500 ml of pouring cream
one tsp of vanilla extract
100 grams of caster sugar
2 tbsp of rosewater
one 10 gram sachet of gelatine
Simply place the cream, sugar, vanilla and rosewater in a saucepan and heat gently until the sugar has dissolved. Do not allow it to boil. In another saucepan heat up 125ml of water. Once this has boiled take it off the heat and add the gelatine. Whisk it briskly to dissolve the gelatine completely. Add the gelatine mixture to the cooked cream and stir thoroughly. Place this mixture into pre oiled panacotta moulds. Allow it to cool and then let the panacotta set in the fridge for a minimum of four hours or overnight. Top with toasted pistachios and drizzle with rosewater syrup. Garnish with rose petals.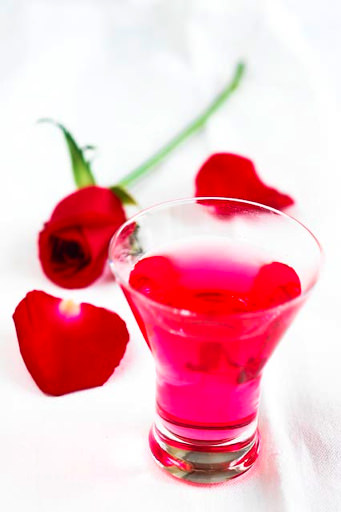 Rose water syrup…perfect for the panacotta.
ROSE WATER SYRUP
one cup of water
one cup of castor sugar
2 tbsps of rose water
A drop or two of red or pink food colouring.
Pace all the ingredients in a saucepan over a low heat. Once the sugar has dissolved increase the temperature and let it boil for 5 mins. Remove it from the heat and let it cool. Use it to drizzle over the panacotta.