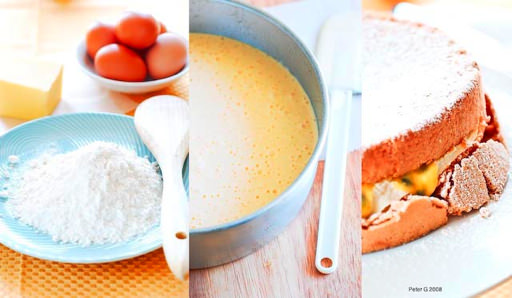 The ingredients…the batter…the finished sponge
I promised I would use the passionfruit curd I made recently in another dish. After racking my brains out I decided to challenge myself by making a sponge cake. And a challenge it certainly was. Making this was almost like following a carefully guarded experiment. All the elements need to work together harmoniously otherwise it can be quite disastrous. Everyone has a "secret" or "hint" that makes a sponge cake so light and airy. Mine turned out fine, however it did crack slightly. It adds to to the "home madeness" I suppose. Once the cake had been cooked and it had cooled I cut it in half and filled it with freshly whipped cream and that delightful passionfruit curd. It was light and every bite had cream and curd in it. The final touch was to dust the sponge cake with some icing sugar.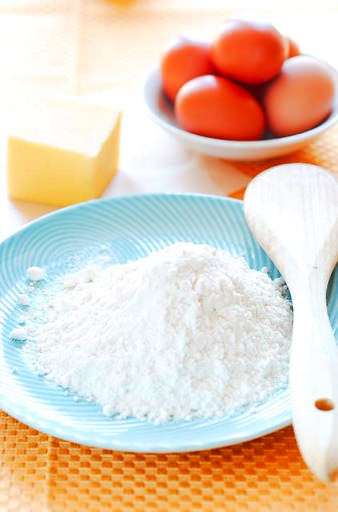 TIPS AND TRICKS FOR THE PERFECT SPONGE

Make sure you eggs are at room temperature
The flours need to be sifted at least three times! Well I cheated on this step and bought triple sifted flour
Folding the flours into the batter requires the use of a large metal spoon.
No overbeating
Patience…especially about opening the oven door to "check". This was hard for me!

SPONGE CAKE RECIPE
This comes with a pre warning. Just remember that every bit of this recipe was followed and tested however bear in mind that every oven has its own personality!
1/3 cup (50g) cornflour
1/3 cup (50g) plain flour
1/3 cup (50g) self-raising flour
4 x 60g eggs, at room temperature
2/3 cup (150g) caster sugar
Grease a 20cm cake tin with real butter. Line the bottom of it with some baking paper.
Preheat your oven to 180 deg C
Beat the eggs and caster sugar using a mixer. Beat them until they triple in volume. We are after thick and pale looking mixture at this point.
Take a large metal spoon and gradually mix in the pre sifted flours.
Mix the flours until just combined.
Place batter in cake tin and place it in the oven.
Leave for 20-30 mins depending on your ovens personality.
The cake will be ready when it has shrunk away from the sides, a skewer inserted comes out clean and it springs back when touched on top.
Leave the cake to cool in the tin for about 5 mins and then turn it out on a wire rack to cool.
Once cake has cooled slice it in half and fill with whipped cream and the delightful passionfruit curd.
Dust with icing sugar.
Enjoy!