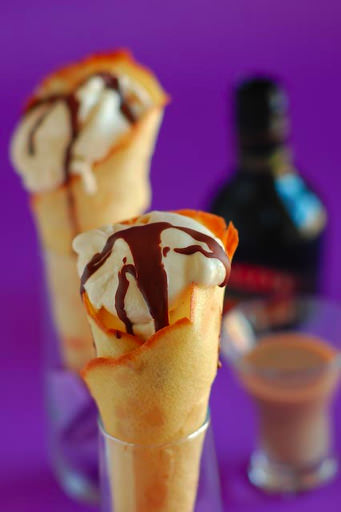 When Emiline decided to hold a blogging event to celebrate St Patrick's Day she decided to go "all the way" by hosting a pub crawl! What a great idea! And she's also offering a whole swag of prizes for the event. So get yourself on over there and submit your entries. You have until Monday the 17th to participate.
Since this is for St Paddys Day I couldn't think of anything more Irish than Baileys Irish Cream. This great tasting liquer is a mixture of Irish whiskey and cream and is often served in a number of cocktails or for an after dinner drink, usually with ice. I've seen a lot of sweet recipes that use this product and rightly so. With its caramel after taste it works like magic on the taste buds. I decided to blend mine with ice cream and serve it with a home made sugar cone. Or should I say an almond tuile. I must admit, I didn't make the ice cream. As in, I bought a good quality vanilla ice cream and blended it with the Baileys and refroze it. If I had a fancy ice cream maker I would certainly give it a go as I found the Baileys to marry really well with the ice cream. I made the cones following a recipe from an old cooking magazine and the final touch was to drizzle it all with a good melted couverture chocolate. Maybe we could enjoy this treat at the end of our pub crawl. What do you reckon?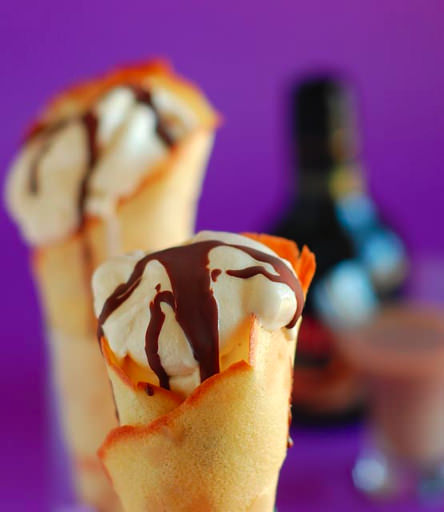 BAILEYS IRISH CREAM ICE CREAM RECIPE
For the ice cream:
Half a tub of a good, premium Vanilla ice cream
Half a cup of Baileys Irish Cream
Blend the above ingredients thoroughly. Be wary of adding too much liquer as tempting it may be! We want a nice taste not an overpowering one! Refreeze the mixture and use it the next day.
For the almond tuiles:
2 egg whites
1/3 cup (75g) caster sugar
1/3 cup (50g) plain flour, sifted
50g unsalted butter, melted, cooled
2/3 cup (50g) flaked almonds
Preheat your oven to 200 deg C. In a bowl combine the egg whites and sugar. Mix in the flour and the cooled, melted butter. Stir through the flaked almonds. Once the batter has been incorporated thoroughly, scoop 2 tablespoons of the batter onto a pre lined (with baking paper) flat baking tray. Swirl it around with the back of a spoon till you get a largish circle. Place it in the oven for 7 mins. You may need a minute or two less depending on your oven's persona. Now, the tricky part. Let them cool for one minute (yes time it!). Using a flat spatula lift the "biscuit" from the tray and shape it into a cone. They are quite pliable when they're hot so move quickly. I rested mine in champagne flutes to let them cool down and achieve their cone shape. Repeat with the rest of the batter. The recipe should yield about four cones. If you find they lose their cone shape as you make them, pop them back into the oven for about a minute to reheat and rework them into their cone shape.
Scoop the Baileys ice cream onto the cones (that have cooled) and drizzle with a good quality melted couverture chocolate. Serve with extra Baileys if you like! Cheers Emiline!