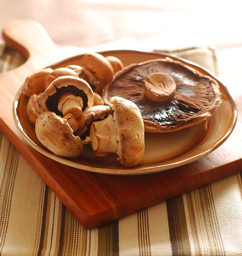 Mushrooms have often been labelled as "meat for vegetarians". They do tend to have a "meaty" like texture and they are another versatile ingredient that can be enjoyed either hot or cold. When I was at the local markets the other day, I saw a whole variety on display. I picked up a some swiss browns, the good ol' button variety and the very large portabello. I couldn't decide how I wanted to "play" with them but in the end decided to use them in an open tart or pie…whatever you want to call it!
The recipe is really easy and its my fool proof way to even out the earthy flavour of the mushrooms. In a large pan I melted some good Danish "Lurpak" brand Butter with a splash of olive oil and fried off some eschallots till they became translucent. I added my wiped clean, sliced mushrooms (don't wash them…they'll absorb all the water!). I added some Maldon sea salt and freshly ground pepper. I poured in half a cup of leftover Sauvignon Blanc and let the mixture cook off till about half the liquid had evaporated. I then added some basil paste, which is basically some fresh basil leaves, garlic and olive oil whizzed in a food processor. The final touch was adding some fresh cream. I waited till the mixture became thick and the kitchen had become aromatic. I took it off the heat and let it cool slightly.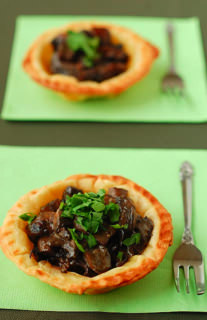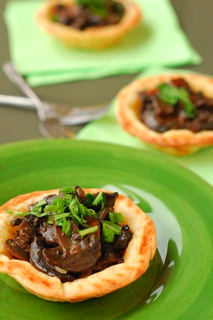 Mushroom Tarts with freshly chopped arugula as a garnish
For the tart cases I admit I cheated. Well sort of. I purchased some ready made short crust pastry because basically I find making pastries a tricky hit and miss kind of thing. Don't get me wrong, I've done it before but I always find an element missing or not quite right with the final result. I have these medium sized tart pans that I used in this instance. I cut some circles out of my ready pastry and lined them up in the tart pans. I covered the tart pans with baking paper and filled them with uncooked rice. I blind baked them for 12 mins and then removed the rice and put them back in the oven for another 8. (The oven was pre heated to 180 deg C). Once they were cooked I let them cool down before filling them with my mushroom mixture. The final touch was to add some chopped arugula as a garnish. The arugula was perfect as it provided that really nice pepperiness on top. I gotta say, so far I'm enjoying autumn!