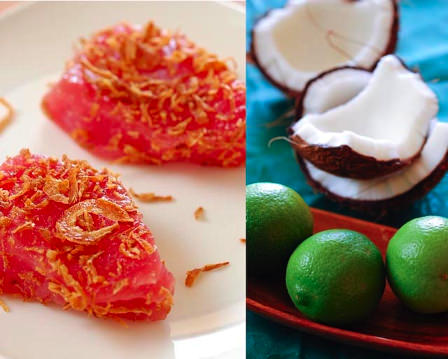 Fried eschallot encrusted tuna with limes and coconut..the Joust ingredients
It's that time of the month again. The Royal Foodie Joust is being held over at Jenn's. Well ok, it runs for the whole month but its time for me to enter my recipe for the competition. Val, who won last months competition chose seafood, lemons or limes and coconut. As per usual, I had a whole heap of things I wanted to make and "ummed and aahed" until I decided to try something a little different. I'm doing a tuna carpaccio. Carpaccio traditionally uses beef as the protein. It's finely sliced (shaved?) and dressed with extra virgin olive oil, balsamic vinegar and parmesan. Recently I've seen tuna used in carpaccios but always done with Italian ingredients. By using the RFJ's ingredients I could play with the whole carpaccio concept by adding an Asian twist to it. The Asian ingredients lie somewhere between Thailand and Vietnam. I wanted to use sashimi but I wasn't game to get up at 5 am and brave the Sydney Seafood Markets!
Instead, I bought small fresh tuna steaks from my local Greek fishmonger, Nick (there's always called Nick!). Before i sliced them I rolled them in fried eschallots and this provided a nice crust for the tuna. I wanted to use toasted sesame seeds but I had run out! No problem. It's all about being creative and thats why I like the Royal Foodie Joust. I dressed the thinly sliced tuna in a coconut vinaigrette. I made the dressing using a splash of olive oil, a small knob of grated ginger, a finely diced chilli, a teaspoon of palm sugar, fish sauce , soy sauce, the juice of half a lime, a tablespoon of coconut cream and some of the coconut water from my freshly cracked coconut. Phew! It sounds very complex but really its very complementary to the tuna. Its fresh, tangy and the coconut cream adds a subtle richness. The final touch was to garnish each tuna slice with a fresh mint leave and some finely sliced chilli. Hope you enjoy and good luck to everyone!