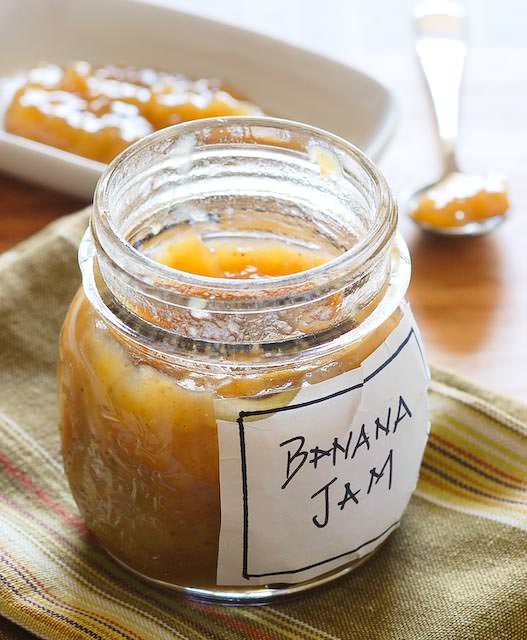 Pixie from "You Say Tomatoh, I Say Tomayto" and Rosie from "Rosie Bakes, A Peace Of Cake" are holding a food blogging event titled "Putting Up". These lovely lasses are asking for us to submit recipes relating to home made preserves, jams, jellies, curds, butters etc…
I recently had the pleasure of making my first curd using passionfruit. It was received with wonderful success and I enjoyed using it in a variety of sweet dishes.
For this event I wanted to try something a little different. I searched long and hard and found a wonderful recipe from fellow Australian blogger Matt who writes a blog called Abstract Gourmet. He featured a wonderful jam made with bananas and I thought "Yes!".
First off, let me say that I was worried about sterilising the jar and lid. In the end it was quite easy, actually. I boiled them and once the water had drained I filled them with my banana jam mixture. Also, make sure you use a non reactive pot, like stainless steel when making the jam.
This jam is absolutely delicious and very addictive. I made one batch and plan on a few more with some slight variations. Its wonderful over buttered hot toast and I think it would work well with scones.
Make sure your bananas are quite ripe as their flavour will be stronger and the jam will be more pungent.
The recipe has cinnamon added to it and I also used some vanilla bean to further enhance the flavour.
RECIPE FOR BANANA JAM
4-5 medium to large ripe bananas
juice of one lime
1 1/2 cup of castor sugar
1 cup of water
1 tsp of ground cinnamon
1/4 of a vanilla bean
Chop up your bananas in small chunky pieces and place in a bowl with the lime juice.
Bring the sugar and water to a boil over a medium heat.
Once the sugar syrup is bubbling away, lower the heat, add the chopped bananas and stir everything up.
Add the cinnamon and vanilla bean.
Keep stirring to make sure things don't get too sticky!
Keep an eye on things, (constantly stirring) for about half an hour.
The jam is ready when it coats the back of a wooden spoon and it sticks well.
Store in a sterilised jar.
(this recipe makes one medium sized jar…remember, there's only one of me ;()
I plan on making more of this jam but varying some of the ingredients. I think I will try it with some brown sugar, coconut maybe even some rum!
PS Pixie also tagged me for the 6 word memoir. I'll do that in my next post in the next few days.