Some of the ingredients for the recipe
Ben over at Whats Cooking is holding another food for plastic challenge this month. This is a fun event that also offers great prizes. You can't beat that can you? This month's challenge focuses on cooking something that you loved from your childhood or something that kids love. And because April is kids month, Tupperware (who are supplying the gift) are donating $1 of every sale to the boys and girls clubs of America (the bgca). A great cause!
I thought about cooking something that I loved from my childhood but there were so many choices! Instead, I opted to make something sweet that I have served for my friends' kids and make it often with great success. Honey and oat cranberry bites. The beauty of this sweet treat is that adults can enjoy it too. It has oats, honey, dried cranberries and the final touch is drizzled white chocolate! A nice little decadent touch.
RECIPE FOR HONEY AND OAT CRANBERRY BITES
250 g of unsalted butter, cut into small cubes
2/3 cup of honey
1/2 cup of brown sugar, tightly packed
3 cups of rolled oats
3/4 cup of triple sifted plain flour
1 cup of dried cranberries
100 g of white couverture chocolate , roughly chopped
Grease a 9 inch square baking pan and line with baking paper. Preheat the oven to 170 deg C.
Place the butter, honey and brown sugar in a small pan and melt gently till it all starts to foam.
In a separate bowl, stir together the oats, flour and cranberries. Add the melted butter mixture and combine thoroughly.
Press the mixture into the lined baking pan, like in the second photo above.
Bake in the oven for 30 mins.
Let it cool and cut into small squares.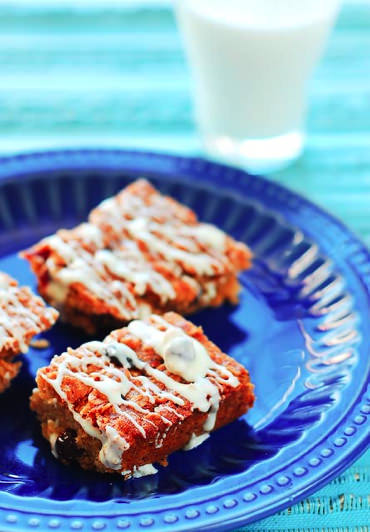 Serve with a glass of milk for a great snack
When melting the chocolate for drizzling, you may choose to use the "double boiler" method (place chocolate in a heatproof bowl on top of simmering pot of water) or use the microwave. I prefer the microwave. Just be sure to melt it in 30 second intervals on the HIGH setting. Once melted drizzle the white chocolate over the squares, using a piece of baking paper as the base to catch the leftover melted chocolate bits.
These will store in an airtight container for about 5 days.