I always keep frozen veggies on hand. They come in very handy when a quick meal is needed and can rescue a dull meal. My "always on" stand by frozen vegetables are peas. They're great for a quick pea mash to accompany a roast or grilled meat and I love their use in pasta. They're sweet, juicy and full of flavour. It's a vegetable that doesn't lose any nutrients from being frozen. I made a batch of this soup the other day and it was all done in about half an hour. I had some leftover mint and threw that in as well. Peas and mint are a classic combination and the flavours marry well together. A big hunk of crusty bread for dunking (and to make some cheesy croutons) and I was set. You may choose to add cream at the end for a bit of a "lift" but the soup also works well without it (so does my waistline!).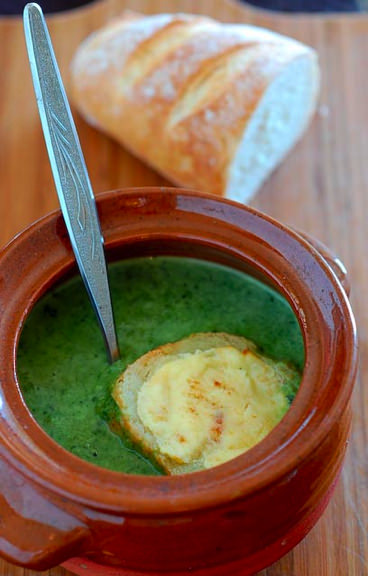 RECIPE FOR PEA AND SPINACH SOUP

2 cups of frozen peas
1 big bunch of coarsley chopped spinach leaves
1 small bunch of finely chopped mint leaves
1 small red onion finely diced
1 clove of garlic finely diced
2-3 cups of chicken stock
salt and pepper to taste
a "splash" of cream
In a medium sized pot fry off the onion and garlic on a medium heat till they become translucent
Add the peas and give everything a good stir. At this stage you can also place in the mint leaves.
Add the chicken stock and let the peas simmer for 10-15 mins
Add the spinach towards the end and let it all soften
Whizz with a stab blender in the pot or use a blender or food processor
Add the splash of cream and salt and pepper and give it all a good stir
Top with cheesy coutons and serve. N.B. The croutons or toasts are very easy to make. Cut some small pieces of bread and top with parmesan or cheddar cheese and place under a griller to melt or alternatively bake in a hot oven for about 5 mins.
If I'm having guests over for dinner and I'm not serving a soup as a starter I serve this soup in a shot glass as a canape. Its a great way to receive "oohs and aaahhs" from your guests and it also warms them up a little (especially in the cooler months). Try it…its so easy!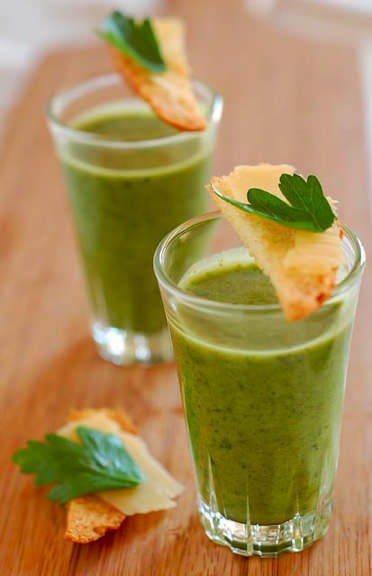 On another note I got tagged by Pixie to play along in a meme. I had to compose a 6 word memoir about myself and tag some other bloggers in the process. Whilst I'm not a huge fan of memes myself, this one's quite quick and I suppose I can do it. I won't tag anyone else to play but what I'll do is give you a list of SOME (there are so many!!!) blogs that I really enjoy reading over my morning coffee here in Australia. If any of you are reading this then its up to you if you wanna play. There is no pressure at all! Ok here's my memoir:
Hungry..all the bloody time
Passionate…about all my activities
Funny…when the occasion strikes
Stubborn…my way or no way
Ostentatious…you gotta stand out
Talkative…love a chat..did I say how much I love to talk?..no really..I do!
Have fun and enjoy the soup.