Well, the self confessed and appointed "King of Carbs" has had carb overload. Ok, I'm sick of the house smelling like a bakery and I can't be bothered sweeping any excess flour that I might have missed. Seriously I'll give the bread baking a break and return with my "breads of the world" series in the near future. Thanks to everyone who left wonderful comments about my pretzels. Yes I did make them and even I was surprised how easy they were.
I really enjoy stir fries. They're easy, simple and quick. I wasn't aiming for anything too elaborate mind you. I just had a look in the fridge and went "oh look, those mushies are gonna die, lets cook em!". I also had some asparagus that I hadn't consumed and thought something light and vego would be quite good. And nutrtious too. And of course, out came the camera and I couldn't help myself…before I knew it I was shooting Asparagus food porn! Of course, trust me to be photographing asparagus spears and not Britney Spears!
There really isn't any set recipe for this. I just looked around my pantry and used soy sauce, sesame oil, some garlic and ginger and freshly chopped chillies. And some sunflower oil to coat my wok. I have a "traditional" wok that I purchased raw and seasoned it myself. It's had a few good uses over the years and it now maintain its signature black colour.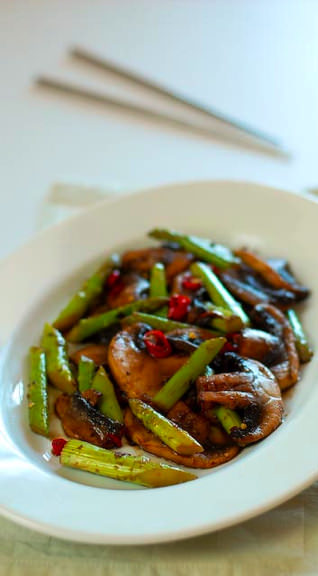 I could have jazzed it up even more by adding some baby bok choy or even some tofu. I really just wanted to stick to simple flavours and textures though. The only tip I can offer is that you can quickly blanch the asparagus in some boiling water for a couple of minutes and then refresh it in cold water. Throw it in right at the end. And don't forget to have your wok super hot. Stir fries are about sealing in the flavours quickly and not stewing the ingredients. Be wary about adding too much liquid. And just for the record I consumed no rice or noodles with this dish!
Keep Cooking
Cheers