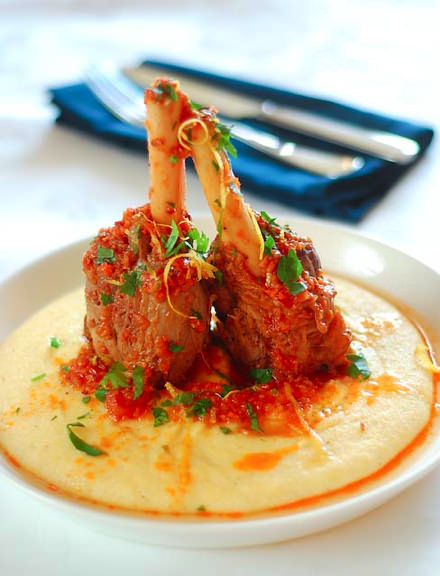 Melt in the mouth shanks with soft polenta
I was looking to make another dish to unleash the carnivore within. One that would suit the current "cold snap" as it's referred to on the news. What's better than slow cooking some meat on the bone and mopping up all the juices with some crusty bread? Nothing! I really wanted to embrace the cooler weather with a hearty dish. I love lamb and when I saw these beauties on sale I couldn't resist. It's quite an inexpensive meal overall and paired with polenta even better. I thought about using mashed potatoes with the lamb shanks but instead paired with some really high fibre cornmeal a.k.a polenta. Polenta can be quite "bland" on its own so I jazzed mine up with some good Danish butter and some Grana Padano cheese. The final touch was to add heaps of cracked pepper. Jut be let it known that I used "instant" polenta. There was no way you were going to catch me sitting at the stove stirring for 45 mins. I understand that a lot of Italians consider the instant variety a "sin". Well, it was the quickest sin I've ever committed! Five mins to be exact…LOL I also forgot to mention that I garnished my lamb shanks with some gremolata. Gremolata is a blend of finely chopped flat leaf parsley, garlic and lemon zest. Its traditionally spooned on that other Italian classic osso buco. I made mine without the garlic. It gave the dish an added lift and some extra zing!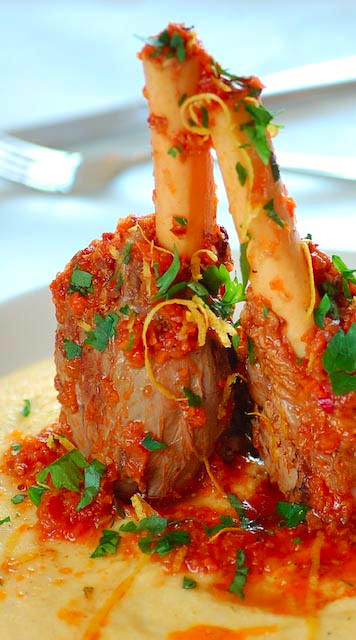 Again, let me emphasise that I have no "set" amount of ingredients when I cook winter type stews. I always fry my meat off first ensuring it browns all over and seals the falvours. I also make a "base" by sauteeing some diced onions or leeks with some carrot and celery in some olive oil. To this dish I also added a fresh chopped chilli and some pancetta. Once the base had become translucent I added my browned shanks in along with their juices. I then placed in a can of chopped tomatoes, about 2 cups of chicken stock and a decent amount of red wine to cover the shanks. My herbs of choice were some fresh thyme and oregano and a few bay leaves. Once this had come to a boil on the stove, I placed my "oven friendly" (no plastic handles!!!) pot into a pre heated oven. I let it sit in there for about 2-2.5 hours at 160 deg C. The result were soft, "fall of the bone" cooked shanks.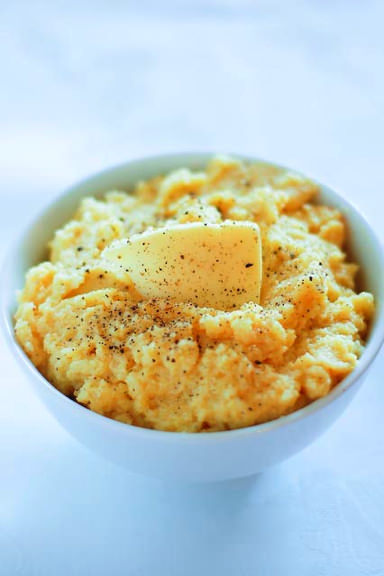 RECIPE FOR SOFT POLENTA

It's almost like watching a science experiment. The moment you take the polenta off the stove it starts to "firm" up on the plate. This is my quick and easy way to cook it.
2 cups of water
2 cups of full cream milk
1 cup of instant polenta
50 grams of butter
1/2 a cup of grated Grana Padano
salt and pepper to taste
Place the milk and water n a medium heat and allow it to come to a boil. Stir in the polenta and stir very quickly with a wooden spoon. It will thicken almost instantly. Look for the consistency of mashed potatoes. Take off the heat an stir in the butter and cheese. Add salt to taste and heaps of cracked black pepper. You may wish to add more butter or cheese but don't over do it.
Scoop the polenta out of the pot and place it on the plate. Place shanks on top and garnish with the chopped parsley and lemon zest or "faux" gremolata.