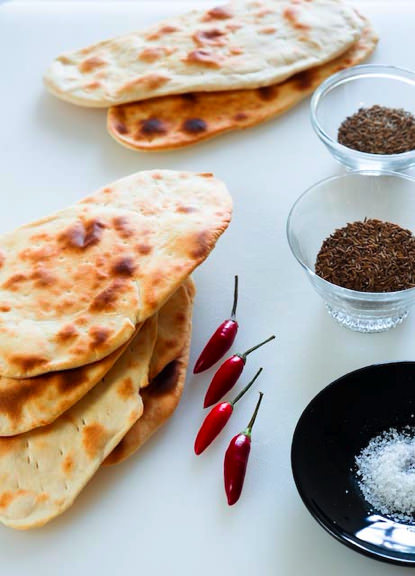 So easy to make…
Continuing in my "breads of the world" series..ok..I made that part up, I wanted to feature a simple no yeast bread that can really be enjoyed at any time. Many are familiar with naan bread as an accompaniment to Indian food. It has a perfect softness that allows you to tear it up and scoop curries with it. I also don't mind it on its own as long as it has some kind of flavour attached to it. Traditionally it is cooked in a tandoor oven but it can easily be made at home. I tell you, when I get my perfect kitchen designed it will have a tandoor in it!
This recipe came about in a number of ways. I wanted to indulge in some traditional Indian fare, namely curries so I could experiment with all the wonderful flavours and spices. Also, don't forget with winter approaching here in Australia, a curry is the perfect winter warming cuisine. Anyway, Allen had recently been doing a series of posts on Indian food after he had discovered the wonderful Anjum Anand. I was fascinated with her very easy approach to Indian food and how simple she made it look. At around the same time, Mango Power Girl, who is one of my favourite foodie bloggers did a post on making naan bread following Anjum's recipe. So the signs were there! Talk about criss cross blogging!..or whatever you want to call it! Anjum is really wonderful. After a bit of research I discovered she was being referred to as the "Indian Nigella"….ummm..I don't think so. Maybe the glamour factor might come into play in the comparison, but I certainly didn't see Anjum in a "summery dress" twirling about the English countryside making strawberry lemonade and sipping it seductively, as the camera pans on her red lips! (don't get me wrong..I like Nigella, I just wish the camera would focus on her food rather than her body parts!).
But I digress…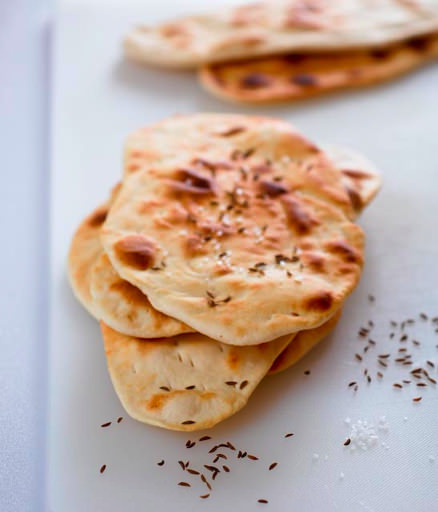 Dress the naan up with a number of spices
The recipe for the naan bread can be found here. There really isn't any reason for me to repeat it as I followed Anjum's to a tee. I only doubled the ingredients to make more (yes the king of carbs like his breads!) and I varied the spices a little. Some I topped with caraway seeds, others with cumin….Just get creative. In fact this bread is so easy to make you could even add Mediterranean toppings to it…think oregano/thyme/basil garlic etc…I ended up serving mine with some North Indian curry, which I also made using Anjum's recipes. It was great but I didn't really want to focus on the curry. As you know, there are thousands of recipes for that in the blogosphere. Also, just a side note be sure to consume the bread on the day. It doesn't do too well the day after…
N.B Here's a video showing you how Anjum makes the naan.  Again I can't emphasise how easy this is.