Continuing in my "breads of the world" series, LOL…I think that has a nice ring to it, I present the pretzel. I'm talking about the big, soft chewy kind. Not those crunchy miniscule bar snacks you might enjoy at he local pub with a beer. I fell in love with this bread the first time I visited Germany. I was mesmerised by the aroma, the softness of the bread and the huge pieces of rock salt decorating it (mmm…salt). In fact, I fell in love with the whole bread selection in Germany period. The choice is unbelievable and the combinations mind dazzling. Leaves our pitiful bakeries for dead here in Australia. Anyway, I've always wanted to make these but assumed they were too hard. How wrong was I! So easy. Dead simple…(throw in whatever adjective you want here!).
I've also seen these sold in the US. I tried them when I was a young, naive visitor in New York. They were good but not as good as the ones hailing from Deutschland. I remember eating them filled with butter and others with a soft cream cheese…mmmm I can still taste them. In order to recreate them in my tiny apartment, I went on a bit of a internet recipe search. I discovered a few things so in the end the recipe I provide is a hybrid from the many posted out there. Here are some things to consider. Some recipes called for the dough to be boiled briefly in a mixture of baking soda and water. Apparently doing this provides the pretzel with that extra chewy taste. I don't know what happened but when I went to lift mine they stuck to the baking paper! Hmmm…I think I may have needed to put a bit of extra flour to the mixture. Again, I stress that these things are based on feel. I felt that the dough did not need extra flour but who knows. So in the end I skipped the boiling part and just baked them. The aromas still came wafting through the house and they still retained their chewy texture. The recipe I made yielded eight pretzels. When shaping them look to make them the size slightly bigger than your hand. Top them with the traditional rock salt or any combination your heart desires. I also used caraway seeds on some.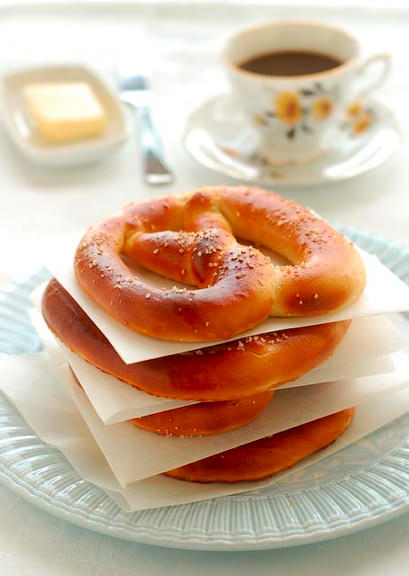 Enjoy them at breakfast with butter and coffee
RECIPE FOR PRETZELS
3 1/2 – 4 cups of plain flour
3 heaped tablespoons of brown sugar
1 sachet of dried yeast (mine are 7g)
1 and 1/4 cups of lukewarm water
1 teaspoon of salt
For the glaze crack an egg and beat it with a little water. For the toppings I used crushed rock salt on some and caraway seeds on others.
Preheat your oven to 250 deg C…yes we need it hot!
Combine everything in a large mixing bowl, EXCEPT FOR FLOUR.
Allow the yeast to activate and bubble away..about 10 mins.
Gradually add the flour to the yeast mixture incorporating well. Again, I can't stress enough about the feel here. You want to create a dough that feels good enough to knead without sticking everywhere. Have some flour handy and keep on adding until you reach this consistency.
Turn out onto a clean surface and knead for about 10 mins. Again keep on kneading until the dough is soft and elastic and doesn't stick.
Cut a portion of the dough about the size of a small ball (enough to fit into the palm of your hand) and roll it out into a single long strand measuring about 70cm. It should be about as thick as a pen.
Join the two ends to form a rough circle (the ends facing you), make 2 tiny twists and fold over the top of the circle to achieve that classic pretzel look. If this all sounds too hard, just make them into a bagel shape or knots and twists!
Once you have all your pretzels created (place them on wax or baking paper) cover them and let them rise in a warm environment for about half an hour.
Brush with the egg glaze mixture and sprinkle with crushed rock salt.
Bake in the oven for 8- 10 mins…Keep on checking just in case as I nearly burnt my first batch…the oven was really hot!
Serve with butter, a good cup of coffee and enjoy.
N.B. The pretzels taste better the day they are consumed. Not so good the next day.