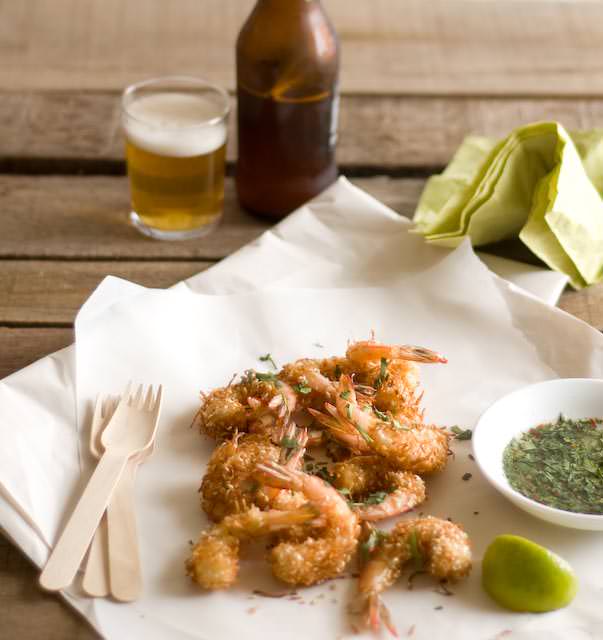 It's time for the Royal Foodie Joust again!  For all of you who don't know about it click on the link and get on over there.  It's a monthly cooking competition based on using three ingredients.  The winner of each month gets to choose next months and so on.  The winner of last month's competition was Peter from Kalofagas.  Not only did he get to model his apron without anything else on but he also chose the ingredients for this months Joust.  Inspired by one of his own recent creations and his love of seafood he chose sesame, cilantro (thats coriander to us Aussies!) and seafood of course!
I love participating in the Joust as it gives you an opportunity to put your thinking cap on in the kitchen and become creative.  I'm not the biggest seafood person (but if I "see food" I'll eat it! …get it?) around but I will indulge.  However I do have a weakness for prawns (or shrimp as our Northern American neighbours will call it…I swear there needs to be a universal foodie lexicon!).  They're a versatile little creature and can be used quite extensively in a numerous amount of dishes.  I actually had a friend pick these up for me from the Sydney Seafood Markets.  Little did I know she would bring them back all shelled and whole!!!   So after a good hour of cleaning them I realised I had quite a few leftover.  So expect to see a few more recipes with prawns in the next few weeks!
This recipe was adapted from a cocktail party I went to a few months ago.  It was served with shredded coconut and had a sweet chilli dipping sauce.  I "adapted" it (need to be careful how we term this nowadays…after the recent RecipeGate drama!) for the joust by adding the sesame seeds and making up my own dipping sauce using the coriander.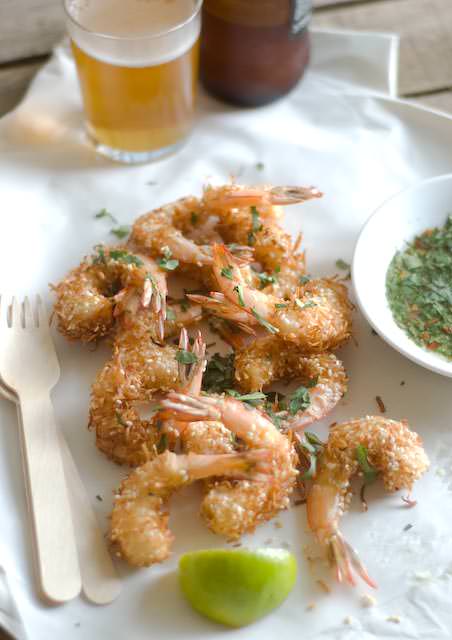 It's a lovely "al fresco" dish and as usual I enjoyed it with a "coldie" (Aussie slang for cold beer).  And really very easy.  The only real prepping you need to do is get the ingredients ready to make the crust for the prawns.  A little messy but quite achievable.
RECIPE FOR THE PRAWNS
500 gr of raw "green" uncooked, fresh prawns (shelled or unshelled-it's up to you)
1 beaten egg with a splash of water
1 cup of rice flour
1 cup of raw sesame seeds and shredded coconut blended together
Peanut oil for frying
Prepare three bowls to get the prawns ready.  In one bowl place the rice flour, in the next one place the beaten egg mixture and in the last one place your sesame seeds and coconut.  Dip the prawn in the flour then the egg and finally the coconut/sesame mixture.  Place each one as you prepare them onto a piece of baking paper.
Heat up your oil to a medium heat.  You can test the oil to see if it's ready by placing a small piece of bread in it.  The moment it fries up and browns really quickly you're good to go.  Don't rush this step as you want to make sure the oil is ready and the prawns will be cooked evenly.  And they really do not take more than a few mins each to get ready.  It's almost like flash frying them!
FOR THE DIPPING SAUCE
Half  a bunch of shredded coriander leaves
A "splash" of peanut oil
The juice of half a squeezed lime
Half a chopped de-seeded red chili
A pinch of white pepper
A little salt
Blend all the above ingredients together and serve with the prawns.  You may want to change this and add your own touch.  Some fish sauce would work wonders here or even some minced garlic.  Just don't over do it!
Serve al fresco with some extra lime and shredded coriander as a garnish.