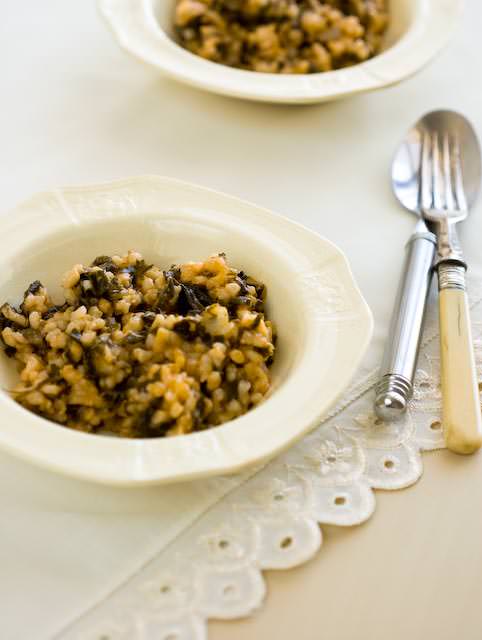 This dish is another one of those Greek classics that was constantly featured in my childhood.  I probably didn't appreciate it growing up but I love it as an adult.  It's "more-ish" and I actually find it quite addictive!  In fact I ate it for three days straight!  Spanakorizo is a healthy dish and literally translates as spinach and rice.  Served with a hunk of feta and bread on the side it can be a complete meal in itself.  Or you may choose to serve it as a side dish to some roast chicken drumsticks.  Whatever you do you won't be disappointed.  The spinach is sometimes substituted with cabbage and then it's known as lahanorizo.  That tastes great as well!
I'm not aware of how this dish varies from region to region in Greece.  I tend to make the version I watched my parents make.  In this version today I used Arborio rice as I feel it works best with the dish.  Sort of like an Italian risotto.  (Sort of!!!)  I don't want to offend any Greek or Italian food historians.  If you wanted to make it extra healthy I'm sure you could use a brown rice as a substitute taking into account the extra cooking time brown rice needs.  I also use dill and mint as the herbs and the aroma is mesmerising.  Perfect with a nice robust red during the cooler weather we are experiencing here.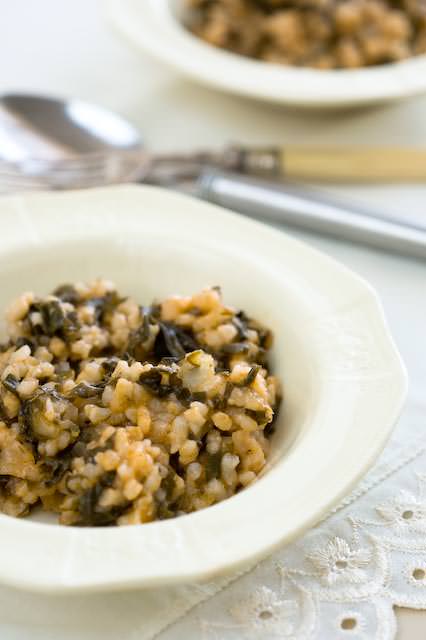 1 onion finely diced
2 cloves of garlic finely minced
olive oil for cooking
1 big bunch of spinach washed, and roughly chopped
a handful of mint roughly chopped
a handful of dill roughly chopped
a handful of parsley roughly chopped
1 cup of passata
1 tablespoon of tomato paste
1 1/2 -2 cups of chicken stock or water
1 cup of rice (I chose Arborio)
METHOD
In a medium sized pot heat up your olive oil and saute the onion and garlic till it becomes translucent
Add the spinach and stir through until it wilts
Add the herbs and salt and pepper to taste.
Add the tomato passata and paste and stir through
Add the rice
Pour in the stock or the water
Turn up the heat and let it come to a boil.  Turn the heat down to medium and let it continue to boil until the liquid has mostly evaporated and the rice is cooked.  This could take anywhere between 10-20 mins.  Keep on stirring during this process and be wary about over cooking your rice.  Also be careful not to make it too "soupy".  We love to mop up the juices using bread but we're not after a spinach and rice soup!
Serve with feta and bread...Enjoy!  It tastes even better the next day and the day after that!