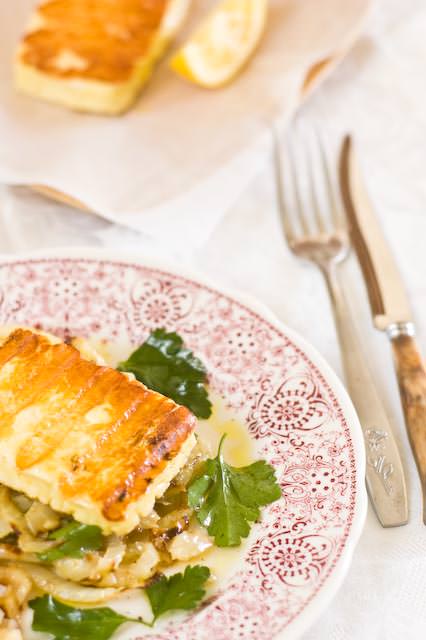 When I first thought up the ingredients for this month's Joust I had envisioned a rich dish of potato and fennel gratin.  Perfect for the cooler months on the other side of the world and just right for our slightly cooler evenings.  Well so much for that!  We have experienced really high temperatures and as a result I feel spring may be robbed from us this year.  Thank god that fennel is quite versatile and can easily adapt to all the seasons.
This is a really simple dish and would be perfect as a starter to a dinner party.  I love how the fennel changes when it's cooked.  It imparts a slight aniseed flavour, not at all overbearing.  I simply sliced it and chargrilled it on my indoor grill until it had caramelized.  Once it had cooled down slightly, I tossed it in a combination of olive oil, lemon juice and torn parsley.  The centre piece was the halloumi.  This famous Cyprian cheese is also quite versatile and is best grilled or pan fried.  Simplicity personified!
Each bite is true bliss.  Warm cheese, a hint of aniseed, lemon, extra virgin olive oil and the earthiness of parsley. Mmmm. Hope you enjoy!