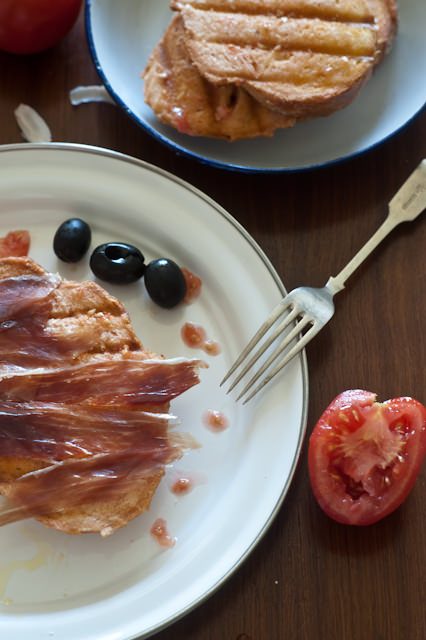 Looking through my mail  the other day, I noticed a large green envelope all the way from Spain.  Nuria, from Spanish Recipes had sent me a batch of Spanish Acorn ham.  The gift was her way of saying thanks for some blog traffic I had sent her way!  I was touched by her wonderful generosity and kind spirit and for sending me some of this "Spanish Gold".  Yes, it was pure heaven.  Nuria, I just want to say a very big "GRACIAS" and I send you many besos from Down Under!  I still believe the foodie blogging community is one of the best and most generous.  I recommend you all head on over to Nuria's blog, "Spanish Recipes" and check out some of her wonderful recipes that she cooks up in her home in Barcelona.  You will not be disappointed at all!
Once the Xmas overeating hysteria had died down, I got thinking about what I was going to do with this beautiful jamon.  I wanted to treat this beauty with the  utmost care and respect it deserves.  Nuria had suggested I serve it with "pan amb tomaquet", the famous Catalonian dish of freshly squeezed tomatoes on crusty bread.  And that's what exactly I did!  I made a little tapas selection with some black Spanish olives and enjoyed it all with a crisp chardonnay during this very warm post Xmas period.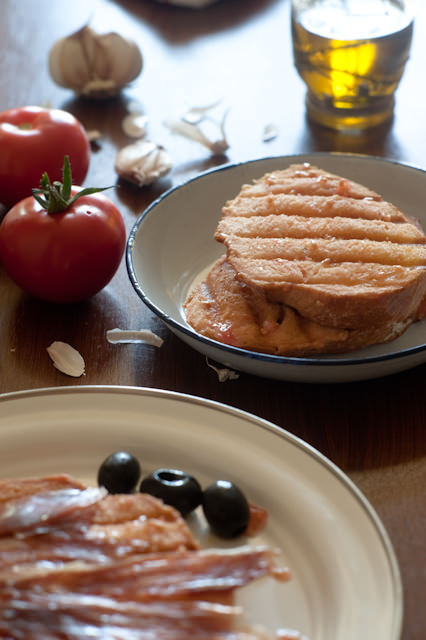 Let's see.  Bread, garlic, olive oil, freshly picked tomatoes, olives, salt and jamon.  I was in foodie heaven.  I took small bites enjoying the rich full flavour of the Spanish ham savouring every moment.  The "pan amb tomaquet" or tomato bread requires some good crusty bread at least a few days old.  Slice it thickly and if you're lucky to have a char grill, grill it for a few mins on each side until it's nicely toasted.  (if you don't have one like me, use a grillpan on the stove).  Once the bread has been cooked and it's still warm, rub some fresh garlic cloves over it ensuring the flavour of the garlic permeates.  Grab a cut tomato and proceed to squeeze and rub it all over the bread ensuring the pulp covers the bread.  Sprinkle some sea salt and drizzle some extra virgin olive oil over it.  Serve with Spanish Jamon and some black olives.  Easy!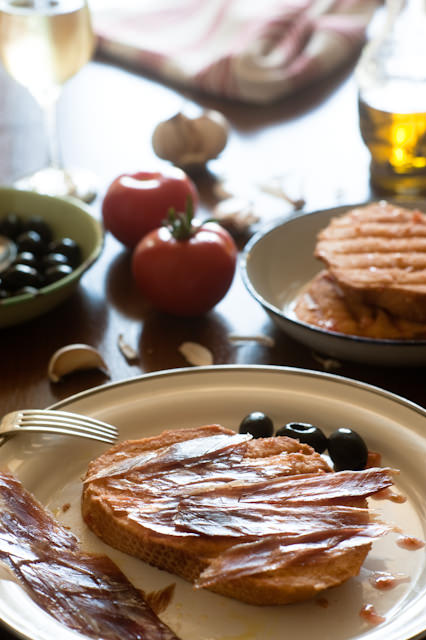 Thank you again Nuria!  The tapas was sensational….I hope I did this justice.