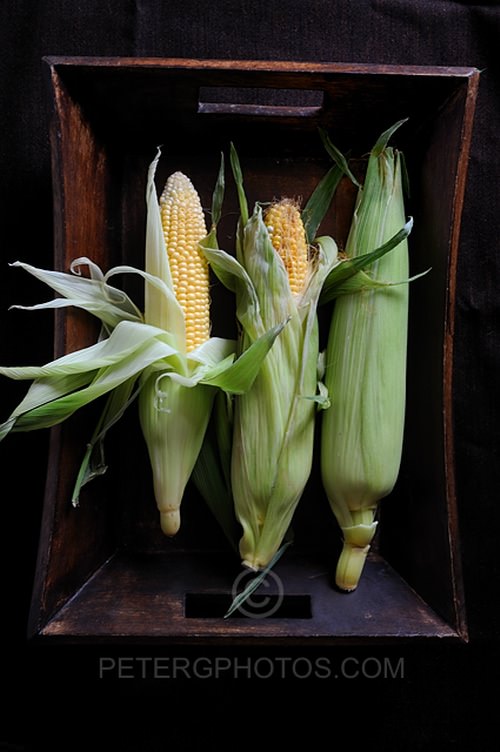 As I walking home the other day, I noticed a mini food market being set up at a nearby park, just around the corner from my place.  I was curious to see what it was all about and had a good "sticky beak" around.  They were selling fresh produce from a nearby farm and whilst the goods were not certified as organic, the gentlemen doing all the talking explained that they were "home grown" and "just picked".  The food that grabbed my most attention were the fresh ears of corn.  I'd been on a bit of a mission lately searching for corn that wasn't pre-cut and packaged in nice plastic, like I found at the supermarket recently.  Let's just say that mother nature was truly well and alive when I peeled back the husks!  Out came a few small caterpillars!  I did say I wanted authentic right?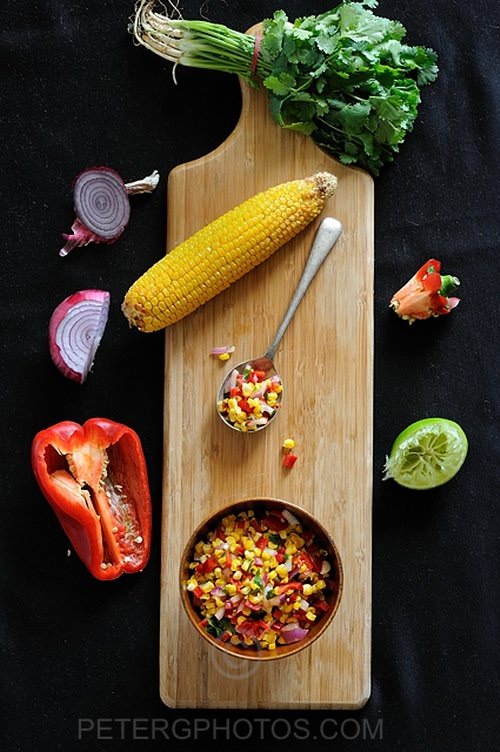 I don't have a barbecue because I live in a compact apartment so having fresh grilled corn with butter was out of the question.  I decided to do the next best thing and roast these beauties to make some roasted corn salsa.  It's still quite warm here in Sydney so the salsa would be a perfect and fresh  addition to any dish.  It's a simple recipe utilising ingredients many of you are familiar with.   I oiled the corn with some olive oil and cooked it in a very hot oven (200 deg C) for about 25 minutes.  Once it had cooled I cut off all the kernels and to those I added, half a diced red onion, half a diced red capsicum, a bunch of finely chopped cilantro, the juice of half a lime, a few splashes of Tabasco and some salt and pepper.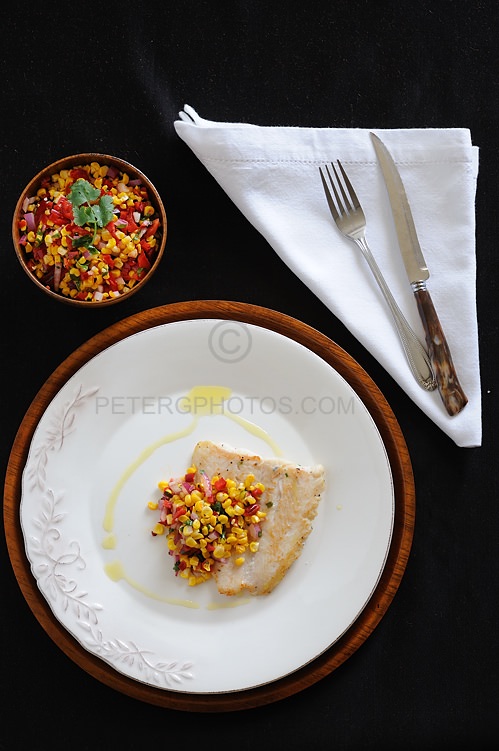 I served up the fresh corn salsa with some pan fried Blue-Eyed Cod fish fillets.  The salsa was perfect with this white, firm fleshed fish.  A great combination of "crunch" and late summer flavours (except we're officially in Autumn!).  I'm curious to see what else I can find at these markets next time they come around.