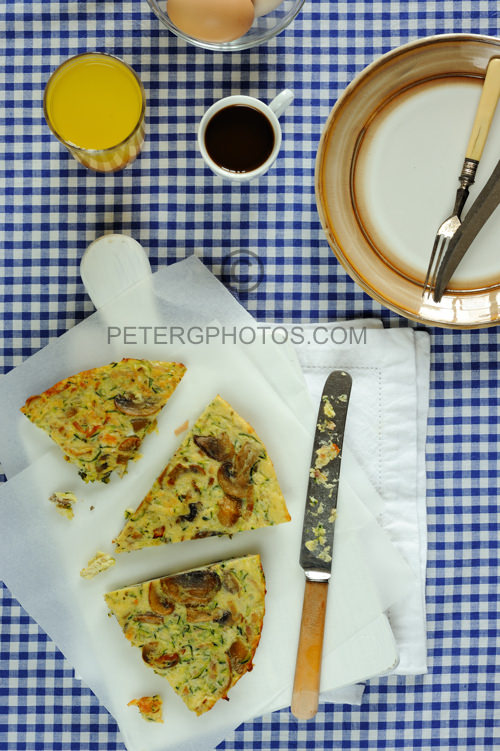 The wonderful, kind and gorgeous Nuria from Spanish Recipes is holding an event titled "BlOg YOur Omelet".  She's asking for people to submit their favourite recipes with eggs and this is my entry for it.  I have decided to offer my version of "frittata".  Well, it's not really a frittata in the real sense…more like an "eggy" pancake.  It doesn't have the height and thickness of those wonderful frittatas the Italians dish out.  I basically raided my fridge and took whatever was leftover in there to make this.  I used mushrooms, grated zucchini, some shredded ham, a blob of leftover pesto and grated Parmesan cheese.  I cooked my frittata on the stove top and finished off the rest in the oven.  This would make a great breakfast/brunch/lunch.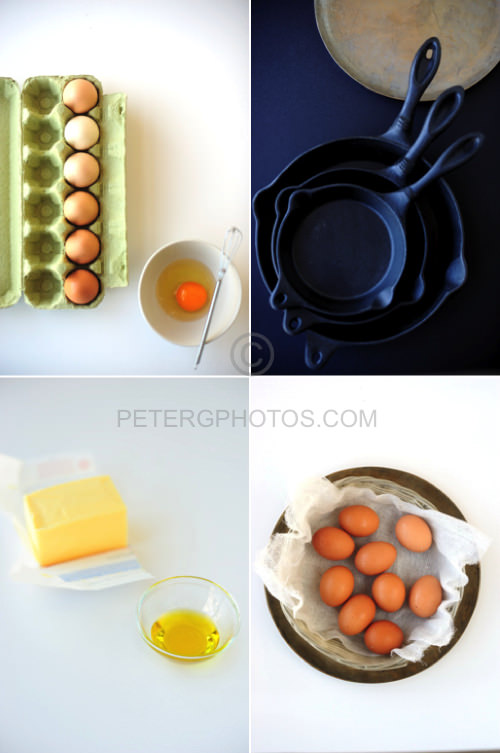 There are so many things to consider when attempting to make an omelette.  How many eggs you will need to use (and more importantly where they come from).  They type of pan you will cook it in. I love using my seasoned cast iron pan.  Do you prefer to use butter or oil?  Some people swear by using cream or milk in their recipes and others use water.  If you play around long enough I'm sure you will come up with a combination that suits you.  I remember the first thing I ever cooked was an omelette and I have certainly modified it over the years!  For my frittata today I used olive oil to saute my ingredients but for a simple breakfast on the weekend I prefer to use butter…I love watching it foam up.  And for me personally, I prefer my omelette cooked firm in the middle.  If it's too soft, it brings back "uncooked egg" childhood nightmares suffered at school camps!
RECIPE FOR FRITTATA
4 organic eggs
1/4 cup of milk
a dollop of basil pesto
salt and pepper to taste
a good splash of olive oil
2 grated zucchini
8 slices of Virginian leg ham, finely shredded
1 cup of sliced mushrooms
1 cup of grated Parmesan cheese
Whisk your eggs with the milk, basil pesto and a little salt and pepper.  Set aside.
Heat the olive oil in a pan on a medium heat and when the oil is ready add the zucchini and cook until softened.
Add the ham and mushrooms and continue to stir until everything is cooked.
Add your whisked egg mixture to the pan, ensuring it covers everything well.
The frittata is ready when the egg mixture begins to "set" on the sides of the pan.  When you achieve this "half cooked" consistency add your grated Parmesan cheese ensuring it covers the whole top of the frittata.
Place the pan in a pre heated 180 deg C oven and cook for about 7 mins.
The frittata is ready when the cheese has melted and it has a nice golden colour on top.