The "Merry Season" is upon us.  Only two weeks left now before we start saying "Happy Holidays" and get to overindulge for one day and then go ahead and repeat it all the next day!  Yes, I'm talking about Christmas.  This year I plan on spending it with family but I will be holding a pre Xmas dinner party for friends at my place.   I have been doing a few bits of baking here and there and also a "practice run" for my dinner party.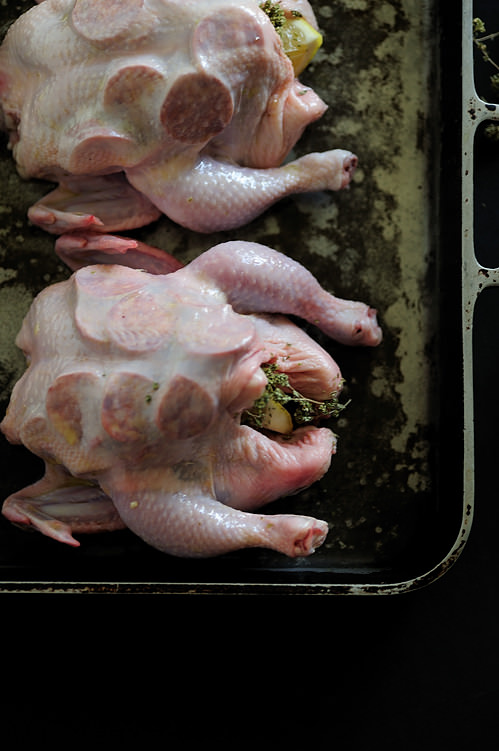 One of the dishes I tested out was this chorizo stuffed spatchcock. I don't want to cause any further confusion but after a little research I realised that here in Australia we refer to these "little chickens" as spatchcocks.  It's a poussin or game bird, slightly smaller than a small chicken and a little larger than a quail.  Furthermore, the term spatchcock also refers to the method of removing the back and breast bone from a chook and flattening it out for quicker cooking on a barbecue or in the oven. (even more confusion!)  They weigh approximately half a kilo and are fantastic to serve individually to guests.
To bring my cooked baby birds to life I decided to enhance their flavour by adding pieces of sliced chorizo under the skin where the breast lies.  This has the added advantage of providing an extra layer of flavoured fat.  The chorizo I used was dried and had a good amount of  garlic and paprika.  As an extra step I also stuffed the cavities with sprigs of Greek dried oregano and some quartered lemons.   My only error was not to use more chorizo as I only filled the spatchcocks about three quarters of the way!  Also, be wary that the breast side will cook very quickly as the chorizo crisps up and cooks in the oven.  I encourage you to play around with different flavours and fats to see what suits your palette.  I was very happy with the end result.  The meat was moist and tender lovingly aided by the chorizo sausage.
For a side dish I chose to make a "zesty" potato salad.  This was easy to prepare and I love the strong flavours this brings to the whole meal.  Boil some fingerling potatoes or kipfler potatoes as we call them here, add some finely diced red onion, capers and dressing of extra virgin olive oil, lemon zest and lemon juice completes this salad.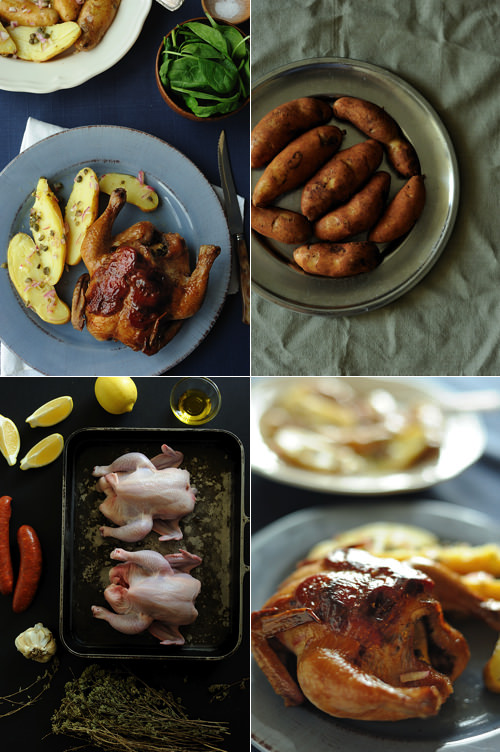 RECIPE FOR CHORIZO STUFFED 'SPATCHCOCKS'
(Please note: Ingredients are approximates and cooking times will vary according to the size of the little chicken and your oven)
For one person you will need
1 spatchcock
1 dried chorizo sausage
a knob of softened unsalted butter
a "splash" of olive oil
OPTIONAL:
2 quarters of a lemon
a few sprigs of Greek oregano
Clean your spatchcock thoroughly in cold water including the cavity. Pat dry with a paper towel.
Using a sharp knife, make an incision where the breast skin meets the breast, creating a pocket.
Slice your chorizo very thinly and proceed to stuff it under the skin of the breast, ensuring you go all the way down.
Stuff the cavity with some lemon pieces and a few sprigs of Greek oregano ensuring the cavity is sealed by using a large toothpick or a cocktail bamboo skewer.
Rub the butter over the chicken and drizzle a little of olive oil.
Place in a pre heated 180 deg C oven breast side down and cook initially for 20 mins.
After the initial cooking has been completed turn the spatchcock over and baste with all the juices.
Cook for another 25-35 mins depending on how your oven operates (mine took about 50 mins…check the baby chicken is cooked by piercing the thigh area with a skewer.  If the juice runs out clean you know it's cooked. )
*You may also notice the breast part start to brown very quickly.  To avoid burning cover with a little cooking foil*
RECIPE FOR ZESTY POTATO SALAD
6-7 fingerling or kipfler potatoes
1/2 a diced red onion
1/3 of a cup of diced capers
zest  and juice of half a lemon
1/2 a cup of extra virgin olive oil
salt and pepper to taste
Place your potatoes in a saucepan filled with cold water
Bring to the boil and allow to cook for about 15 mins or until tender
Remove from the pot and drain thoroughly. Allow to cool slightly.
Meanwhile mix your other ingredients in a separate bowl and toss through warm potatoes.
Serve immediately with some optional chopped parsley on top.