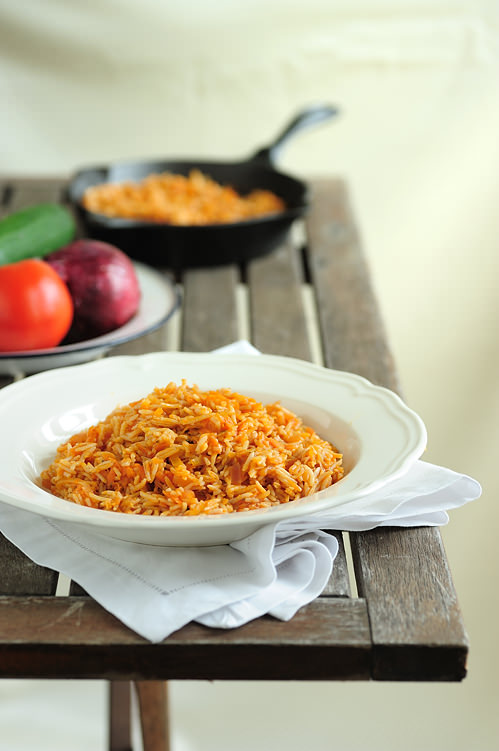 When I was in San Francisco recently for the Foodbuzz Blogger Festival, I managed to have a quick bite with Angela from Spinach Tiger.  Over dinner she explained she would be hosting an event in support and remembrance of World Aids Day.  I thought it was a fantastic idea and a great way to get involved in Cooking Red to Remember.  I advise you to head on over and read her poignant tribute and memories.  Even better, get involved and "cook something red to remember".  AIDS is a devastating disease that has affected people from all parts of the globe.  An estimated 25 million people have died from AIDS  from 1981-2007 (source: Wikipedia).  Angela, I offer you my "red dish" as a symbol of solidarity and hope.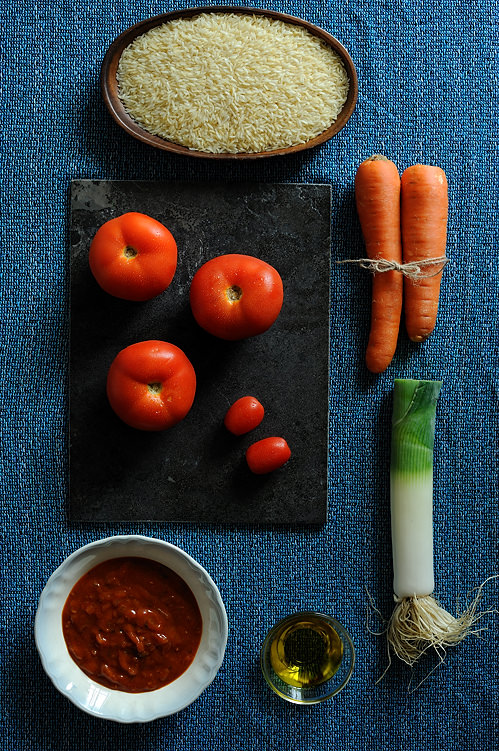 This simple and tasty dish can easily be made with ingredients likely to be found in your pantry and fridge.  It's a red tomato pilaf a.k.a as "domatorizo" in Greek.  It simply translates as tomato rice. Pilafs are a wonderful addition to a dinner and can easily be changed to suit your favourite spices.  In this instance I've used smoky red paprika, ground red chilies and red wine vinegar along with a cooked tomato sauce I had lying about in my fridge.  I varied from the original recipe by adding carrots, leeks and basmati rice.  It was so delicious I devoured most of it in one go!  I loved adding a dollop of yogurt on top to make it a complete meal.
(Adapted from Vefa's Kitchen
but changed a lot by me!)
a good amount of olive oil to coat your pan or pot plus a small knob of butter
1 leek, washed and thinly sliced (green stalky ends discarded)
2 cloves of garlic finely minced
1 large grated carrot
500 grams of cooked tomato sauce or 2 cans of pureed tomatoes
2 cups of chicken stock
1 and 1/2 cups of basmati rice
1 teaspoon of ground chilies
1 teaspoon of smoky paprika
1 teaspoon of sugar
1 tablespoon of red wine vinegar
a handful of finely chopped parsley
salt and pepper to taste
Method
Saute the leeks, garlic and carrot in some olive oil and butter  until they become translucent.
Add the tomatoes and cover allowing it to cook for about 15 mins or until the sauce begins to thicken.
Add the remaining ingredients except the rice and bring to a boil.
Add the rice, stir thoroughly and reduce the heat.
Cover the pot and let it simmer on a low heat for 15 mins until the rice is just tender BUT the liquid has NOT all been absorbed.
Remove from the heat and place a kitchen towel between the lid and the pot and let it rest until the rice has swollen.  The residual heat will allow this to cook a little further.
Serve  the tomato pilaf at room temperature with an optional dollop of Greek yogurt (if you prefer).