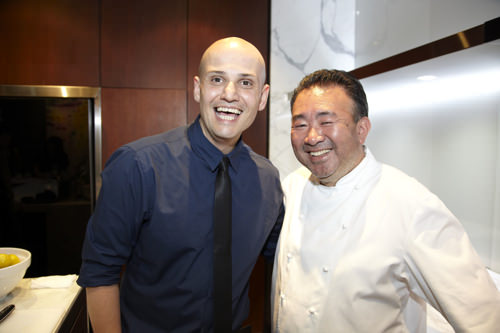 Me and Testuya Wakuda.  Or "Tets" as he is affectionately known.  How's that for a combination in the kitchen?!!   Ok, that's partly true. I did get the chance to recently attend a masterclass and a  10 course degustation dinner in his newly designed masterkitchen by Electrolux at his restaurant here in Sydney.  And dear readers I am giving you the chance to do the same.  Now is not the time to be lurker.  This is truly the opportunity of a lifetime to watch "the master" in action…just don't mention margarine! (long story!) Details of the competition will be available at the end of the post.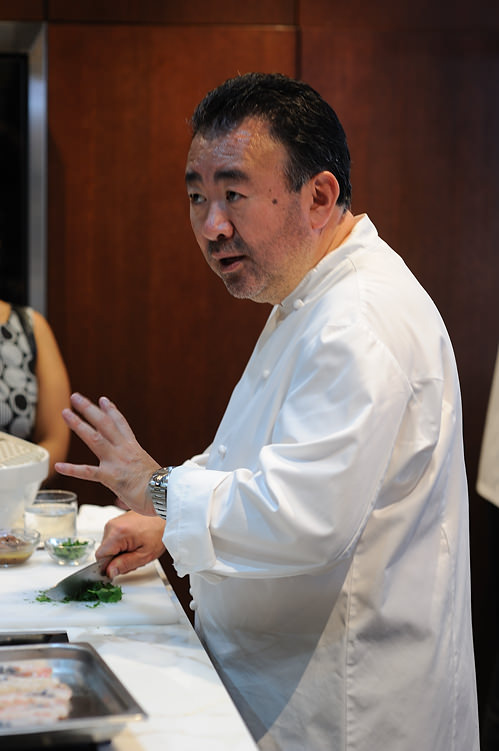 Myself and nine of my fellow blogging colleagues found ourselves on the first floor of Tetsuya's restaurant admiring the shiny, new, marble and black kitchen outfitted by Electrolux.  The key word to note here is "induction".  You certainly walk away wanting one of these kitchens in your own home.  I don't know about you but I'm convinced my stove is possessed and has an evil personality.  The burners are slow to react sometimes when I want to either increase or decrease the temperature.  With induction cooking you can instantly adjust the heat form a delicate simmer to a quick boil all with the swipe of a finger.  We witnessed milk reach scalding stage in mere seconds and we also saw snapper cooked in the oven covered with saran wrap (cling film)!  And there was not an ounce of burnt plastic anywhere!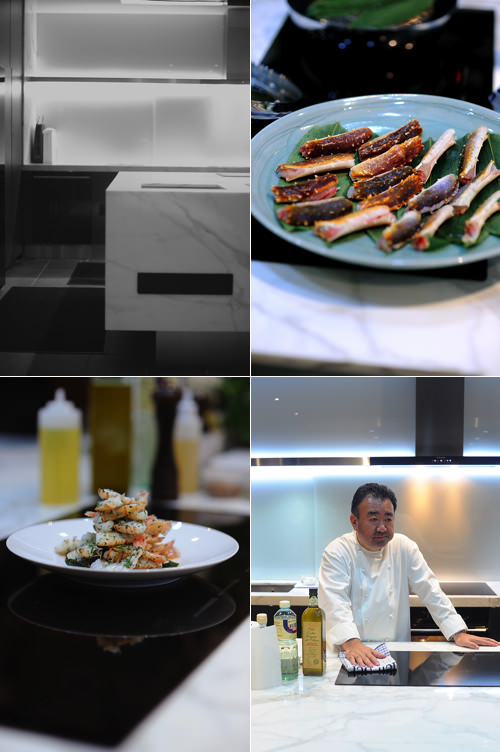 What else did I learn at the Masterclass?  I learnt that creamed corn makes the best scrambled eggs. Initially I was skeptical of this but it really made the eggs soft and airy. Along with some fresh ricotta and Parmesan these were by far the best eggs I had consumed accompanied with Pol Roger champagne.  Let's just say I now have tinned creamed corn sitting in my pantry for my next Sunday brunch!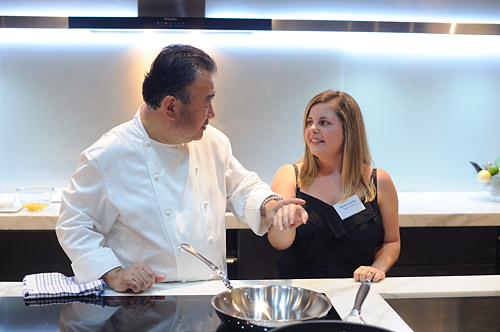 Tetsuya answered our questions as he prepared and cooked dishes and made everyone feel comfortable.  Although he is quiet and softly spoken he interacted with the crowd and we got to see another side to his personality.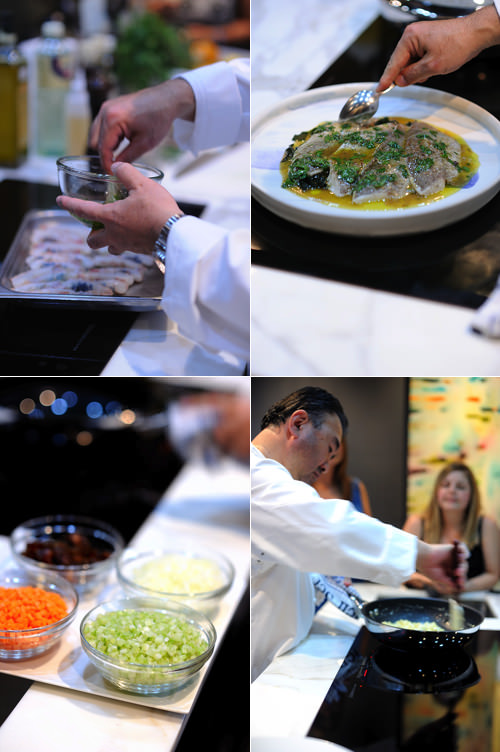 We watch him cook scampi tails and snapper in the oven that had been placed on a tray and covered in cling wrap.  The scampi tails were barely just cooked but had a beautiful permeating aroma coming from the combined herbs.  The snapper was cooked "confit style" and again accompanied by herbs and simply sprinkled with salt and pepper.  The fish flakes off easily as it's being served.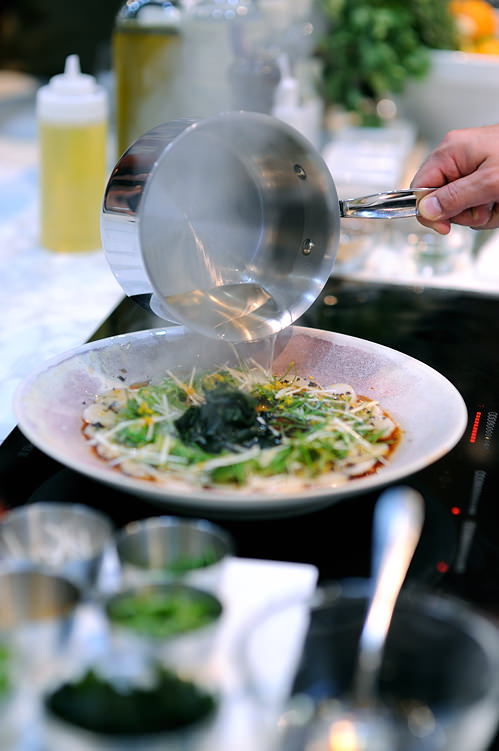 The definite highlight of the masterclass is demonstrated in this next dish where Tetsuya prepares thinly sliced scallops on a bed of wakame and tops them with micro greens and very finely sliced roasted red chillies.  The "ooh aah" moment comes when he pours a combination of  hot, sizzling, "extra virgin" and toasted sesame oils over the scallops which quickly "cooks them".  This simple technique is one that I plan on using at my next dinner party.  We are also treated to some Alaskan crab claws which receive a simple steaming going from a dark orange colour to a bright pink once cooked.  This is the perfect example of when produce is good you don't need anything else to accompany it.  The crab claws taste sweet and succulent, the meat peeling away effortlessly from the shell.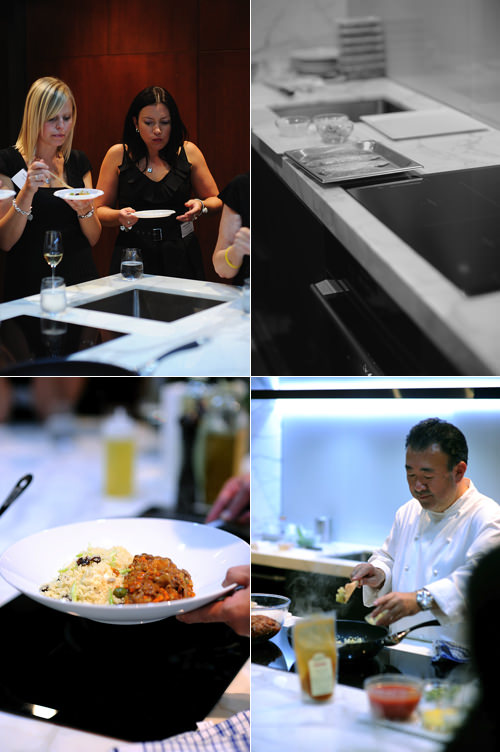 The final dish Tetsuya prepares for us is a chicken "tagine-less" tagine.  This dish really demonstrates that with a few ingredients in your pantry and some good, organised kitchen skills,  dinner can be served quite quickly.  Being a casserole/stew kind of guy this dish is definitely my favourite.  In a large pan we see him saute some onion, celery and carrots.  Once they are softened he proceeds to add the chicken thighs which have been marinated in some Moroccan spices, along with some pureed tomatoes, chopped anchovies, green olives, chopped preserved lemon and dates and the secret ingredient-long pepper. (Long pepper as we find out is similar to cassia bark and star anise and very aromatic, lending a lovely, delicate aroma to the tagine).   Twenty or so minutes later, we are being served the MOST DELICIOUS TAGINE with cous cous.  I absolutely could not stop talking about this dish.  It was spicy, sweet and salty and every morsel was gobbled with greedy abandon.  Look out for this recipe soon on my blog folks!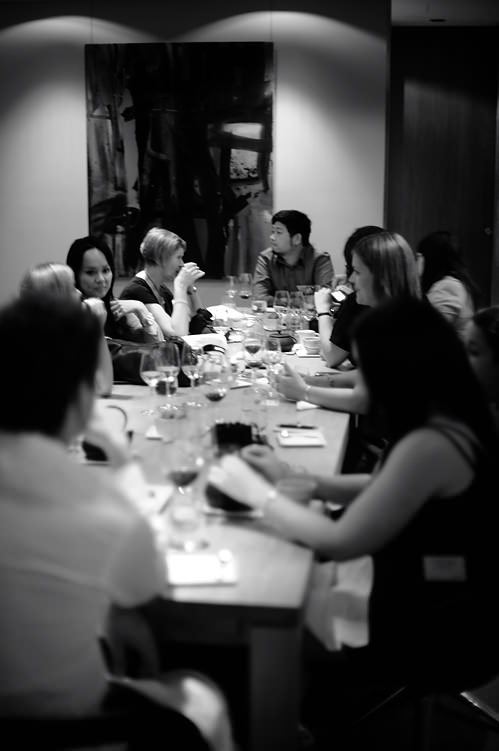 After the amazing masterclass we sit down to enjoy a ten course degustation menu with matching wines.  Phew!  This is truly an assault on the senses!  I devour morsel after morsel delicately enjoying each one as it hits my palate.  By the end of the meal my senses have reached new heights.  I'm dizzy from all the flavours and my mouth needs a break from this gastro feast.  I won't go into too much detail of what each meal consisted of.  Instead I will write out the menu for you and share some pics.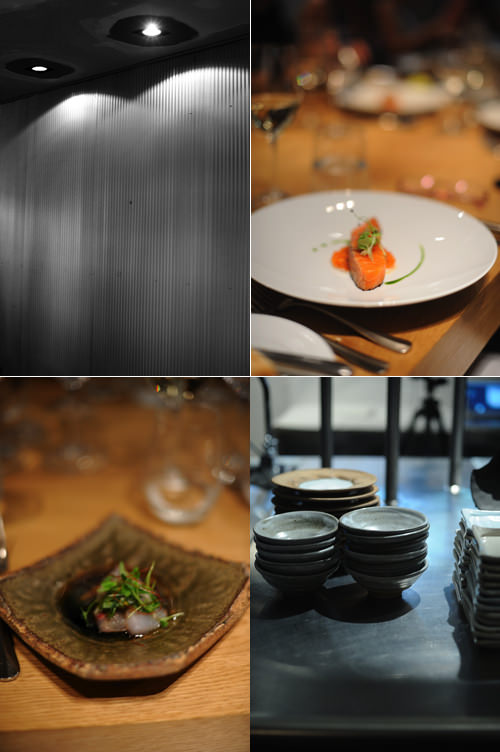 TSETSUYA'S 10 COURSE DEGUSTATION
-Chilled Japanese Pumpkin soup with white miso cream
-Sashimi of kingfish with black bean and orange
-Soft roast scampi tails with herbs and citrus tails
-Salad of confit ocean trout with zucchini and non pasteurised roe
-Raviolo of octopus and sushi rice with oregano and black olives
-Breast of chicken with corn and foie gras
-Sirloin of wagyu with braised leeks, sansho and soy
-Pione grape sorbet with sauternes jelly
-Cannellini beans with mascarpone and soy caramel
-"Floating Island" with a double anglaise of vanilla bean and praline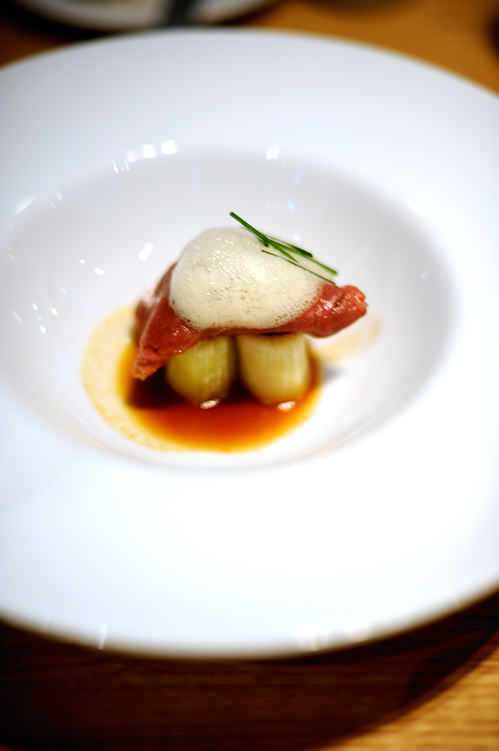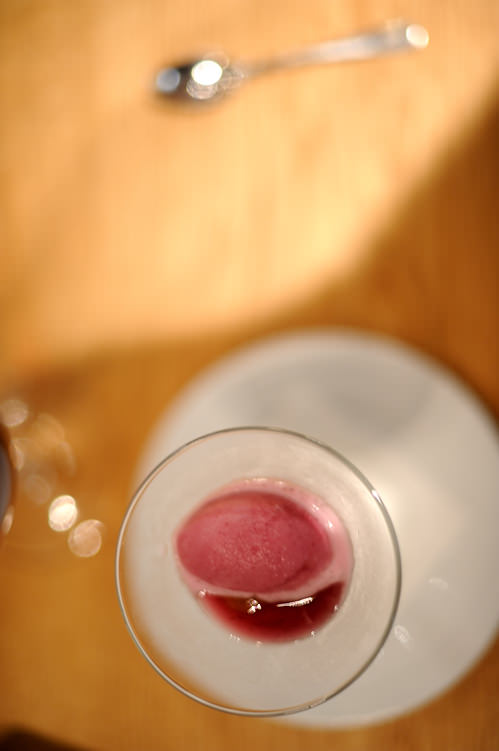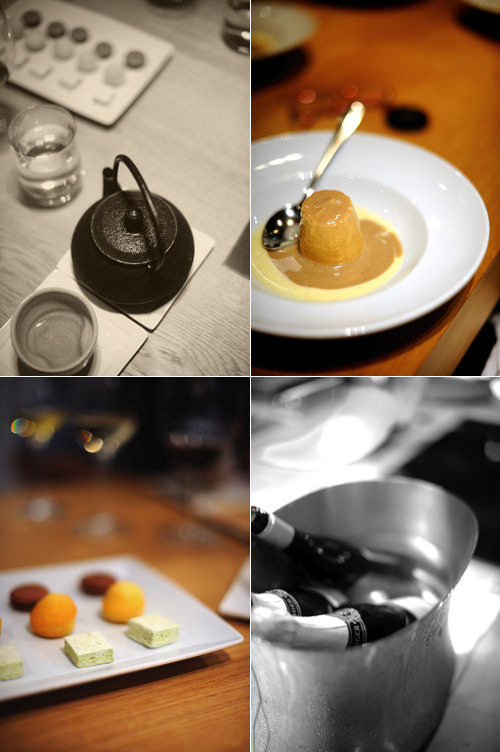 Overall, this had been one of the greatest dining experiences for me.  Everything was perfect.  The staff were knowledgeable and prompt, "Tets" was a lot of fun and it was great to be surrounded by my blogging peers.  I would like to thank Electrolux and Tetsuya's for a truly magical night!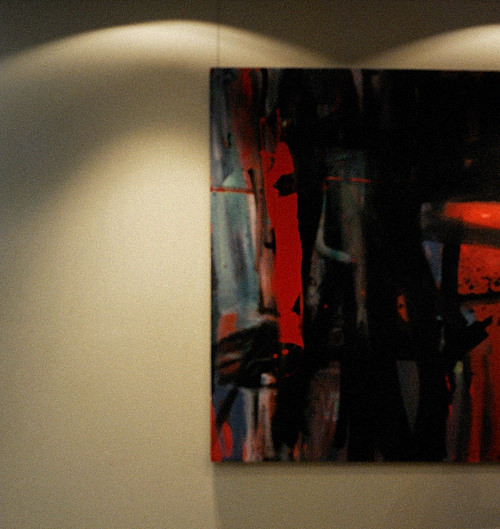 YOUR CHANCE TO WIN A TICKET TO TETSUYA'S MASTERCLASS AND DINNER
Want to win the same Masterclass and dinner?  Want to be the envy of all your foodie friends?  Remember this is a once in a lifetime opportunity to watch and interact with one of the masters at work.  His Masterclasses are sold out very quickly so I urge to get moving!  Head on over to the Souvlaki For The Soul competition page and fill out the entry form.  Good Luck!
This competition is open to Australian residents aged 18 and over. The 12 best entries received will each win:
A single invitation to an exclusive Tetsuya Masterclass at Tetsuya's restaurant, 529 Kent St, Sydney NSW on the evening of Tuesday 24 August 2010 from 6pm
Return economy airfare from the winner's nearest Australian capital city
One night's accommodation on the night of the Masterclass
Transportation by private car from the winner's accommodation within the Sydney metro area (50km radius from Sydney city centre – GPO) to Tetsuya's restaurant for the Masterclass and then back to their accommodation within the Sydney Metro area stipulated above.
All entries must be received by 12 midnight AEST Tuesday 4th May 2010.