I hope everyone had a great Easter.
Sorry for the lack of posts but my computer died recently and whilst it's being repaired, I have been using a friend's borrowed laptop.  It doesn't always want to work with WordPress but I'm making sure it does today.
I want to continue where I left off recently and that means more heirloom tomatoes!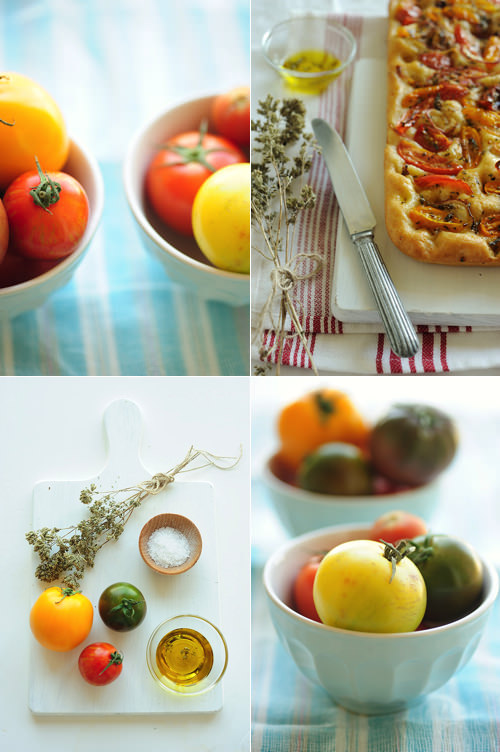 The dish I want to highlight today is soooo goood!  I've made it three times in the last few weeks and it has never survived beyond a few hours.
"Ladenia" (pronounced la-the-nia) is best described as Greece's answer to pizza.  I hope that doesn't offend anyone (and I'm sure I'll be emailed about it) but it's basically a pizza/foccacia dough made with Greek extra virgin olive oil and topped with tomatoes, sliced onions and Greek oregano.
Ladenia is a specialty which hails from the island of Kimolos.  I
t was first brought to my attention on Peter's blog a few years ago who in turn had adapted it form Laurie of Mediterranean Cooking in Alaska.  (I miss you Laurie!)
With my haul of heirloom tomatoes, I knew I had to make this dish.
The ladenia dough has olive oil in it, making it much easier to handle,  in my opinion.  It rises perfectly and has a soft, almost fluffy texture.  Add some Greek oregano (go and seek it out I say….it's the best!) and you have an equation that equals delicious.
The aroma alone whilst it's cooking, will drive you to insanity!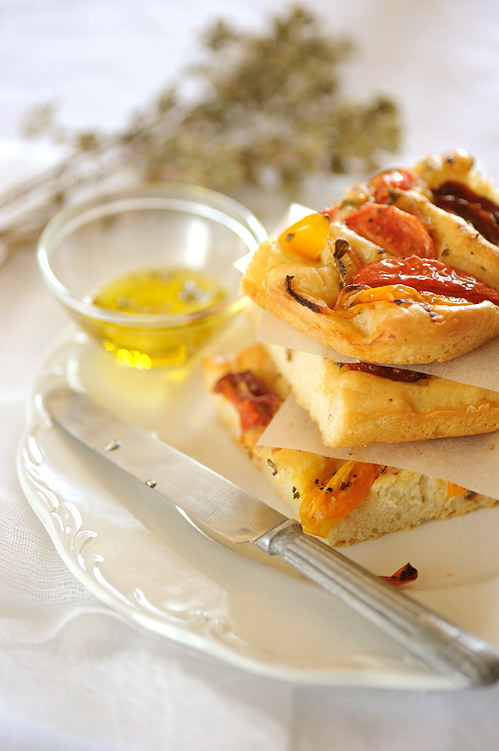 "Ladenia"-with Heirloom Tomatoes Recipe
A pizza like bread topped with in season heirloom tomatoes, Greek oregano and olive oil.
(Adapted from Laurie's recipe
here
and Peter's recipe
here
)
Ingredients
For the dough:
1 cup of warm water
1 sachet of dried yeast
1 teaspoon of salt
¼ cup of olive oil
3-3¼ cups of plain flour
For the topping:
2-2¼ cups of sliced/diced heirloom tomatoes
1 large red onion thinly sliced
⅓ cup of olive oil
1 tsp of sea salt
Freshly ground black pepper to taste
A good "handful" of dried Greek oregano
Instructions
To make the dough, combine the water and yeast-cover and allow it to activate-about 10 mins.
Add the olive oil, salt and stir to combine.
Begin by adding 2 cups of flour and mixing thoroughly and then slowly adding the last cup until you have an elastic, pliable dough. If you find it is still too sticky try adding a few tbsps of olive oil.
Knead the dough for about 5-6 mins applying lot of elbow grease.
Lay the dough on your pre-oiled baking dish and proceed to stretch it out ensuring it reaches the edges of your baking dish.
Cover the dough in cling wrap and with a kitchen towel and leave it to rise in a warm place for about 45 mins-1 hour.
Once the dough has doubled in size, combine your heirloom tomatoes, onions, olive oil, salt and pepper in a bowl and spread this mix evenly over the dough.
Top with generous amounts of Greek oregano and bake in pre heated 200 deg C oven for about 40-50 mins.
Cut up into pieces and serve warm or at room temperature.
Notes
I made mine in a rectangle baking dish as opposed to the traditional Greek "tapsi". Mine measured 37cmL x 24cm W and it was 5cm deep. Please allow a deep baking dish to make the ladenia as it needs to rise.