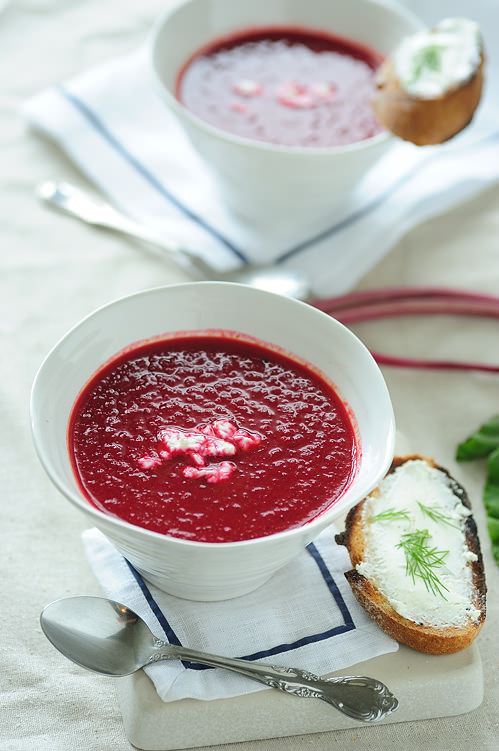 Last week, I got caught in the major storms that hit Sydney.  It rained.  And then it rained some more.  And it didn't stop raining!  How my old wreck of a car managed to survive the flash flooding I will never know.
Winter has certainly made a grand entrance!
On top of the rain, it was windy and all I kept on thinking was that I needed to settle down in front of the T.V. with a big bowl of soup. Soup is my rescue food in the winter time.  I make batches of it and freeze it and then reheat it again as needed.  A nice piece of crusty bread and your meal is complete.
I wanted to experiment this time by getting out of my comfort zone and doing something different.
I recently managed to get hold of a Delicious magazine form the UK.  They had a special feature on soups and I was "intrigued" by a recipe that used beetroot and apple as part of the ingredients.
I had a look in the fridge and realised I had no apples so I adapted the recipe and made it with some Beurre Bosc pears instead.  In a moment of pure genius I called it "beetroot and pear soup"!
Without sounding like a soul-less robot this is really  a delicious soup. It's healthy, colourful and full of fibre.
I've never tried borscht before but now I am itching to use beetroot as a soup ingredient in the near future.
Years ago (and I mean a long time ago), you would never have found me adding fruits such as pears and apples to soups.
In this case, the pears provided a wonderful sweetness against the earthy taste of the beetroot.
Crumble some goat's cheese or feta on top and there you're set for a comforting evening ahead.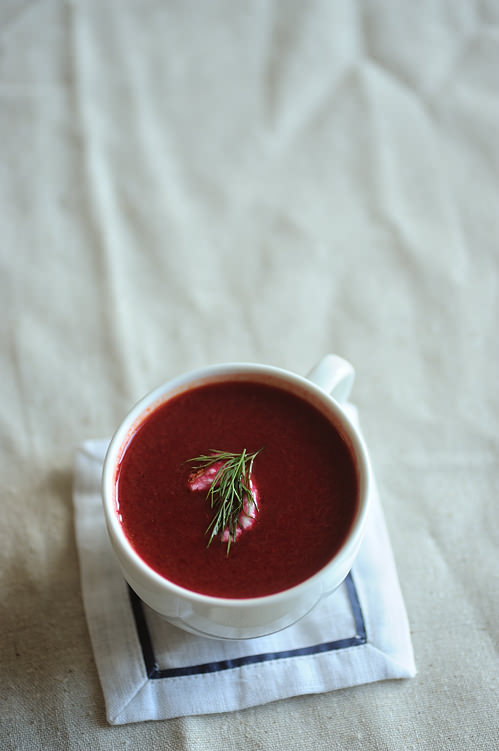 Beetroot and Pear Soup Recipe
Beetroot and pears come together for this delightful and warming soup. (Adapted from
here
).
Ingredients
2 tbsps of olive oil
1 small carrot finely diced
1 small red onion finely diced
1 celery stalk, finely diced
3 cloves of minced garlic
3 bulbs of raw beetroot, peeled and cubed
2 Buerre Bosc Pears, peeled, cored and cubed
1 litre of hot chicken stock
Instructions
Heat the olive oil in a heavy sauce pan and saute the carrot, celery, onion and garlic until softened-approx 5 minutes.
Add the beetroot and pears and give everything a good stir for a few minutes
Add the chicken stock, bring to the boil and then allow the mixture to simmer for a good 50 minutes – 1 hour on a medium heat, ensuring the beetroot is tender and cooked through
Once cooked and slightly cooled, whizz the mixture through a blender, food processor or stick blender ensuring everything is smooth.
Serve with crumbled goats cheese and sprigs of dill and crusty bread
Notes
You can garnish the soup with goats cheese or feta and sprigs of dill.