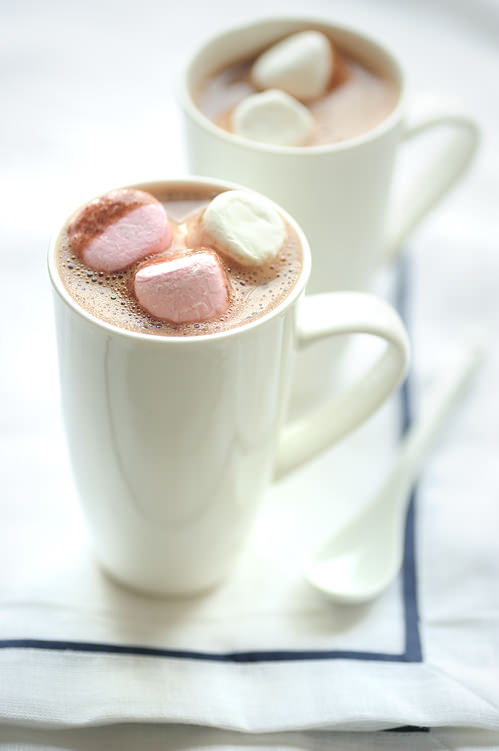 I'm planning a new feature here on the blog called "Photo Friday".  There's a lot of stuff I photograph that doesn't make it as blog posts for one reason or another.  It won't be just food…although most probably it will be food focused. It might be an outtake, a scene…whatever…I'll just go with the flow!  I'll share my thoughts behind the shot etc…   I also want to use it as an opportunity to tie up a few loose ends and cover things that I usually don't have time to mention such as competitions, promotions and giveaways!  Let me know what you think.
That hot chocolate you see above, has been a constant, indulgent treat this winter.  With temperatures dropping to all time lows in Sydney this week, the cold has been biting.  Although when you compare it to the cold of European and Northern American winters it's probably considered mild.  I made this hot chocolate using hot chocolate flakes supplied by the lovely people of Lindt Australia.  It's actually real chocolate flakes that you mix with warm milk and you can make it as rich as you like.  I top it with a few marshmallows, and voila! a drink and dessert in one!  There are two varieties of hot chocolate flakes.  A milk chocolate and a dark chocolate.  The product is quite versatile too.  You can also use it to decorate desserts and make iced chocolates…mmm!
In other news, I'm holding a giveaway!  I've never done one of these before and I'm quite excited.  There are four double passes for the Sydney Good Food and Wine Show up for grabs.  It's being held between the 16th-18th of July at the Sydney Convention and Exhibition Centre in Darling Harbour.  This event is a food lover's dream!  There are masterclasses with famous chefs, cheese, chocolates, sweets, wine,  lots of kitchen stuff and lots of restaurants showing off their new food creations.  Imagine being amongst all that.
If you're a lurker that's fine.  I respect that.  But, don't lurk now.  Leave me a comment about why you'd like to go (and no life essays please!) and I'll enter the details in one of those random generator "thingies" and let it pick four winners.  I'm happy to post the tickets anywhere in Australia, however please be aware that this particular Good Food and Wine Show is being held in Sydney on those specified dates.  And don't forget to leave me your email details so I can email you that you've won.  I'll announce the winners next Friday the 9th on the blog and post them out on the weekend.
Now get to it!
THIS COMPETITION HAS NOW CLOSED