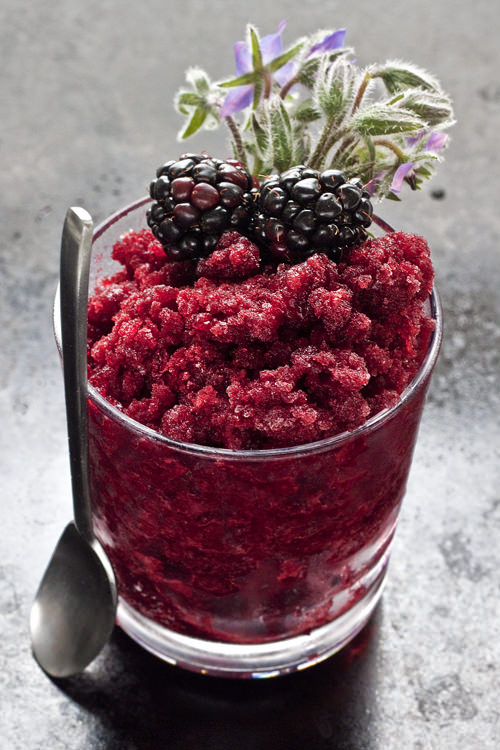 I was at blogger's dinner a few months ago when someone mentioned Mowie. Everyone's eyes lit up and the conversation centered around his gorgeous photography and wonderful kitchen creations. What's not to love? He bakes. He styles. And he does it all with such beauty and finesse. I have often found myself licking the computer screen after reading one of his delicious blog posts! But don't tell too many people that!  Lol! I remember the first time I laid eyes on his beautiful macarons.  I was awestruck!  I wanted to bake right then and there. I am thrilled and honored to have Mowie guest posting here on my blog today.
Over to you Mowie:
I've got a dilemma.
I don't have a big enough freezer. Or an ice cream machine. And I always seem to miss that ice cream van! So as much as I love all those gorgeous sounding ice cream recipes out there, I just can't make them. I've had to resort to an alternative version of ice cream that tastes more like sorbet, but looks more spectacular – granita. The best part isn't that it's easy to make and uses up such little freezer space, but that it's so versatile. With a little imagination, you can create a whole range of flavours with nothing more than 3 ingredients: water, fruit juice and sugar. And maybe a bit of spice. For this recipe, I used coconut water instead of water, added some borage flowers to create depth, and some ginger for a good kick.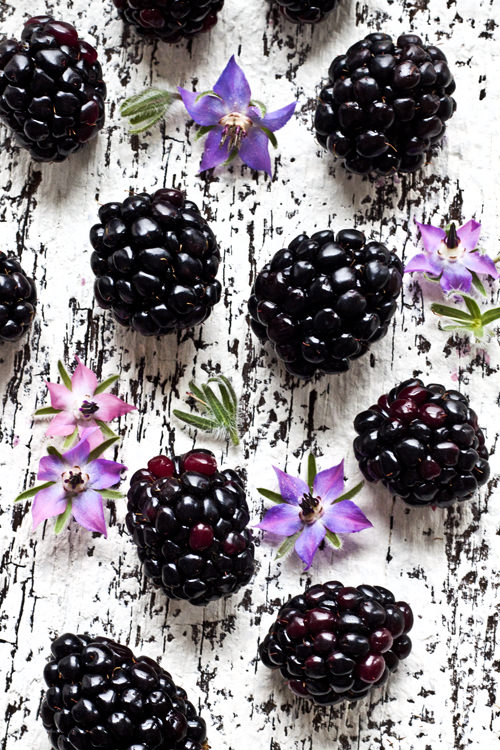 As for the photography, first, let me just say how honoured I am to be featured here on Peters blog. His gorgeous photography is like a breath of fresh air, and has been a source of great inspiration to me since I discovered Souvlaki For The Soul last year. For all of us that have come to know Peter and his tastes by now, I think we can safely say that he prefers darker backgrounds to lighter ones. That was my main inspiration for this post, before I even thought about the granita. I, like Peter, started shooting most of my photos with a lot of white: white cutlery, white backgrounds, white everything. I then moved on to add a bit of colour, then maybe too much colour, and when I found out I was going to be doing this guest post, I thought I had to take the plunge and go for black. I'm so happy with the results and the drama the dark background creates, and I can't wait to experiment some more.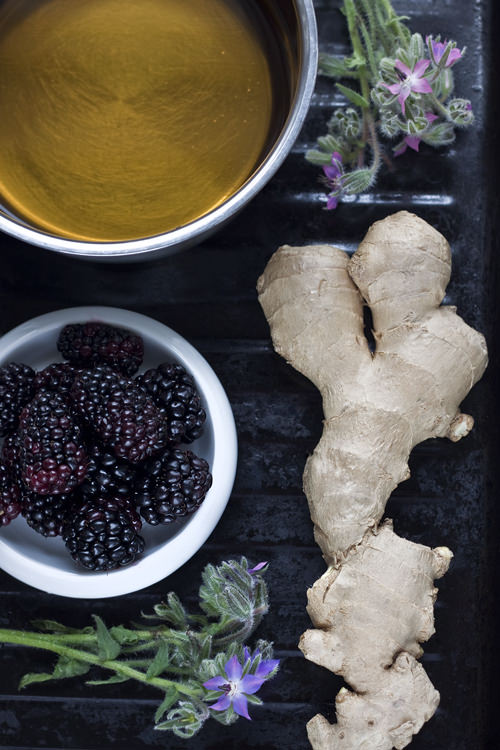 In the meantime I'll be munching on my granita, humming along happily to the tune of the ice cream van as it passes by.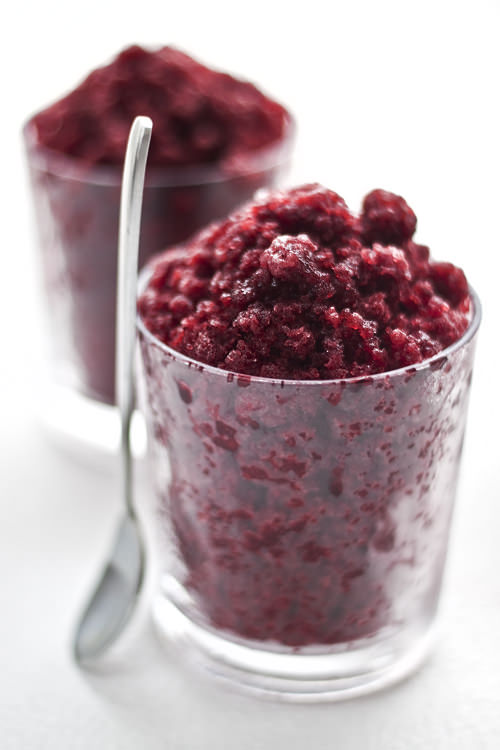 Blackberry and Ginger Granita
Blackberry, ginger and coconut water come together to make this cooling summer granita.
Ingredients
350ml coconut water
80g sugar
300g blackberry juice (I needed 600g of blackberries for this)
30g fresh ginger, shredded
1 small bunch of borage flowers
Instructions
Place the blackberries, ginger and borage flowers into a pot and gently heat until the fruit starts to macerate and the flavours infuse into each other. Take off the heat and allow to cool.
In a separate pan, gently heat the coconut water and sugar until the sugar is dissolved. Don't let the mixture boil.
Run the fruit mixture through a fine sieve, and collect the juice. Add the juice to the coconut water.
Pour into a shallow dish and place in a freezer until frozen solid.
Scratch the ice repeatedly with a fork to form your grania. Place back in the freezer for another hour. Serve granita in glasses.