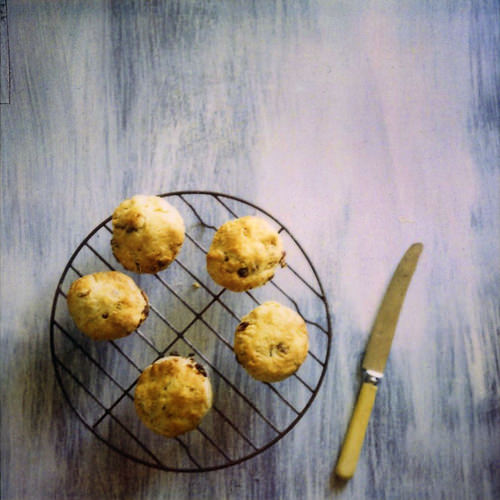 For this "Photo Friday" I wanted to cover the magic of Polaroid cameras and include a recipe that I shot using one.
I'm a lover of instant film and the effects it creates.  It almost feels like you are stepping back in time when you are using this beast.  Although film can be a little expensive I've always managed to find some here in Chinatown…this is why I have to be very careful when using it.
You can search through my archives and see a variety of posts I have shot using a Polaroid SX-70 camera.
And if anyone is curious the only thing I do to the final image is scan it and crop it to fit the width of my blog.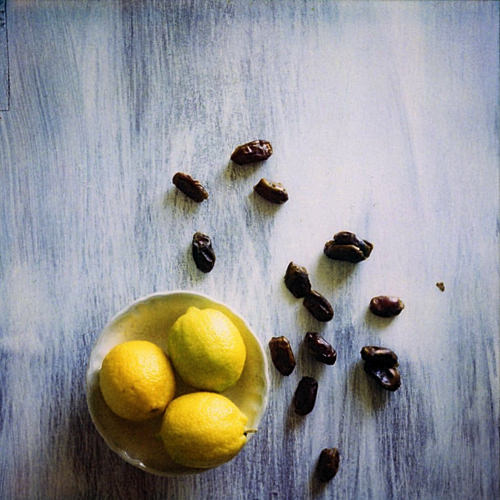 Now to the lemon and date scones.
The idea to make these scones came from my recent visit to Wellington for the Wellington on a plate food and wine festival.
I was having a conversation with Sarah who admitted she had this fascination with date scones!  She has been experimenting and searching to find the best date scone recipe.  Not one to back away from this I said I would look through my bookmarked recipes and see what I had up my sleeve.  And here we are!
The only difference with this recipe is that it has lemon which adds a lovely citrus note to the final taste of the scones.  The recipe itself isn't too sweet and I think next time I might try it using some high quality medjool dates.
Overall these were delicious!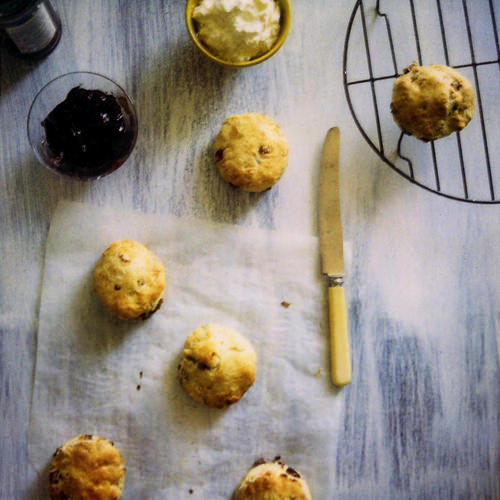 I've always loved scones and I always remember preparing them for the first time in primary school.
Scones are best served straight out of the oven and topped with jam and fresh whipped cream and accompanied by a strong "cuppa" as we say here in Australia.
I think the number one rule or "secret" with scones is to not to overwork the dough.  Mix until all the ingredients come together and that's it!  Do not be tempted to knead it like bread dough or you will end up with hockey pucks!
I hope you like these Sarah and I hope you like the vintage feel of this post!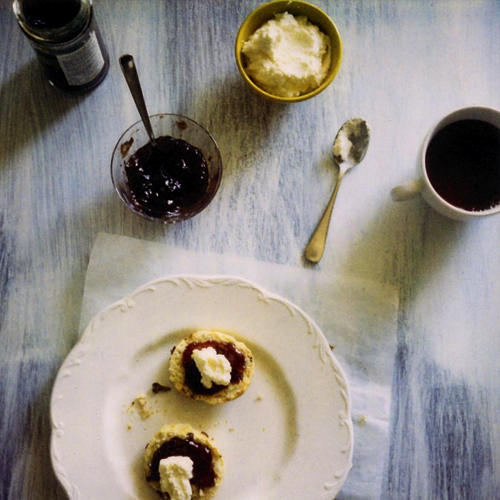 Lemon and Date Scones Recipe
Lemon and date scones prepared with dried dates and fresh lemon zest
Ingredients
Dry Ingredients
3 cups of self raising flour
2 tablespoons of caster sugar
1 cup of chopped dried dates
Grated rind of 1 lemon
Wet Ingredients
150mls of milk
150 mls of pouring cream
1 egg
a "splash" of good quality vanilla extract
Instructions
Combine the dry ingredients in a large bowl and mix well
Whisk the wet ingredients together and add to the dry and combine until the mixture comes together nicely-DO NOT OVERWORK!
Press the dough out to about 2-3cms thick.
Using an 8cm round cutter or the rim of a drinking glass cut scones from the dough and lay flat side up on a baking paper lined tray.
Brush the tops with a little milk and place in a preheated 200 deg C fan forced oven
Bake for 12-15 until golden brown and serve immediately with jam and cream.