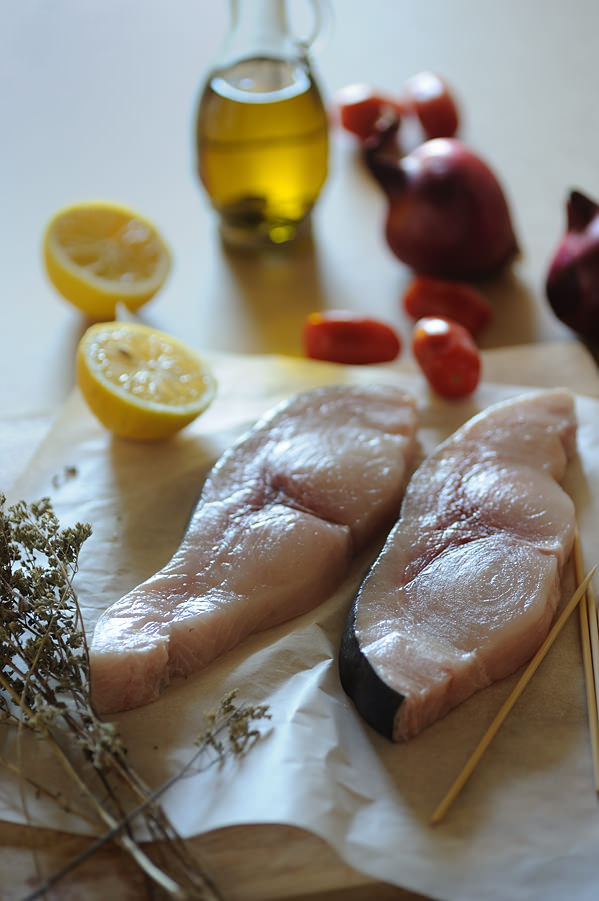 I've just returned from a three week holiday overseas and I'm feeling quite refreshed.
Apart from the usual jet lag I'm itching to get back in the kitchen and ready to cook up a storm.
Today I wish to present another souvlaki dish here at Souvlaki For The Soul.
I prepared a lamb souvlaki recipe a little while back and only recently tried the more traditional pork souvlaki.
I like how this dish can be adapted to use different meats and vegetables and how relatively quick it can come together for a tasty dish.  If you have a bbq then you are truly lucky.  The char grilled smoky flavours complement this street food perfectly.
My little apartment has no room for one so I ended up cooking them on my George Foreman Grill.  Not the same-I know.  You do with what you have available!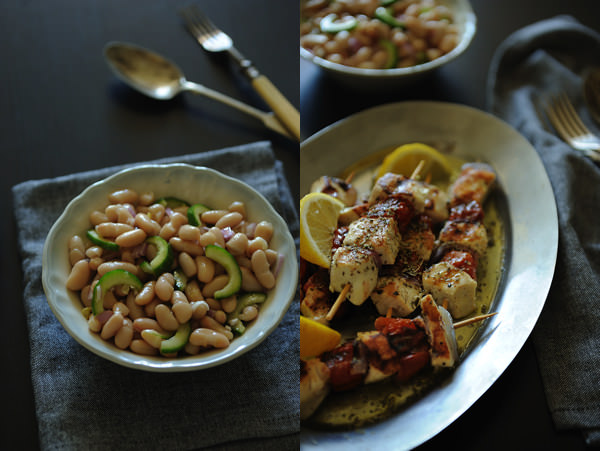 The inspiration for this swordfish souvlaki recipe came from Peter Kalofagas's recipe here.
Peter lays out easy instructions for preparing the swordfish, vegetables and the traditional marinade.  It's funny to think that years ago I would have avoided making anything seafood based.  But here I am a few years later-more confident in handling seafood.  Just don't give me any giant crabs to clean!!!
I've ordered swordfish plenty of times whilst eating out and enjoy it's firmer, meatier texture.
Using a more subtle fish probably wouldn't work here.  We need something a little stronger to stay on the skewers.
I've paired the swordfish with some grape Roma tomatoes (smaller versions of the traditional Roma tomatoes) and some red onion.  Peppers would work exceptionally well here too-I just didn't have any on hand.  Just be sure to cut the ingredients in a uniform size so they all cook at the same time.
As for the marinade I've gone with the Greek Holy Trinity of spices-olive oil, lemon juice and oregano.  You can't get more Greek than that!
Also, be wary of over marinating the swordfish.  The acidity of the lemon juice will start "cooking" the fish.  I like to marinate it for about 45 minutes.
I've accompnied today's souvlaki dish with a simple cannellini bean salad, tossed with cucumbers, red onions and a red wine vinaigrette and some pre bought toasted Lebanese bread.
I can almost taste summer…almost.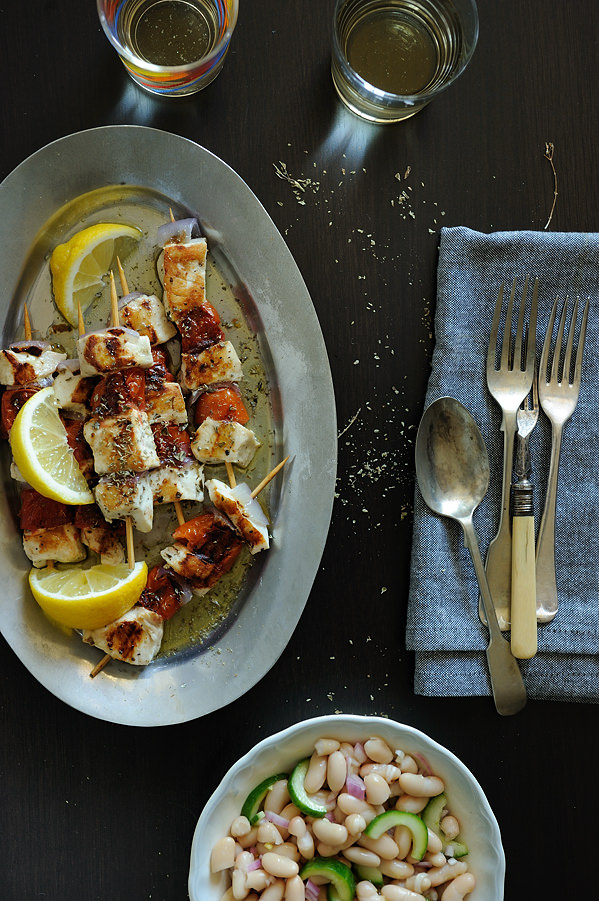 Swordfish Souvlaki Recipe
Swordfish souvlaki made with swordfish, tomatoes and red onions.
Ingredients
For The souvlakia
2 swordfish steaks, cleaned, deboned, skins and any dark red bits removed and cubed into even small pieces
1 large red onion cut into quarters and then quarters again
20 baby Roma tomatoes cut in half
For the marinade and dressing
½ to ¾ cup of extra virgin olive oil
juice of half a lemon
1 clove of garlic finely minced
1 teaspoon of dried chili flakes
a good pinch of sea salt
cracked pepper
Instructions
Prepare the souvlaki by marinating the swordfish in HALF of the marinade for about 45 minutes in the fridge (keep the rest of the marinade aside to drizzle over once they are cooked)
Remove the fish pieces from the fridge and begin threading the skewers with a combination of swordfish, onion pieces and tomatoes. Repeat until you have a skewer with a uniform pattern-it doesn't have to be perfect though!
Cook the souvlaki on a hot pre oiled barbecue or grill for approximately 5-6 minutes, turning them over halfway through.
Once cooked drizzle the remainder of the marinade over the souvlaki and top with extra Greek oregano if preferred and lemon wedges.
Serve with a simple salad and your favourite Middle Eastern bread or Greek pita
Notes
I used smaller skewers for these souvlaki. I ended up with approximately 12 miniature souvlakia. This easily fed 4 people. Adjust accordingly if you are using the larger skewers. And remember this is a guide only. If you prefer using other vegies go right ahead.