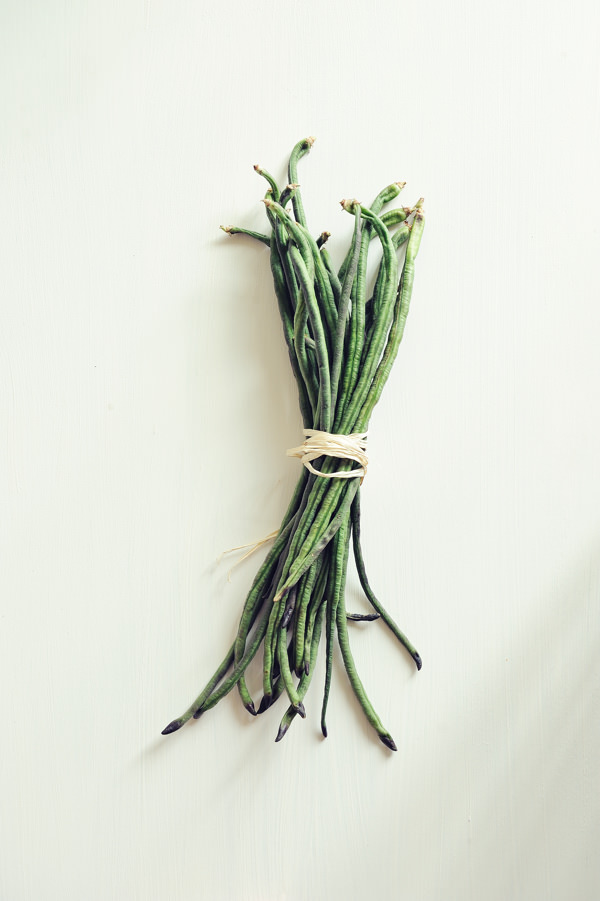 Food memories. I'm sure we all have them.
Cold, canned, tomato soup from school camp?
A slice of freshly baked chocolate cake?
Big, red juicy cherries in the summer time?
Im sure I could conjure up a hell of a lot more if I put my mind to it.
One childhood food memory that will never go away is the one of "fasolakia" cooking on the stove top in the summer months.  "Fasolakia" for those who don't speak  Greek, are green string beans.  They are also known as runner beans or French beans.
I remember my mum preparing this dish in the morning and we would later sit down and have it for lunch served at room temperature. Bread was always served to mop up the juicy, ripe tomato sauce.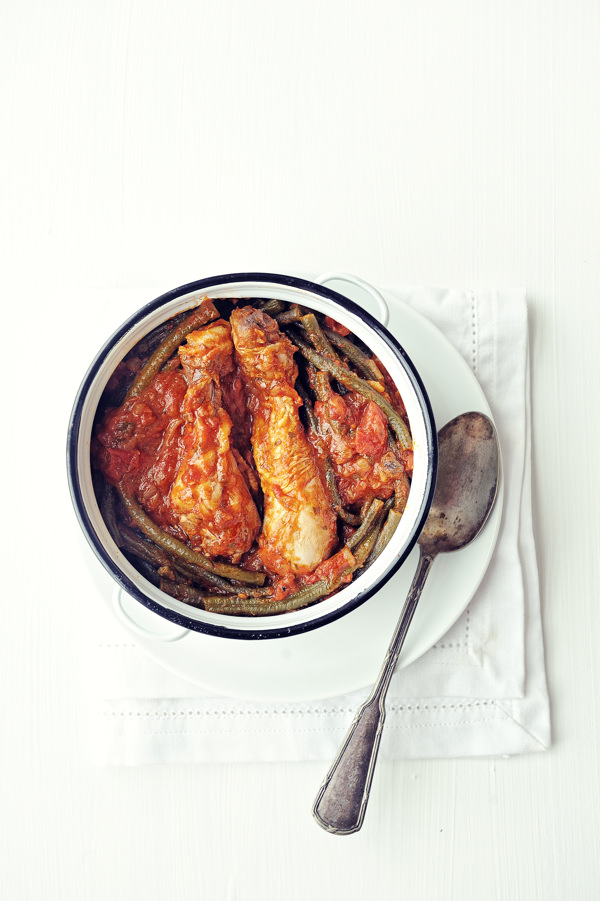 This dish is very reminiscent of the  braised okra I cooked earlier this year.
It pretty much follows the same principles of braising vegetables in lots of olive oil-referred to in Greek as "ladera" or "lathera". The beauty of preparing "ladera" dishes is that you can also add some kind of protein.
For this dish I used chicken-or more specifically chicken drumsticks.  You may prefer to add the more taditional beef or lamb.
Now, I've taken the liberty of playing around with this traditional Greek dish by using snake beans. Why?  Because I felt like it!
Seriously, I saw them at the market and thought I would try something different. The last time I used them was when I attended Thai cooking classes on Koh Samui.
Snake beans are popular in Asian and Indian cooking. I adore their slightly sweet flavour and crunchy texture.
And I'm sure you can tell they get their name from their length. Paired with sweet tomatoes, onions, parsley and a little garlic I was quite happy with the way this turned out.
A little different but very nice indeed.
Braised Chicken with Snake Beans
A recipe for braised chicken and snake beans cooked in a tomato sauce. An interesting twist to a traditional Greek dish.
Ingredients
500 grams of snake beans chopped in half or 1 kilo of string beans ends removed
8 chicken drumsticks
¼ cup of oilve oil
1 red onion finely diced
2 cloves of garlic finely chopped
2 cans of diced tomatoes
1 very large handful of chopped parsley.
Salt and pepper to taste
Instructions
Wash your chicken drumsticks quite thoroughly, drain and pat dry with a paper towel. Set aside.
In a large pot add the olive oil and once heated fry the chicken until it has browned (about 5-8 mins). Remove and set aside.
Add the garlic and onion and cook until translucent and soft
Add the chicken back to the pot along with the tomatoes. Cover and bring to a boil. Once the mixture is boiling reduce the heat to low and allow the chicken to simmer for a good hour.
Add the snake beans or string beans along with the parsley, give everything a good stir, cover again and allow the ingredients to cook for a further 45 mins. (check from time to time to ensure everything doesn't become too dry. Add some water if necessary).
Allow the dish to rest for half an hour after cooking and serve with lots of crusty bread.