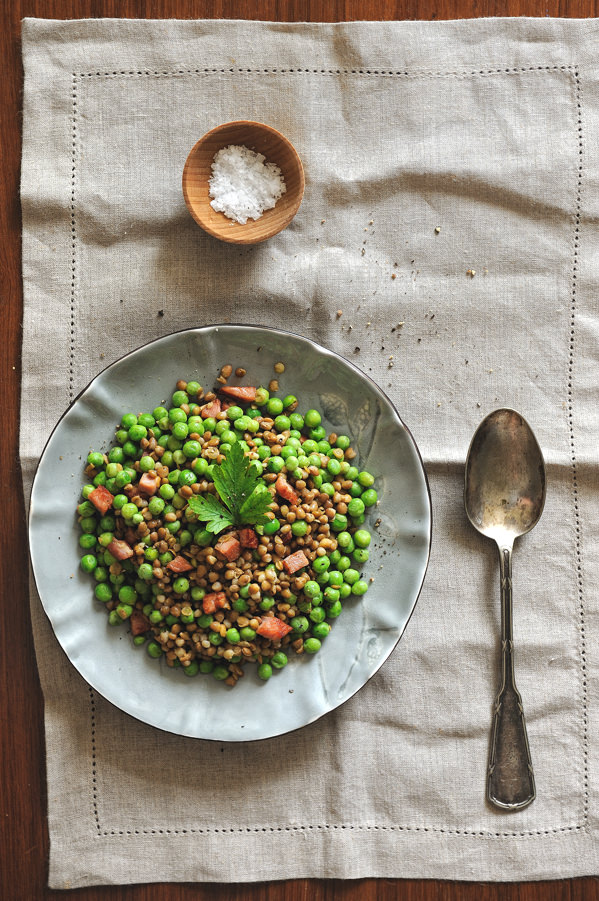 I'm always trying to come up with different sides to enjoy with my meals and more importantly when I'm entertaining.
And when you're holding a dinner party the last thing you want to do is be stuck in the kitchen the whole time. I mean the whole point of having people over is to be social!  I try to prepare a lot of things in advance and I only do dishes that I'm comfortable with and have already tested before.
For a recent dinner party I made a lamb loin stuffed with pistachios, lemon zest and herbs (recipe coming soon).
I added a crispy potato stack as one side but I wanted to balance this out with some kind of vegetable component.
I was racking my brains out until I saw a packet of unused lentils lying in the pantry cupboard.  A glance in the freezer had me pulling out a packet of frozen peas that were dangerously close to becoming extinct.  A few slices of unused thick cut bacon and a "salad" of sorts was put together.
I'm calling this my "pea, lentil and bacon salad"!.
I must say I was very impressed with my efforts…although one dinner guest did exclaim the ingredients for this salad would make a great soup!  And I agree!
The best part was pre cooking the lentils and the the thick cut bacon.
At the last minute I pre blanched the peas and added them warm to the remaining salad ingredients and "jazzed" it all up with a mustard vinaigrette.
Easy "peas-y'!  😉
Pea, Lentil and Bacon Salad
A salad of peas, lentils and bacon with a mustard vinaigrette
Ingredients
400 grams of pre cooked brown lentils
3-4 slices of thick cut bacon cut into small cubes and fried
2 cups of frozen peas-fresh would be even better here
for the dressing:
2 parts olive oil
1 part red wine vinegar
1-1½ tablespoons of Dijon mustard
1 teaspoon of honey (optional)
salt and pepper to taste
Instructions
Combine the lentils and bacon in a bowl.
Add the just-blanched peas in along with the dressing.
Mix everything thoroughly and serve in the centre of the table immediately.