Well, you asked for it and here it is.
When I was showcasing my pea, lentil and bacon side dish/salad the other day a lot of you requested the recipe for the stuffed loin of lamb and crispy potato "stack".
I'm a sharing kind of guy…what's mine is yours. 😉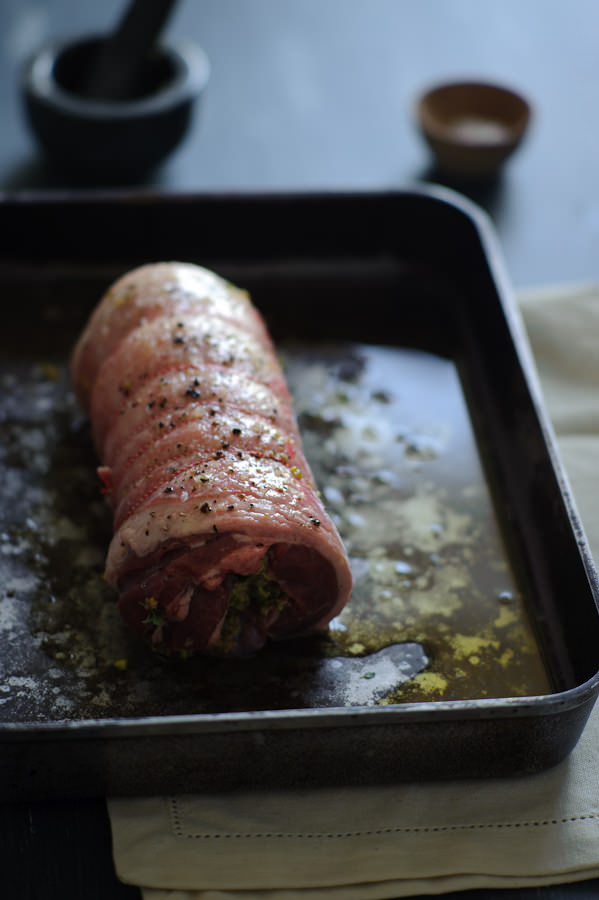 Am I sounding like a broken record?  Me + lamb = love!  You all know that by now.
It's almost part of my genetic make up!  Racks, legs and shoulders are all good cuts but this time I wanted to experiment with a "loin". (I almost feel cheeky saying that!).
The best part is that you can stuff it with whatever takes your fancy.  Roll it up, tie it up and cook it up. Simple.
My lamb loin weighed in at just under a kilo.  And I was happy that I didn't have to pay Wall St prices for it!
My stuffing was a blend of ingredients that really brought this dish together.
The pistachios offered a little texture and crunch,  the lemon zest a touch of freshness and the dollop of Dijon mustard gave it just the right amount of spice. I also added a handful of chopped parsley to the mix to give it that "herby" touch and a few cloves of garlic. Lamb just wouldn't be the same without some garlic…
I'm sure we all know that mantra!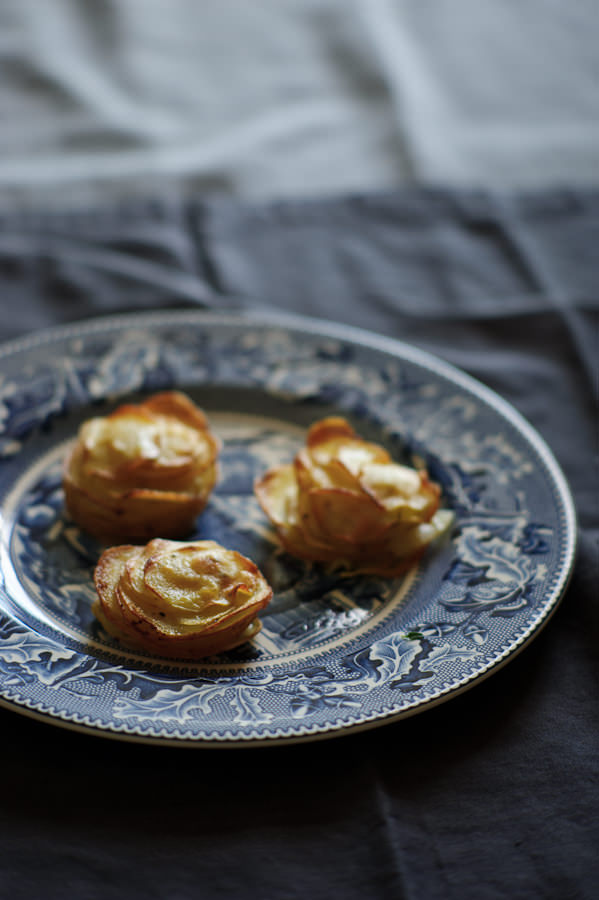 And this blog post wouldn't be complete without a quick word on the potato stacks. Not only do they look stylish but everybody always want seconds!
It's a no-brainer to prepare these and my secret weapon is a muffin tin!  I use a mandoline to slice up the potatoes and toss them in a little olive oil.  I then stack the slices on top of each other in the muffin tin. A dollop of butter and 45 minutes later you have this incredible soft potato stack with crispy edges and a buttery soft centre.
Whatever you do you must make these when you next entertain!  Now let's get cookin'!

Crispy Potato Stacks Recipe
Ingredients
6 medium sized potatoes, washed and thinly sliced using a mandoline
¼ cup of olive oil
salt and pepper to taste
60 grams of butter
Instructions
Toss the olive oil, salt and pepper along with the potato slices ensuring everything is coated.
Place the coated potato slices on topp of each other-stacked-in the muffin tin holes until you reach the top
Add a portion or "knob" of butter on top of each potato stack
Cook in a pre heated 180 deg C oven for 45-50 mins.
Potatoes will be browned on the top, have crispy edges and be soft in the centre.
Rest for a few mins in the tin and then serve immediately.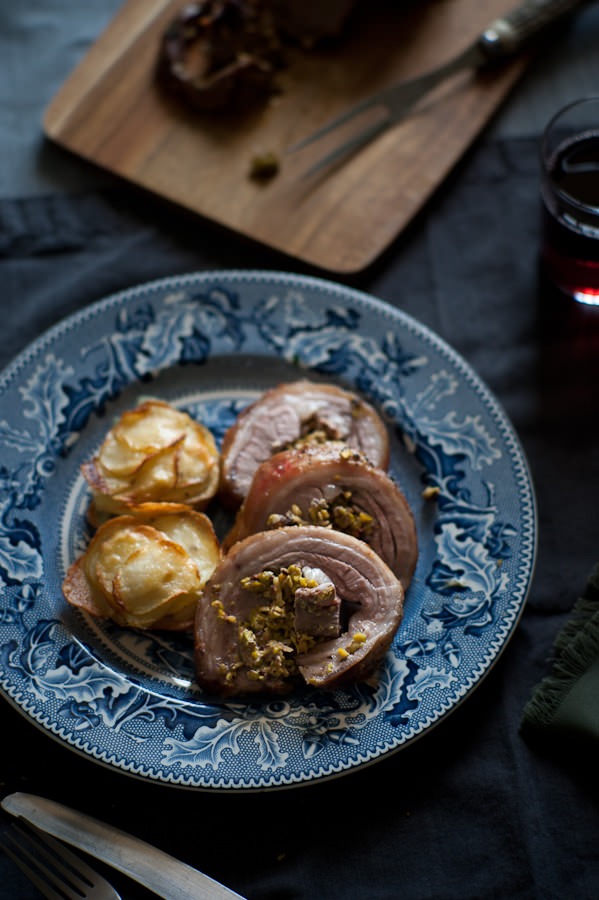 Stuffed Loin of Lamb Recipe
A recipe for loin of lamb stuffed with pistachios, lemon zest and Dijon mustard
Ingredients
1 loin of lamb-approx 1 kilo
50-60 grams of raw, shelled pistachio kernels
zest of 1 lemon and the juice of half
2 cloves of garlic
a tablespoon of Dijon mustard
a handful of parsley
¼ cup of oilve oil
salt and pepper to taste
Instructions
Pre heat your oven to 180 deg C. Wash your lamb loin using cold water and then dry using paper towels.
Combine the pistachio kernels, lemon juice and zest, garlic, mustard and parsley in a food processor and with the motor running add your olive oil in a thin stream. Process until it all comes together and forms a paste.
Lay the loin of lamb on a baking tray flesh side up and proceed to place the stuffing in the centre. Roll it up gently and tie it up with kitchen string.
Drizzle a little olive oil over the tied up lamb loin and add some more salt and pepper.
Cook in the oven for the first 10 mins at 180 deg C and then drop the temperature down to 160 deg C. Check on the lamb 20 mins later. If it appears a little dry add half a glass of water.
Cook for a further 20-25 mins. (Total cooking time is anywhere between 45-60 mins)
Remove from the pan and lay it on a plate to rest covered in foil. Slice and serve immediately.