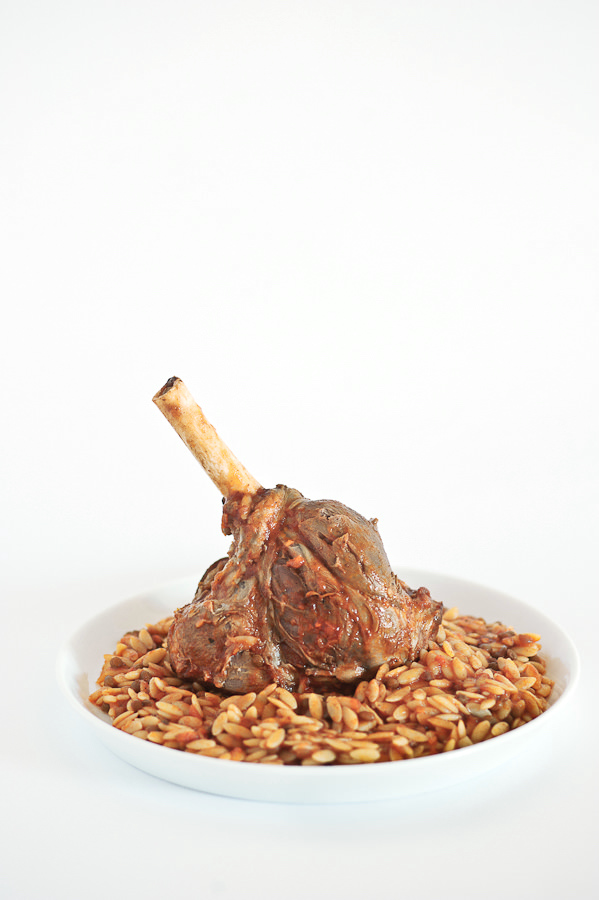 I screamed like Fred Flintstone when I saw the size of these lamb shanks!  They were enormous.  Huge.  Think "meat on steroids". (Although I can assure you they were organic and tasted as "real lamb" should).
I prepared the lamb using a Greek recipe called "giouvetsi" or youvetsi.
Cooking Giouvetsi or Youvetsi
Giouvetsi is traditionally baked in clay pots and can be made using either chicken or beef. The meat is braised for a number of hours using a variety of spices and tomatoes. In the final stages of cooking you add some rice shaped pasta (orzo) or hilopites (Greek home made dried pasta) which then cooks in the tomato/stock sauce.  I had some pre-cooked lentils lying about in the fridge that I didn't want to waste and added them along with the orzo.
Ten minutes later I was sitting down to a very hearty, comforting and warm meal.  (in reality I was eating this for two days-I had plenty of leftovers).
It's a little similar to my cinnamon braised lamb shanks recipe,  however I've added a few more spices to this lamb giouvetsi and cooked it all in the one pot.
P.S. I shot these photos quite bare to really make that lamb shank stand out.
Lamb Giouvetsi or Youvetsi Recipe
Braised lamb shanks cooked with orzo
Ingredients
2 large lamb shanks (or 4 maller ones)
olive oil
1 onion, finely diced
2 stalks of celery, finely diced
1 medium carrot, finely diced
2 cloves of garlic, minced
400 grams of pureed tomatoes
1 tbsp of tomato paste
2 cups of water
1 tsp of ground cinnamon
1 tsp of ground cloves
1 tsp of ground turmeric
1 tsp of ground cumin
salt and pepper to taste
1 and ½ cups of orzo
1 cup of pre cooked lentils (optional)
grated cheese (Kefalotyri, Parmesan, Romano)
Instructions
Wash and clean your lamb shanks. Pat dry with a paper towel to remove all moisture.
Heat a little olive oil to a large cast iron pot and add proceed to brown your lamb shanks until they are lovely and caramelised. Once browned remove and set aside.
In the same pot add your onions, garlic, celery and carrot and cook until translucent. Add the tomatoes, tomato paste, all the spices, water and season well.
Place the browned lamb shanks back into the tomato mixture and allow the mixture to come to a boil.
Transfer your oven proof cast iron pot to an oven (pre heated to 170 deg C). Cover and allow the lamb shanks to cook for approx 2-2.5 hours. (they should be "falling off the bone").
Ten mins prior to serving add your orzo and lentils if using.
The dish is ready when the pasta has cooked and the liquid has been absorbed.
Allow to rest for a few minutes and then serve with your cheese of choice.