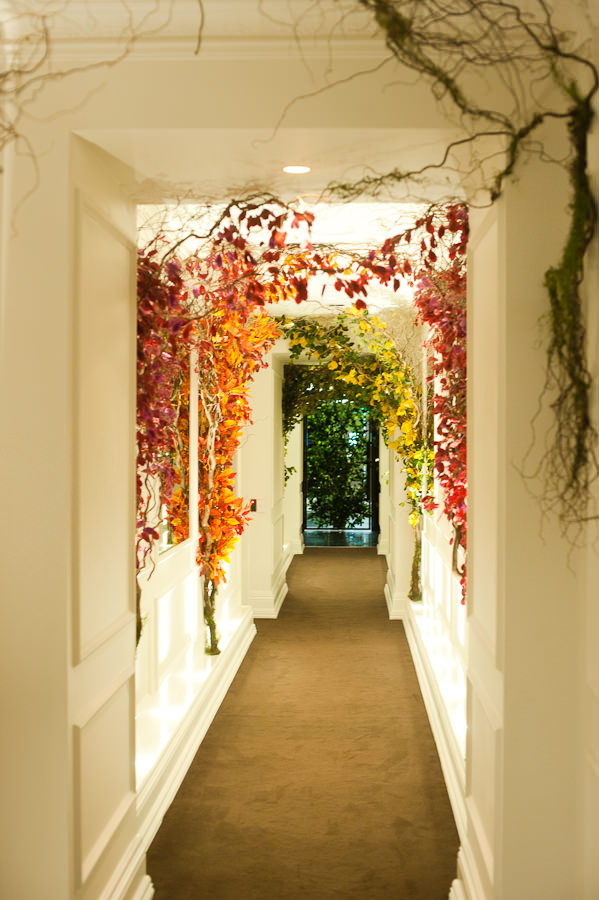 I felt like I had won the golden chocolate bar when I walked into Bécasse restaurant. If you are a little confused by my reference, I'm talking about "Willy Wonka and the Chocolate Factory".  I made my way through the leafy corridor, staring in awe at the foliage and fairy lights.  It was truly another world. "The magic has already begun" I thought to myself.
But the real magic here happens with the food. Justin North (who I kindly call the "Willy Wonka of the food world") has created  a menu and dining space that will have you remembering it for a very long time. If you live in Sydney or if you are planning a holiday here I highly recommend that you visit Bécasse restaurant and allow yourself to be transported into his magical kingdom.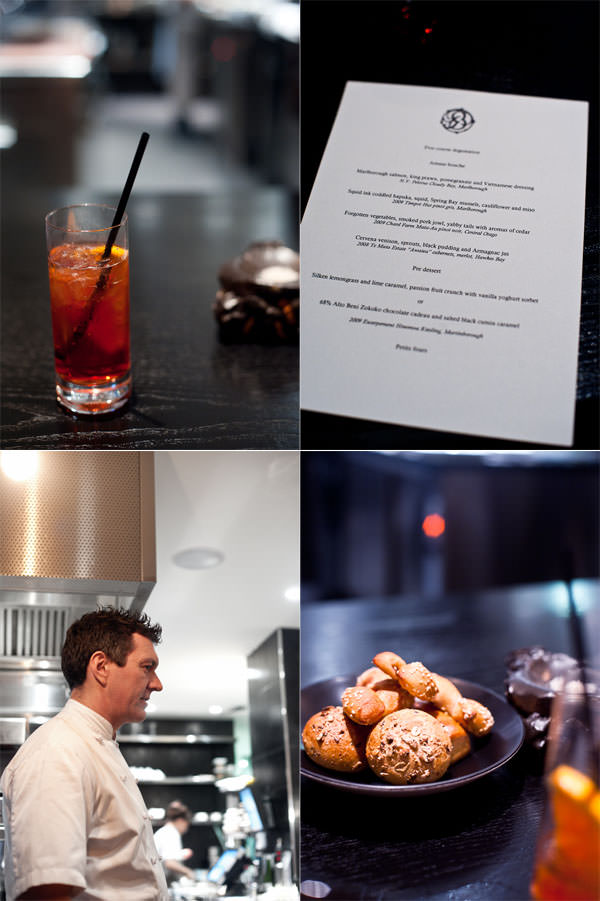 I was very privileged to be invited as a guest of Tourism New Zealand and experience a menu created by Justin, showcasing New Zealand ingredients. What made this extra special was that we got to see it live from the intimate dining space known as the chef's table. You basically dine in the kitchen (in a very comfortable, stylish booth) and watch the culinary masterpieces created in front of your very own eyes. If you have ever worked in a commercial kitchen, you will know that the pace is hectic and manic. Not here.  The atmosphere is calm and the team of chefs work in precision like harmony. This same attitude transfers to the front of house staff who are welcoming, down to earth and unpretentious.
The evening begins with a Campari and soda pre dinner drink and a "light as air" buttery, puff pastry canape topped with a whipped olive mascarpone and citrus salt.  The champagne begins to flow and we are treated to a selection of breads that have been baked at the adjoining Becasse bakery.  Seven seed bread, quince sourdough and mini brioche loaves are slathered in a selection of freshly whipped butters and hungrily devoured in moments (by me anyway!).  The amuse bouche makes its way to the table, and we are treated to two delicate yet flavour packed dishes.  A "just set" carrot jelly studded with scallops and topped with a kohlrabi mousse and puffed grains surprises my taste buds with it's contrasting textures of "soft and crunchy".  Vegetables get the star makeover next when we sample a miniature version of the signature Bespoke AutumnVegetable garden.  What the?…The little 'garden" is actually a sweet and tender pea mousse topped with a "soil" consisting of hazelnuts, pistachios and walnuts.  The mini garden has been "planted" with roasted carrots and baby radishes and sprinkled with black olive crumbs and dehydrated goat's cheese.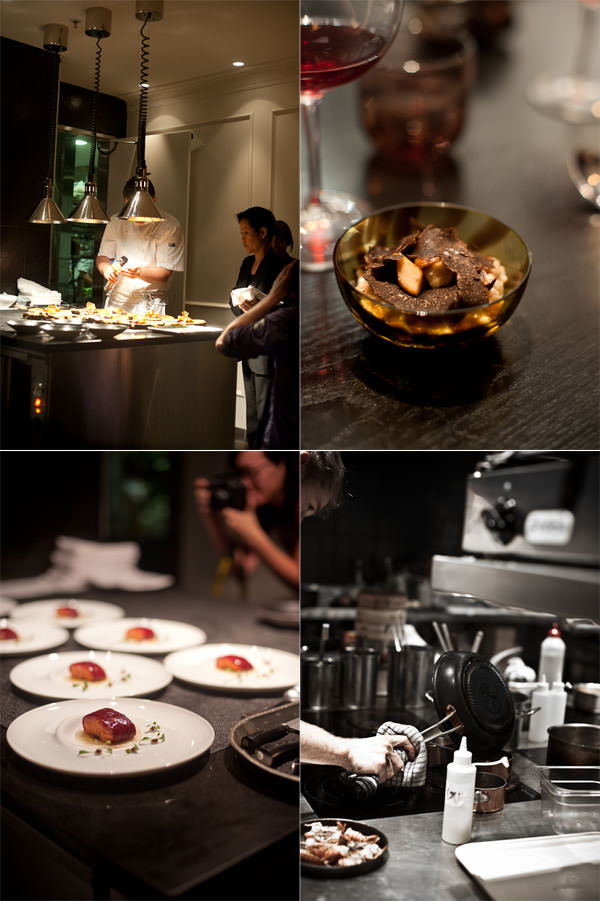 I could bore you with every single item but I really wanted this post to emphasise my favourite and stand out dishes.  We are treated to an extra special surprise when Justin informs us (the advantages of sitting alongside the chefs as they work!) that he has prepared a special mushroom risotto for us using truffles sourced from Tarago in Tasmania.  The risotto comes with a very generous helping of shaved truffles that has you wanting more and more after each bite.  It's very aromatic with the musty, earthy and nutty flavour of the truffles dominating.  The truffles also re-appear in another dish with potatoes.  This isn't an "ordinary run of the mill" truffled potato dish though.  The guys at Becasse have taken the truffle soil, formed it into a clay and baked a small selection of  micro potatoes inside the clay.  It looks like a giant dinosaur egg and it is met with great applause when it's cracked at the table.  This is food theatre at its best!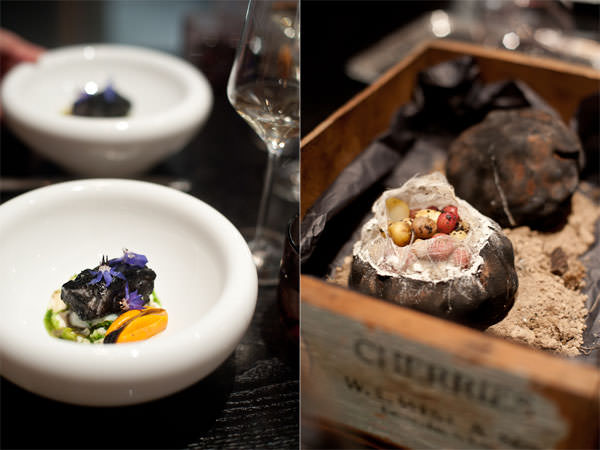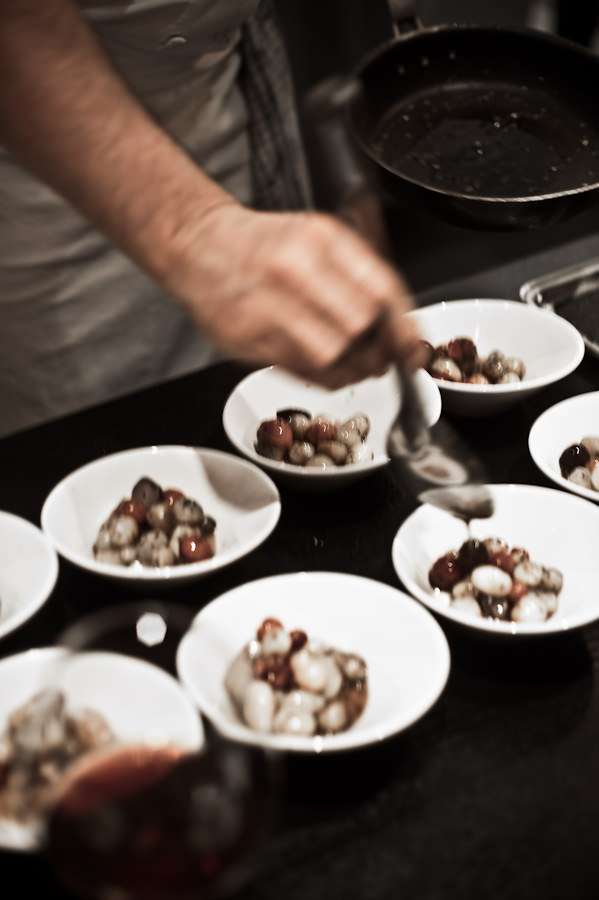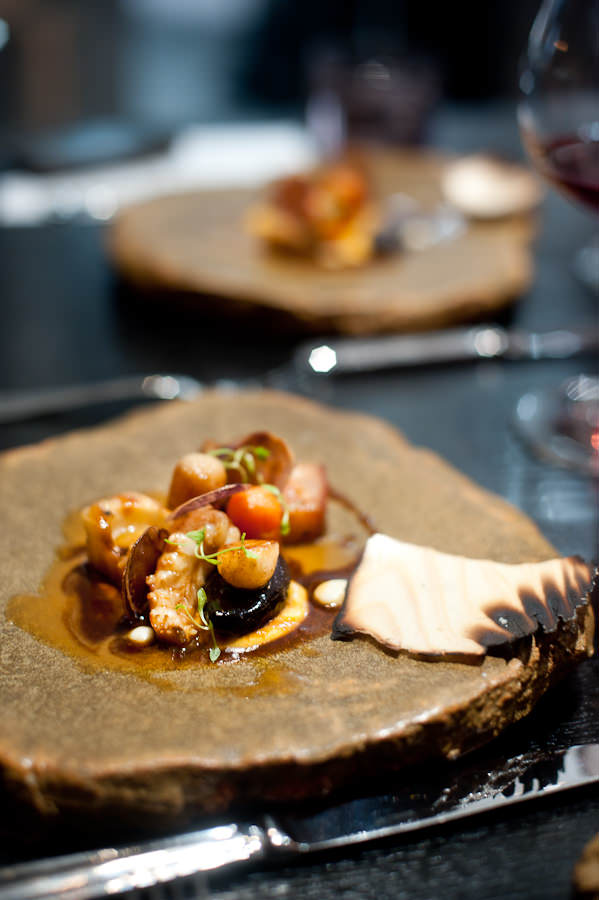 The dining experience is really taken to another level with the presentation of the "forgotten vegetables" dish. Justin explains this dish is inspired from his childhood when his dad would grow sweet potatoes, turnips and swedes and cook them wrapped in foil. Imagine being presented a dish on something that resembles part of a tree (it's actually ceramic).  On top of the "tree trunk" you find a yabby bisque saucing purple congo potato, Hawaiian sweet potato and turnip accompanied by  succulent melt in the mouth pork jowl and tender yabby tails.  Keeping with the tree/forest theme a thinly sliced piece of cedar is lit and extinguished and creates a mild aroma to add to the whole atmosphere.  Wow!  I feel as though all my senses have been awakened with this one dish.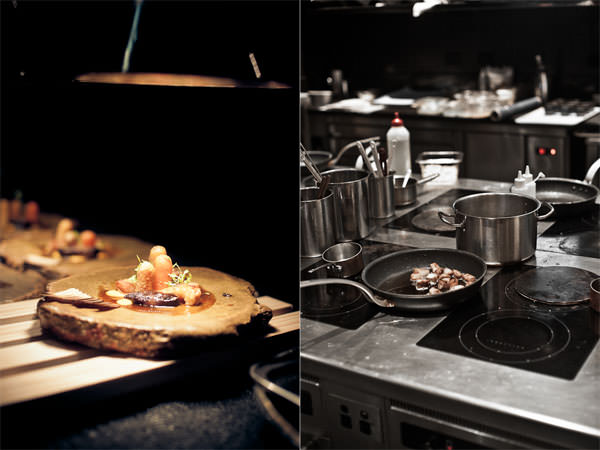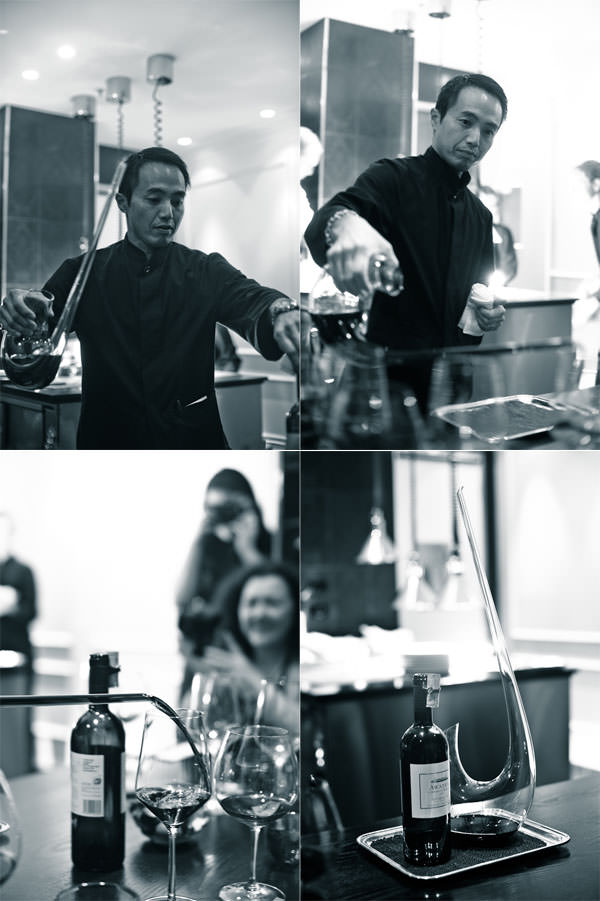 Even the decanted wine gets a "supporting role" with all the food theatrics at Becasse restaurant.  The Reidel decanter provides a lot of amusement and has everyone reaching for their cameras at the same time!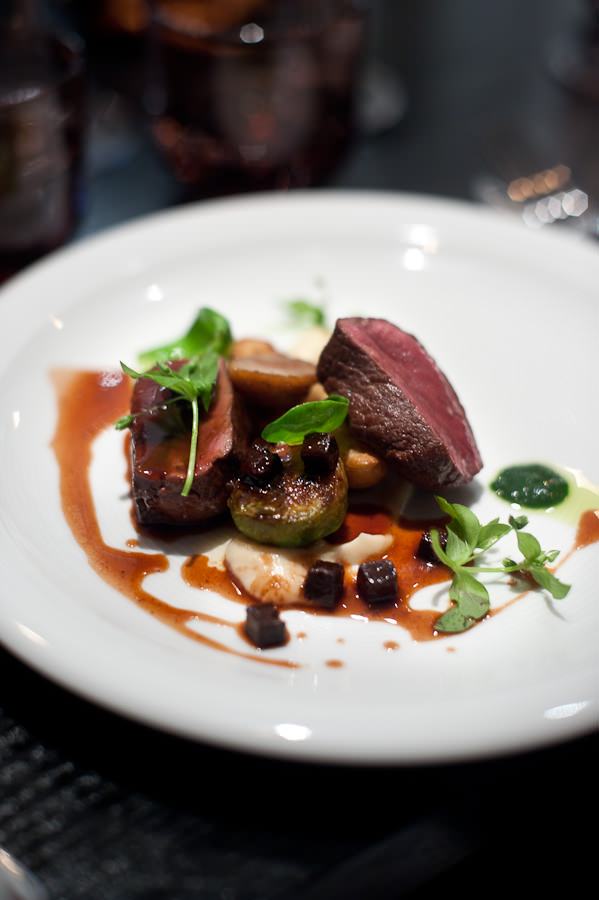 We're treated to a second main of Cervena venison that has me creating the "perfect bite" with each forkful.  The dish comprises of rare cooked venison pieces, Jerusalem artichoke puree, tiny cubes of housemade black pudding, roasted chestnuts, caramelised brussel sprouts and a nettle puree, all dressed with an Armagnac jus.  There's a lot going on here but it all works quite harmoniously.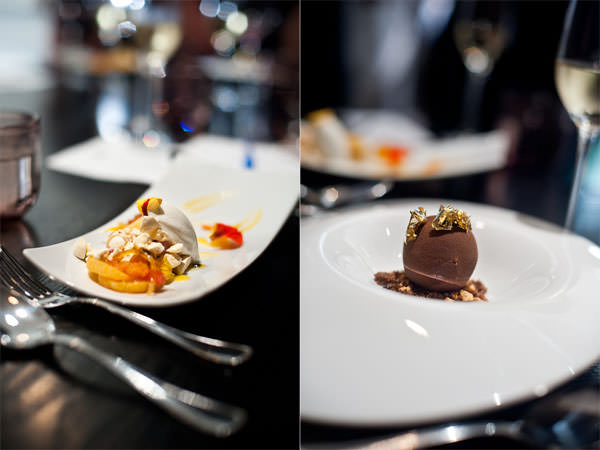 Dessert is a three part affair.  We begin with a palate cleanser that is all about apples; the Granny Smith apple to be exact.  I'm amazed as I take a spoonful of the refreshing sorbet and I discover my mouth "zingy" with the taste of Granny Smith apples.  The sorbet sits atop a sweet wine jelly studded with diced green apple and is accompanied by two minty "marshmallows" and finished off with more grated apple.  It does exactly what a a palate cleanser should and I have to say I preferred this to the actual dessert choices on offer.  Not that there was anything wrong with the choice of two desserts.  The silken lemongrass and lime caramel was a colourful concoction and the 68% Alto Beni Zokoko chocolate cadeau was definitely one for the chocolate lovers.  Crack open that divine chocolate ball you are treated to a gooey, salted, black cumin caramel!  Phew!  Just saying all of this has me salivating all over again!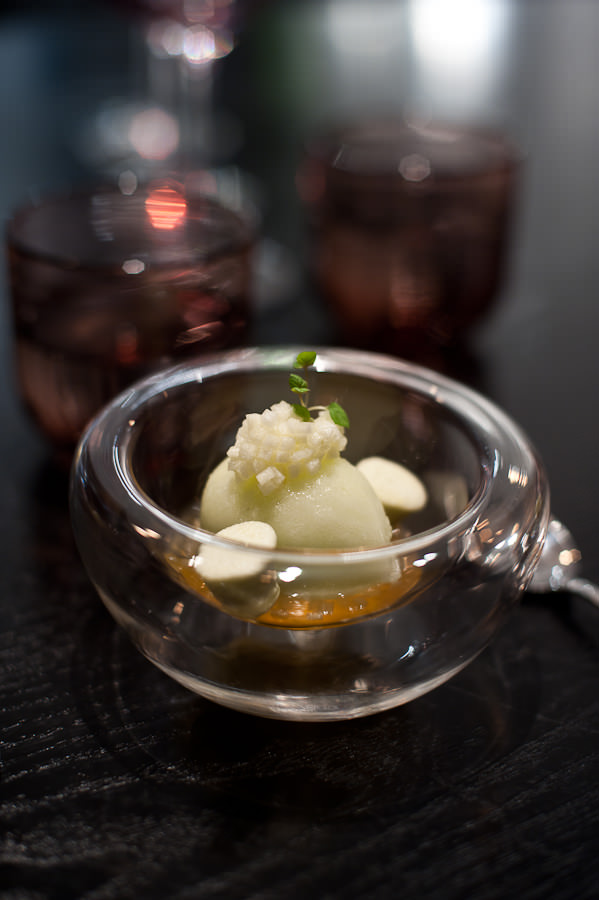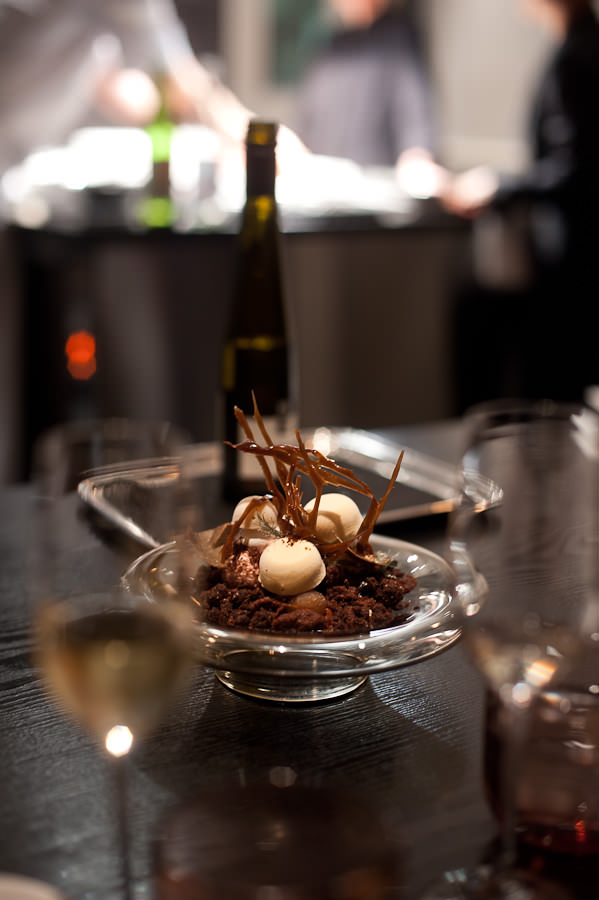 And if you think Willy Wonka couldn't have anymore surprises up his sleeve out comes another creation.  The Autumn still life.  (don't you just love the names?).  The ouzo/aniseed freak in me was beside himself in joy with this dessert.  The base or "soil" of the Autumn still life is a mixture of cocoa and licorice and hidden amongst all that you find pieces of poached quince, quince mousse and caramel.  On top you discover meringue shaped like mushrooms flavoured with Baileys and chestnuts.  It's finished off with sugared fennel fronds and "branches" made out of toffee.  Truly a masterpiece!  Our fantastic evening ends with Armagnac chocolates and raspberry macarons.  Thank you Justin and a big thanks to Tourism New Zealand for making this all possible.