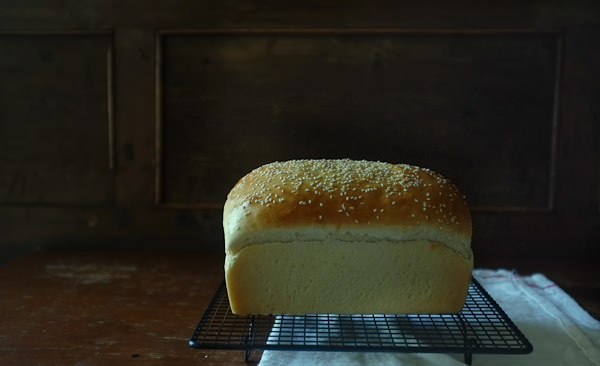 Sometimes things work in reverse.  You come up with something only after you've experienced it a different way…Now that probably doesn't make much sense, so I will explain.  I was craving home made burgers last week (recipe soon) and I wanted to go "all the way" and make my own burger buns.  I stumbled on Deb's fantastic recipe and fell in love with these little  brioche buns.  I had a few leftover , so I happily munched on these, toasted every morning, slathered with butter and jam.  That's when the light bulb came to my head-I wanted to turn these buns into a full sized loaf.  This is a "light" brioche bread recipe.  It's similar to the pan de leche I made last year but better!  I'm totally in love with this recipe and the bread it produces!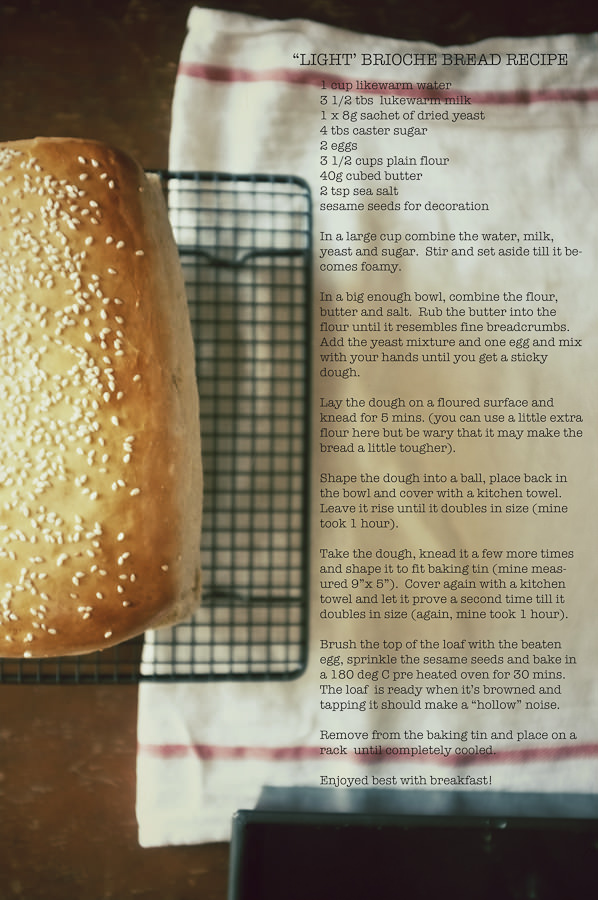 This brioche bread is light and airy.  My preferred way of eating this is toasted.  It really takes on a new dimension when it is cooked this way.  Keep it stored in an airtight container and slice up a piece or two every morning.  It can "probably" last 4-5 days this way.  I know some of you may shun this because it uses processed white flour, butter and full fat milk.  But there is no other way to make this.  And as you know, my philosophy is about balance.  I made this as a treat for my morning breakfast and ate salad for the rest of the day!  LOL!
I also wanted to push things a little further and make  a video recipe.  It was fun but there were a few lessons learnt.  Never mix floured/sticky dough hands with cameras!  Ugh!  And I'm not sure what happened when I uploaded this to youtube but it compressed the quality a lot more than I expected.  I know it's 3.5 minutes but I'm keen to hear what you think.  I've added some chilled, relaxed music to it, to get you in a "zen like" state for baking.  Hope you enjoy!