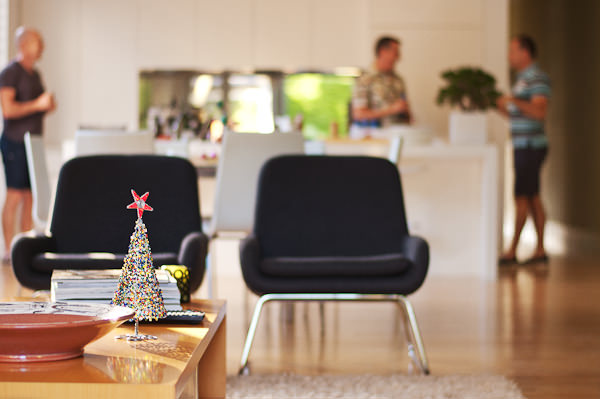 It seems like my days leading to Xmas are busier than ever. I don't know about you but just in this last week I have been to numerous "get togethers", social engagements and restaurants.  Like I said in my mini pavlovas post, I plan on having a "low-key" Xmas. However, that doesn't mean the days leading up to it haven't been jam packed.
Just the other day I was invited to enjoy a pre holiday, summer barbecue with old and new friends. My good friends Mark and Gary have this wonderful house located in the inner city area of Sydney.
Their place was recently renovated and I just couldn't resist sharing some snaps with you. Their abode is an oasis of cool greens, calming whites and stylish simplicity. I love their open design kitchen with its huge windows and stepping into their "back yard" is like entering a five star tropical retreat.
Being "foodies" they planned a gastronomical journey for our taste buds. We started off with smoked trout blinis, washed down with Bombay Sapphire gin and tonics.
Once the "barbie" was fired up we sampled a selection of chipolata sausages and perfectly cooked sirloin steaks with chermoula. This was washed down with a cool, Argentinian Malbec.
All this was accompanied by buttered spuds and a selection of salads which included grilled vegetable, orzo and feta and heirloom tomatoes with green beans.
Finally we finished off with Mark's steamed Xmas pudding and a strawberry cloud cake that I brought along. (recipe will be in the next post).
Simple and unpretentious. Good food and good company. What else can one ask for?
Actually I do have one other question. If you live in Sydney can you please tell me where summer is?