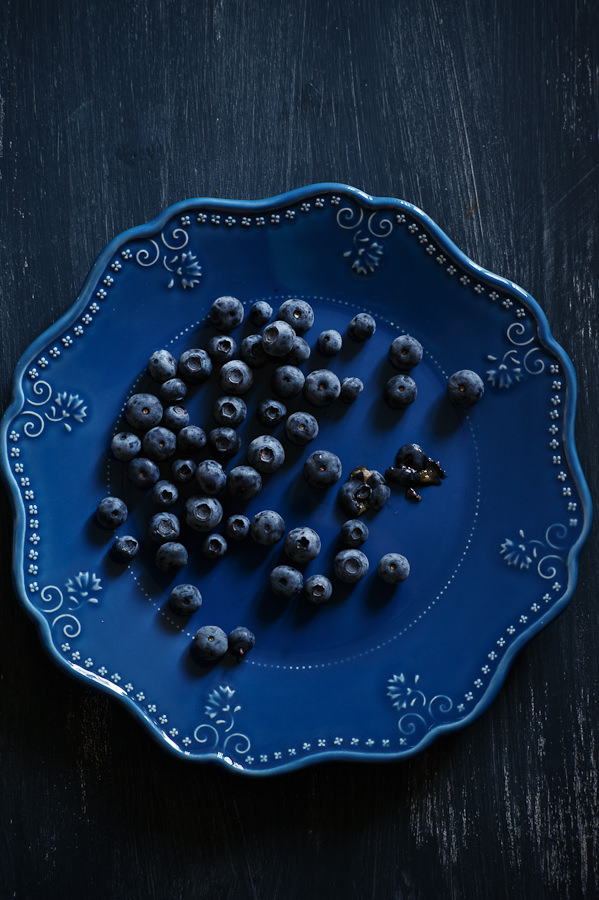 I don't think I've ever told you that my favourite colour is blue.  It's practically three-quarters of my wardrobe! I was obsessed with it as a child.  Baby blue, sky blue, dark blue…everything was blue!
So when I saw this deep blue, ornate, plate recently, I couldn't resist.  Remember my post on food and prop styling for food bloggers?  I explained in that post that it was important to determine a particular mood for a scene.  The plate did it for me.  The next thing you know, I'm bringing all my blue props out and cooking with blueberries!
 I made a blueberry cake that I took to a friend's dinner party recently.  The recipe is exactly the same as this dried fig torte.  Instead of topping the cake with dried figs, top it with blueberries.  Or any other fruit for that matter…it's a great recipe.
When I photographed the blueberry cake I wanted to break up the whole blue mood by adding a few new coloured bowls and plates.  Look at the fire engine red plate (another great $3 find at Target!). It adds a whole new dimension to the picture.
Incidentally, all the cake shots (and only the cake shots) were photographed on my iPhone 4s.  That little pocket wonder never ceases to impress. The other shot of the blueberries in the bowl was another experimental, lonely type of shot.  Again, I went for a blue theme and cooled the white balance slightly to give it a colder feel.
The final shot is a new ingredient to my pantry.  Quinoa flakes.  I love regular quinoa and was curious to see what quinoa flakes would taste like for breakfast.  I cooked them similar to a porridge and topped them with honey, freshly sliced bananas and cinnamon.  Mmmmm…I have a new breakfast companion.
When I photographed this set up, my white balance was on a different setting and gave the picture a completely different feel.  I love the golden warmth and hues in this shot.  To me it brings a "homey" kind of feeling.  Sometimes your mistakes turn out to be blessings (I'm sure we've all heard that before).
I hope you enjoyed my little "blue inspired" blog post.  I'm sure everyone is gearing up for the holiday season ahead.  Take it easy and don't rush in those department stores!  Take care and enjoy your weekend.  See you all next week.