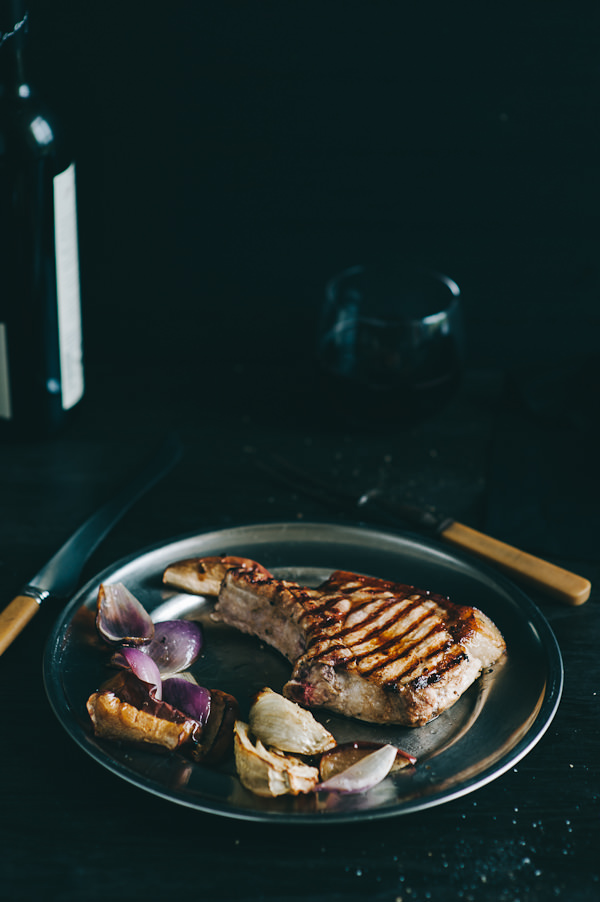 It all began with the fennel.
At one dollar each there was no way I was NOT going to buy any. I'm not necessarily the frugal type but I do love a good bargain.
Fennel-Love it or Hate it.
Over the years, I've discovered that there are two types of people when it comes to fennel.
The "love it raw or cooked, aniseed addicts" type of fennel admirers.
The "absolutely can't stand the taste of it" group.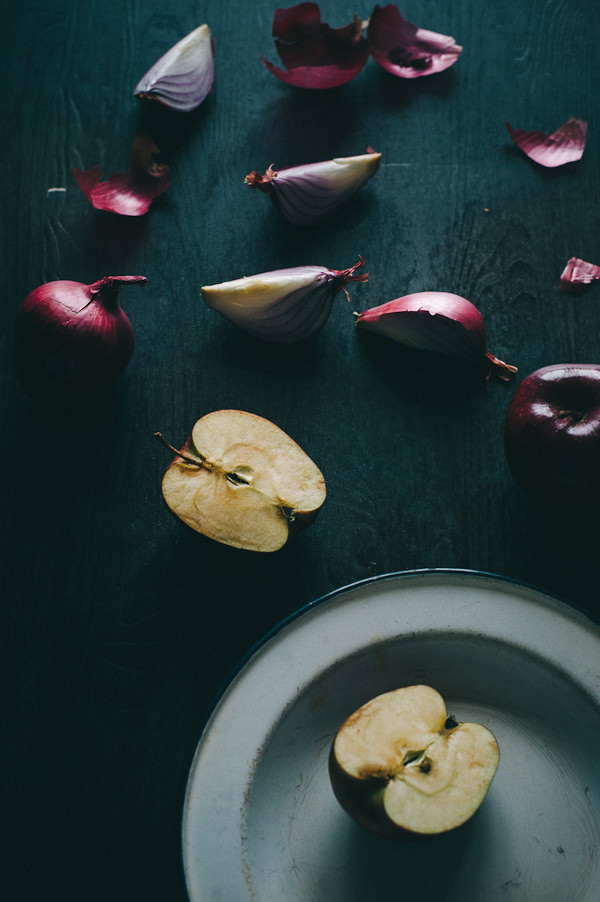 There's no need for me to tell you which group I belong in.
Two of my favourite recipes here on the blog are the caramelised fennel relish with ouzo and my grilled halloumi with caramelised fennel. 
I cannot over emphasise enough how much I adore its aniseed aroma. Maybe I have ouzo running through my veins? 
Whilst I like to cook with it I also love to serve it raw-simply sliced and served with a lemon juice/olive oil dressing.
Pairing Fennel with Pork
If you're looking for a cut of meat to match the fennel then you should look no further than pork.
In my eyes, it's a "perfect marriage". The Italians have known this for years and have built a great repertoire of recipes featuring these two ingredients.
(My favourite being pork and fennel sausages!)
When the fennel cooks down it loses its strong aniseed flavour and develops a sweet, almost buttery flavour.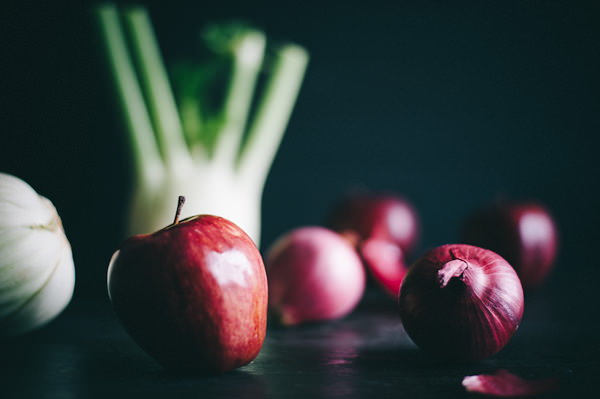 The recipe today is a great mix of autumnal flavours. 
The fennel gets roasted with some sweet red onions and some in season, crisp Red Delicious apples. This has been further flavoured with red wine vinegar and some white wine.
Once the apples, onions and fennel have been roasted at a high heat they create this gorgeous, aromatic medley of flavours.  Just perfect!
I've used organic pork cutlets today and again these were "calling me" from the cabinet as I was passing by the butchers the other day.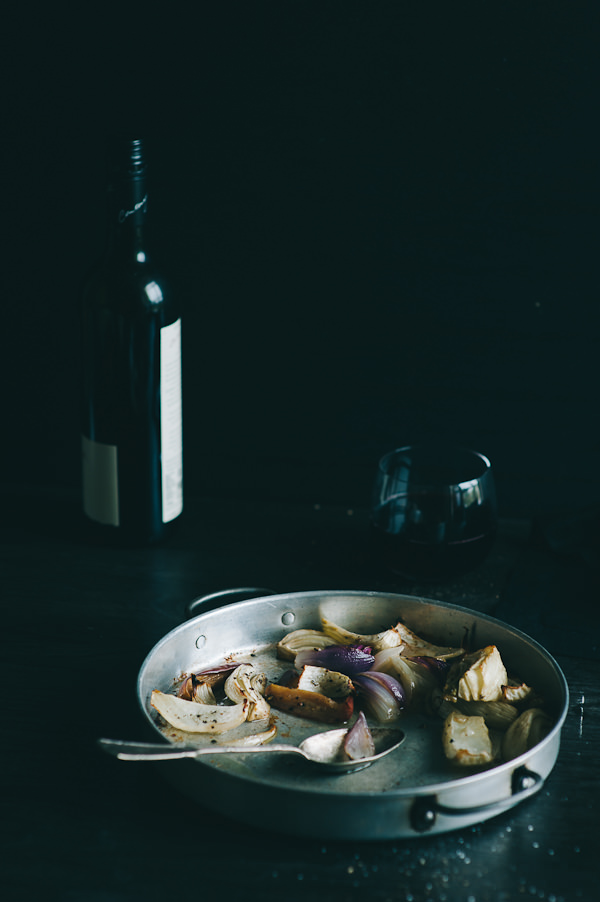 They were nice and thick with a perfect layer of fat. And please don't be afraid of that fat. It's what gives the pork its flavour and helps keep it nice and moist.
I've simply seared them for a few minutes on each side (in a ridged grill pan) and finished them off in the oven (the last 10 mins) along with the veggies.
Perfect autumn eating.
What are your favourite "food marriages"?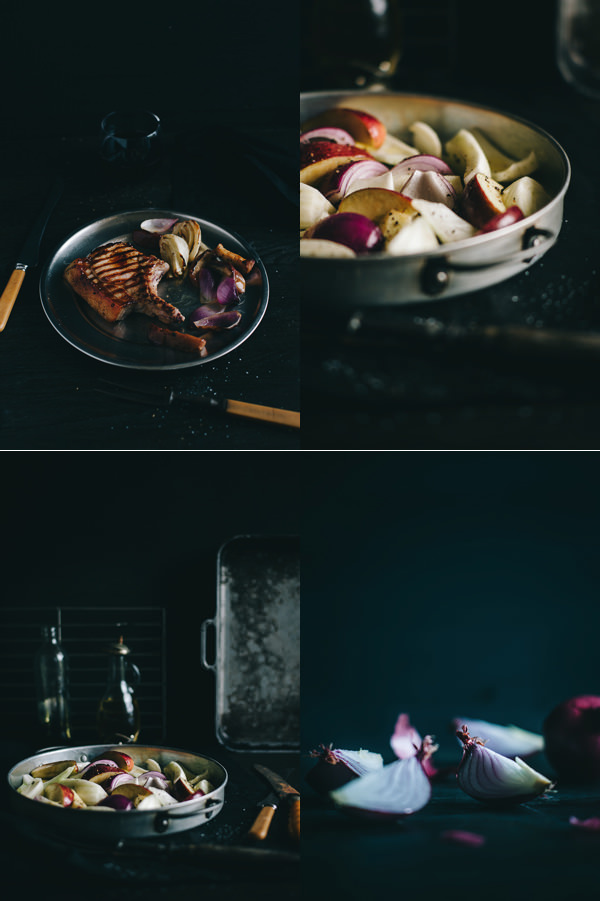 This recipe has been adapted from here.

Pork Cutlets with Roasted Fennel, Apples and Onions
The most perfect autumn dish you will ever make
Ingredients
2 Red Delicious apples, cored and sliced into quarters
1 large red onion, peeled and quartered
1 large fennel bulb, washed and sliced into even chunks
3 tbsp olive oil
2 tbsp red wine vinegar
¼ cup dry white wine (optional)
2 pasture fed, pork cutlets
salt and pepper to season
Instructions
Preheat your oven to 200 deg C
Season the pork cutlets and set aside.
In a large bowl, combine the apples, fennel and onions. Season with a little salt and pepper and toss with the olive oil, vinegar and wine (if using).
Place this mixture into baking dish and cook in the oven. (To achieve a nice caramelised texture mine took 35 mins).
At the 20 min mark, heat your pan on a high heat. Add a little olive oil and cook the pork cutlets-2 mins on each side.
Once seared, place them on top of your veggies (that are cooking in the oven) and finish them off for the last 10 mins.
Allow them to rest for 5 mins before serving with the veggies.
Notes
Be wary of the size and thickness of your cutlets. Mine were quite thick so I cooked them for a longer time in the oven. Adjust accordingly for the cutlets you use. A little Dijon mustard on the side when serving makes this even more magical.