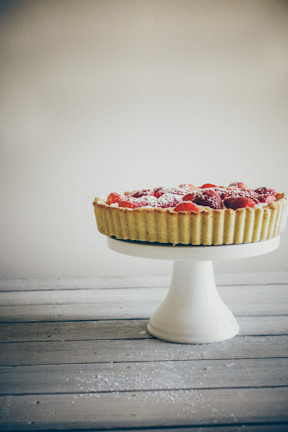 I am over feeling cold.
Even though the sunshine has managed to pop its head through the clouds, I can't seem to get warm.
It feels like we've been on a long stretch of coolness for awhile now.
To combat this I've naturally been cooking up a storm in my "warm-ish" kitchen.
I've been experimenting with lots of different recipes and trying to expand on my gluten free knowledge. I like the challenge of trying something different plus it helps my good friend out.
So, to bring a little warmth back I made a video.
A video that's filled with summer and simplicity.
I baked a tart shell using coconut flour and filled it with freshly whipped cream and strawberries.
There is only one word to describe the tart recipe.
Simple.
And you know how much I adore simplicity.
I hope you enjoy it. I'm still experimenting with video and I know it's not perfect but it brings a smile to my face.
Enjoy your weekend and see you next week.
My tart pan measured 8″ or 20 cm.
Strawberry and Cream Tart
A gluten free tart shell made with coconut flour and filled with fresh strawberries and whipped cream.
Ingredients
½ cup coconut flour, sifted
½ cup shredded coconut
¼ tsp salt
2 eggs
60 grams melted butter
1 tbsp honey
Instructions
Combine the flour, shredded coconut and salt in a bowl.
Add the eggs, butter and honey and combine well.
Form the dough into a disc and place in the tart pan.
Using your fingers, work the dough around the tart pan so it fits neatly. Prick the base of the tart with a fork.
Bake in the oven for 13-15 mins.
Remove and allow to rest for 5 mins before removing the tart from the pan. Allow to cool completely.
Fill up with 300 ml whipped cream that has been flavoured with maple syrup and top with sliced strawberries.
Dust with icing sugar and serve immediately.