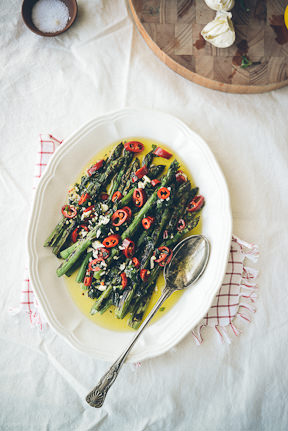 It's sinus time!
I meant to say Springtime!
Yes, the weather has been slightly warmer. And yes. That extra blanket is no longer need at bed time.
However, my nose and head are feeling it.
But let's not harp on my medical idysoncracies.
I want to talk about that beautiful vegetable that makes its grand appearnace at this time of the year.
Asparagus.
I think for every year I've been blogging I've included a recipe for asparagus.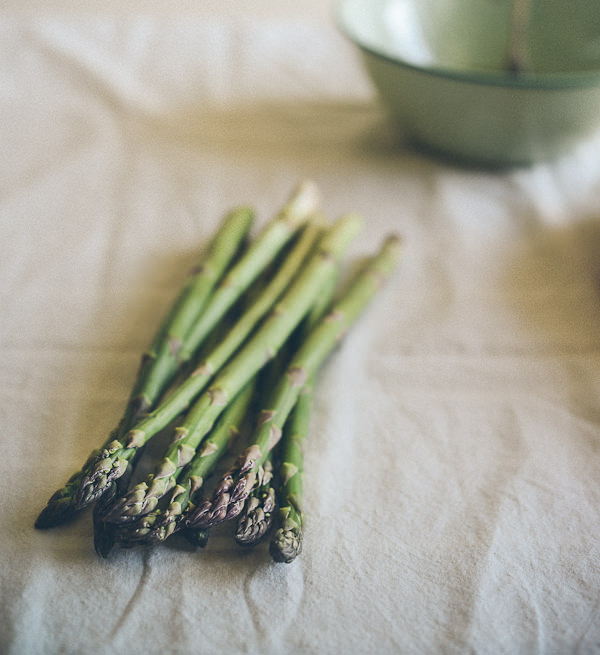 I've cooked white asparagus with a mustard vinaigrette, I've made them with a Kalamata olive salsa and I've also prepared them with fetta.
This year I took on an even simpler approach to cooking with asparagus.
I chargrilled them. (Well technically I don't have  a grill. I used one of those fancy griddle pans!).
What a delightful change from simply blanching them.
I placed them in a very hot griddle pan using no oil and once they charred up and smoked the apartment out (it wasn't that bad) I dressed them.
My dressing was a combination of garlic, chilli, mint, lemon juice and olive oil.
So tasty!
Of course I ended up adding a little "extra" olive oil because I couldn't help myself.
I just love dipping my bread into that flavoursome oil.
The Video
Once again I've decided to have a go at making another food video.
I recently purchased my newer DSLR that shoots video and this today are the results of my efforts.
It's still not perfect but I'm learning a lot along the way. (Like don't use autofocus! And my wobbly table doesn't help).
I read a quote the other day that said "video is three quarters audio". And I'm starting to see why!
My last video for the spinach and ricotta cannelloni had an "interesting" song choice. I thought it was kind of "folksy" but the truth of the matter was that it was a tad depressing.
I hope today's musical choice suits the mood a lot more.
Chargrilled Asparagus with Mint, Chilli and Garlic
Simple Chargrilled Asparagus topped with mint, chilli, garlic and olive oil
Ingredients
2 bunches fresh asparagus (about 15 spears)
2 cloves of garlic, finely chopped
1 chilli finely sliced (you may wish to remove the seeds to make it less hotter)
one handful of fresh mint, finely sliced
¼ cup olive oil
juice of half a lemon
salt and pepper to season
Instructions
Snap the woody ends off the asparagus and place in a hot griddle pan or grill. (Do not add any oil).
Allow them to cook and char-approx 10-12 minutes-turning them over halfway through.
Whilst the asparagus are cooking combine the remainder of the ingredients in a bowl and stir to combine.
Once the asparagus are cooked top with the dressing.
Serve immediately with crusty bread
Feedburner and Blogging
If you're a blogger, you would have noticed recently there have been a lot of dramas with Feedburner regarding the management of your blog's feed.
Frankly, I'm over worrying about what they are going to do with that service.
This however puts me in a tricky position because I have been using them to manage this blog's feed ever sive I began blogging over 5 years ago. And with over 4,000 subscribers I start to get nervous!
So what does that mean for you? Here's the quick answer.
I've reverted the feed back to its original source and I am using Feedblitz to manage it. In your feed reader of choice you will see a message asking you to update to the newer feed. PLEASE DO SO.
If you subscribe by email you currently don't have to do a thing.  If this changes I will let you now shortly.
I know my subscribers will drop but I can't worry about that. I just want to have some peace regarding this whole thing.
My apologies for all the technical talk today.
Running a blog is fun but the technical parts drive me mad!
Anyway…happy cooking (and eating!).