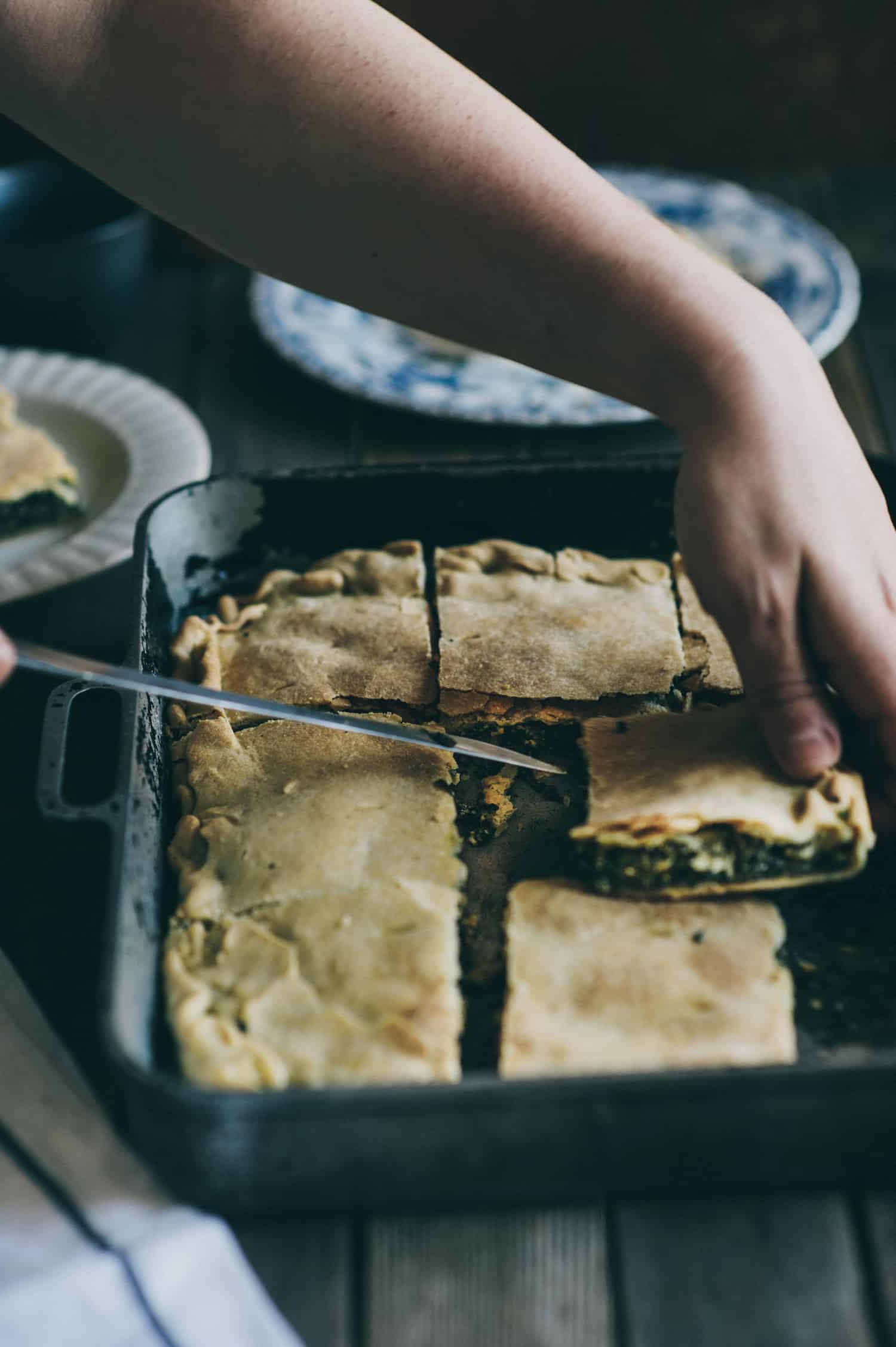 "Spinach is so last year" muttered a well to do foodie friend recently.
"Huh?"…I replied.
"Well…you know. It's all about the superfoods now. The dark, leafy greens".
I didn't know whether to laugh or cry. He means well but is always following the latest and greatest in foods.
Don't get me wrong. I know I love to experiment (as I did recently with my gluten free baking) but I have always subscribed to the grazing philosophy. "A little bit of this and all in moderation".
That's what I find works for me.
And then he got me thinking.
For as long as I can remember, most of my family and relatives have always had leafy greens as part of their diet. "Horta" as they are known or wild greens were served alongside meat dishes or on their own with a selection of other goodies, such as cheese, olives and bread. (You can see where I learnt to graze!).
They were blanched (or boiled to death depending on whose house you visited!) and were usually bathed in extra virgin olive oil and lemon juice. As per usual, I detested them as a kid but grew to love them in my later years.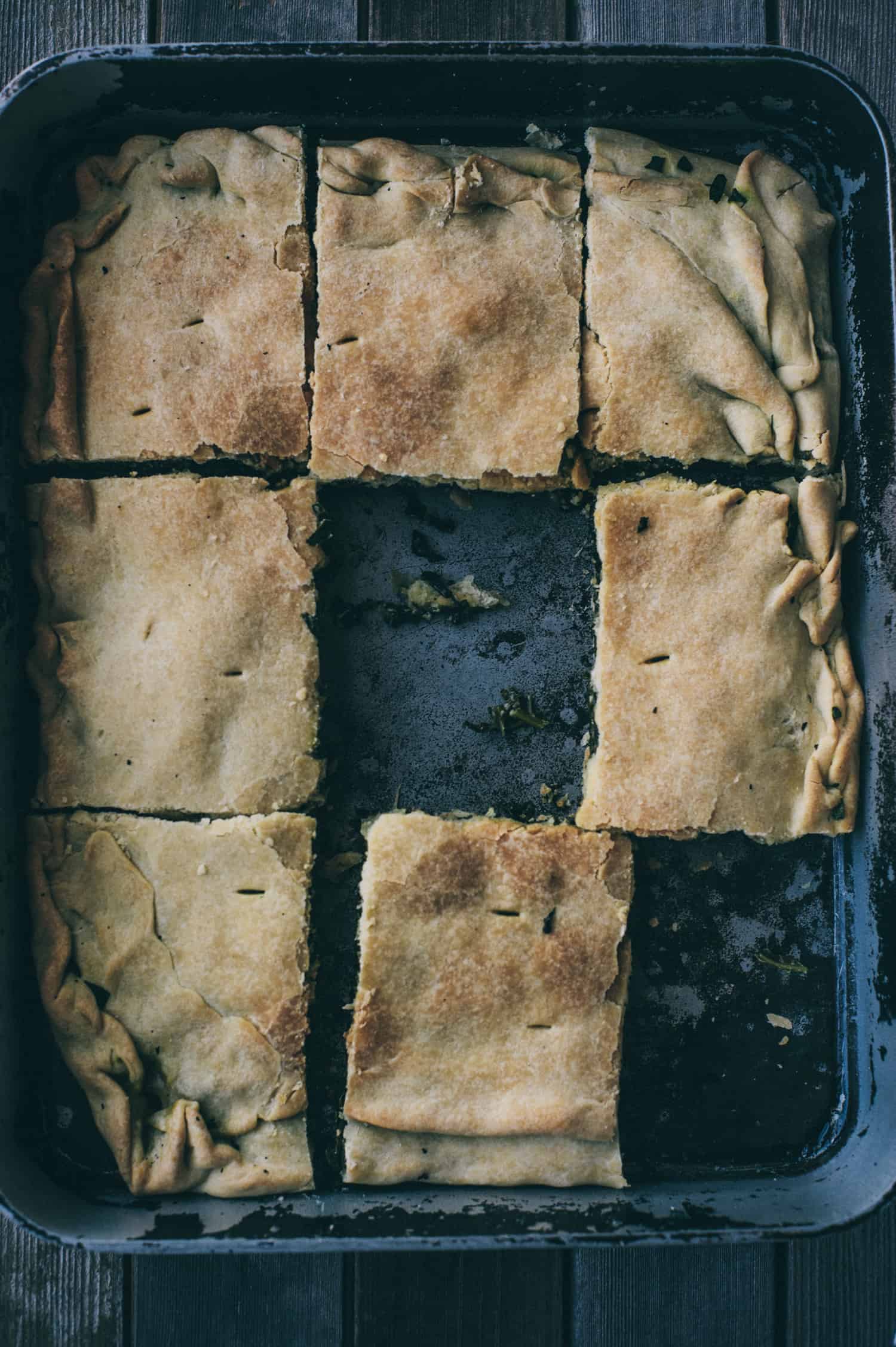 I used to marvel at the Greek women who would go out foraging for these wild greens. They had such a skill at identifying what was edible and what was not!
These wild greens varied and often included amaranth, dandelion greens, nettles and purslane.
Some of these are hard to come by, especially for a city dweller like myself. So whenever I feel like a batch of horta I often use silverbeet, spinach and/or kale.
But you know…the weather is getting cooler. And I feel like pie.
Ages ago I made a similar pie on the blog and accompanied it with kohlrabi. It was a great combination but today I felt like going down a more semi-traditional route.
It's called "hortopita" and I've used a combination of spinach, cavolo nero (black kale) and regular kale. The pastry is a lot thicker than the regular fillo but it's a pastry I am comfortable with making and adore. There's some feta and kefalogaviera for a nice salty boost and some eggs to bind it all together.
Super foods never tasted better I tell ya!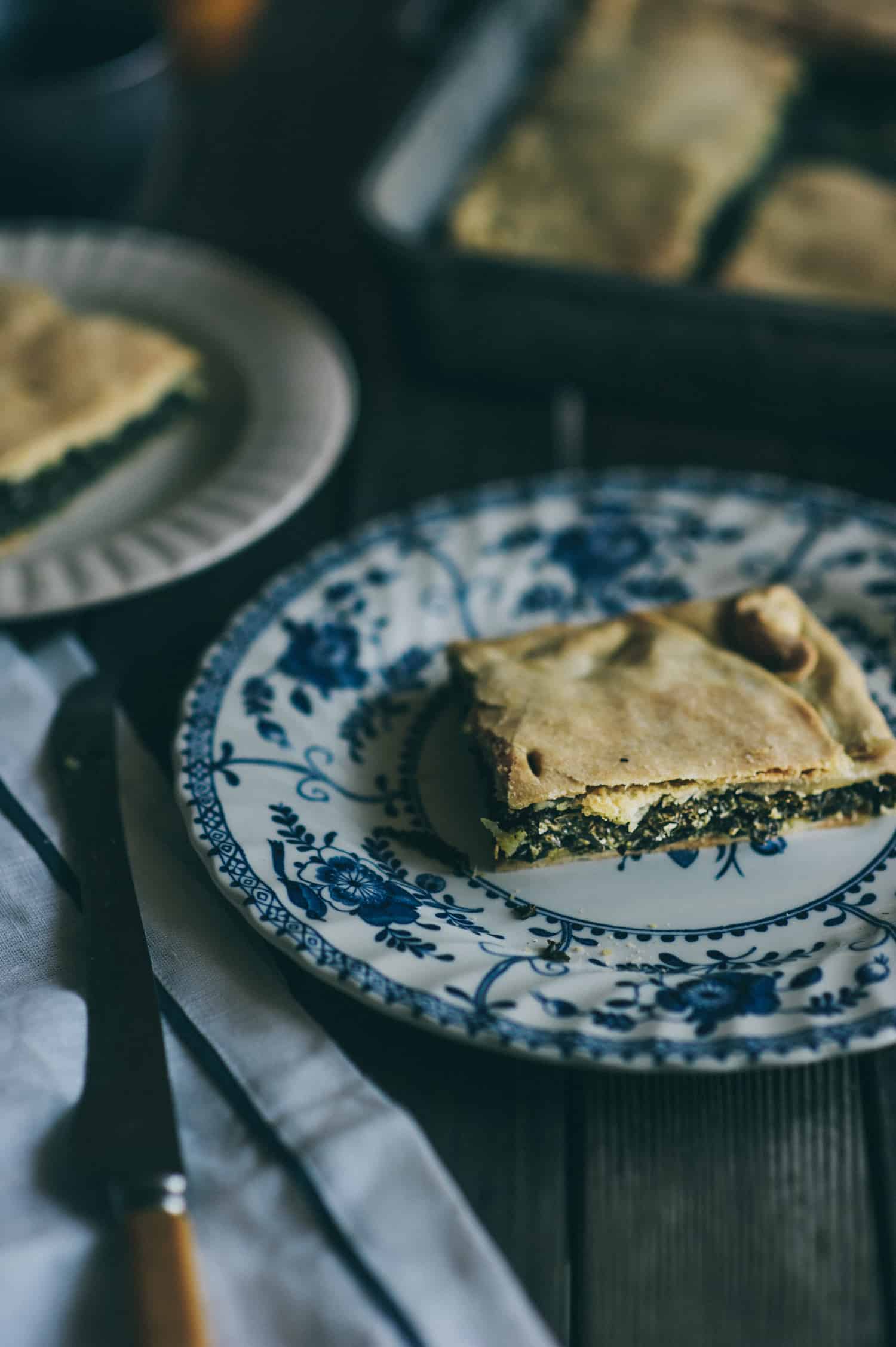 HORTOPITA-WILD GREENS PIE RECIPE
Ingredients:
250 grams spinach, washed and thinly sliced
75 grams cavolo nero, washed, stalks removed and thinly sliced
75 grams kale, washed, stalks removed and thinly sliced
4 spring onions, thinly sliced
4 tbsp chopped dill
4 tbsp chopped parsley
150 grams feta cheese, crumbled
25 grams grated Kefalogaviera cheese or Pecorino
2 eggs lightly beaten
salt and pepper for seasoning
2 x quantity of  pastry (I used the pastry from this old post of mine and doubled it)
Instructions:
Preheat your oven to 180 deg C and oil a baking dish (mine measured 25cm W x 35cm L)
Divide your pastry into two and roll out to measure the length of the pan.  Place one quantity of the rolled pastry onto the baking dish , ensuring it fits well and comes up the sides of the dish.
Combine the cheeses, salt, pepper and eggs in a large bowl  and then toss through the remaining and mix well, ensuring the mixture is evenly distributed.  (using your hands makes this part a lot easier).
Place the greens mixture into the dish with the pastry and ensuring it all fits.  (Don't be afraid to force it all in there!)
Lay the second rolled piece of pastry over the greens mixture and pinch the sides over to encase the mixture.  Pierce the top with a sharp knife making some vents.
Brush the top generously with olive oil and bake in the oven for 45-50 mins or until the top is browned.
Allow to cool in the pan for at least an hour before slicing through and serving.