It's summertime here in Sydney and that can only mean one thing.
Humidity!
It starts to creep up around Christmas time and before you know it you're showering three times a day!
As much as I deplore the sultry weather, I still like to entertain. I just can't help myself!
So you can imagine my delight when CAPI drinks (the current advertisers on the blog) asked me to come up with a few drinks and a menu for these warmer months.
I got to sample a number of their beverages and in the process came up with a few creative recipes of my own.
CAPI are also currently giving you the chance to win a trip to Sicily – so head on over and vote for your favourite summer drink for a chance to win. And you can also follow them on Instagram and tag @capisparkling and #mixingwithcapi for a better chance of winning.
When I think of summer I automatically think of watermelon. I took the watermelon and feta salad concept and put it on a stick! These "bites" are the perfect starter to get your summer party cracking.
To accompany these cool little bites I wanted to serve a cocktail that would whet the appetite and ignite the senses. So I came up with something called the "light and clear".
Yes. It's the complete opposite of a "Dark and Stormy"! My subtler version uses vanilla infused vodka, clear apple juice and CAPI Ginger Beer. A little lime and plenty of ice and you'll be auditioning for your own reality TV show!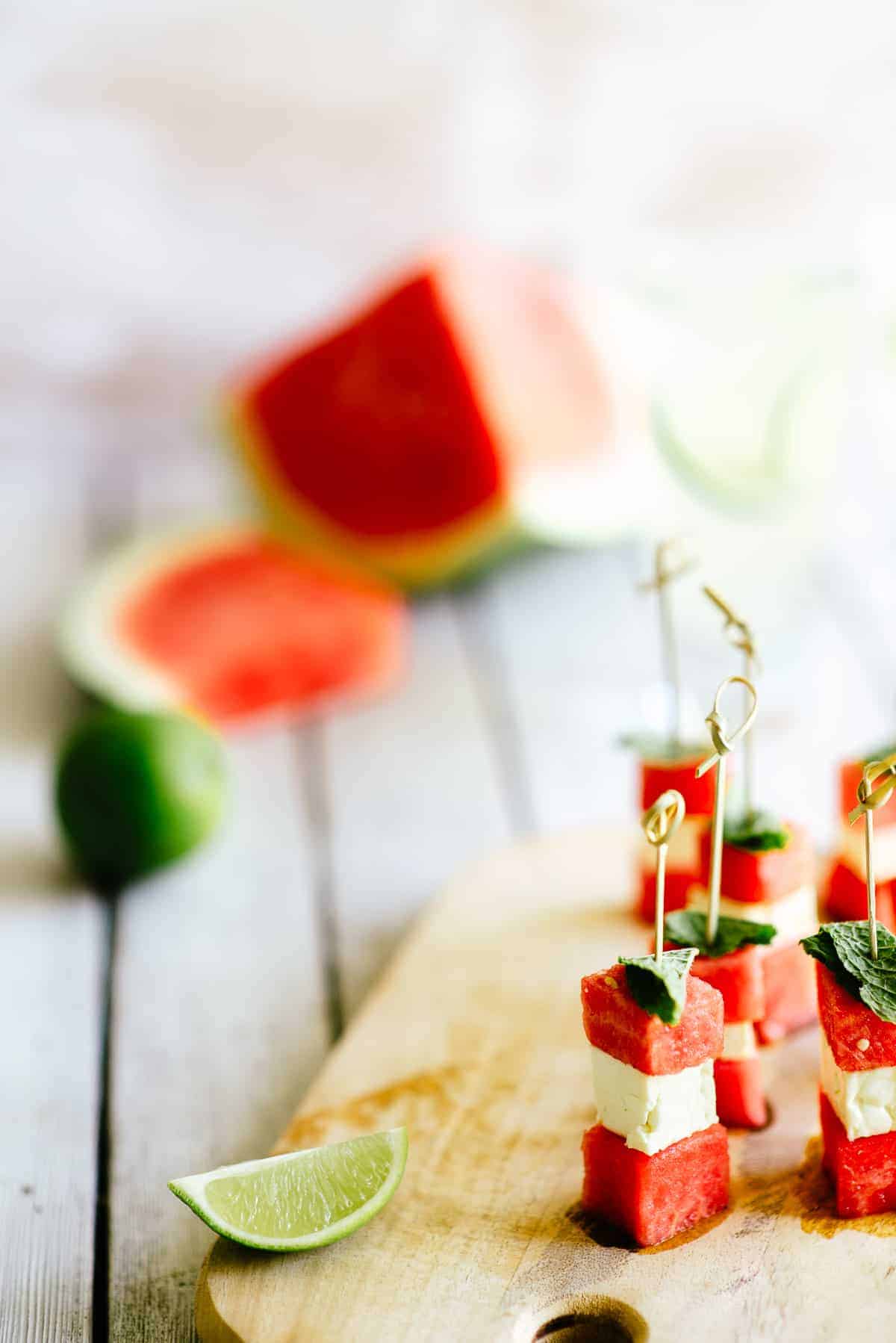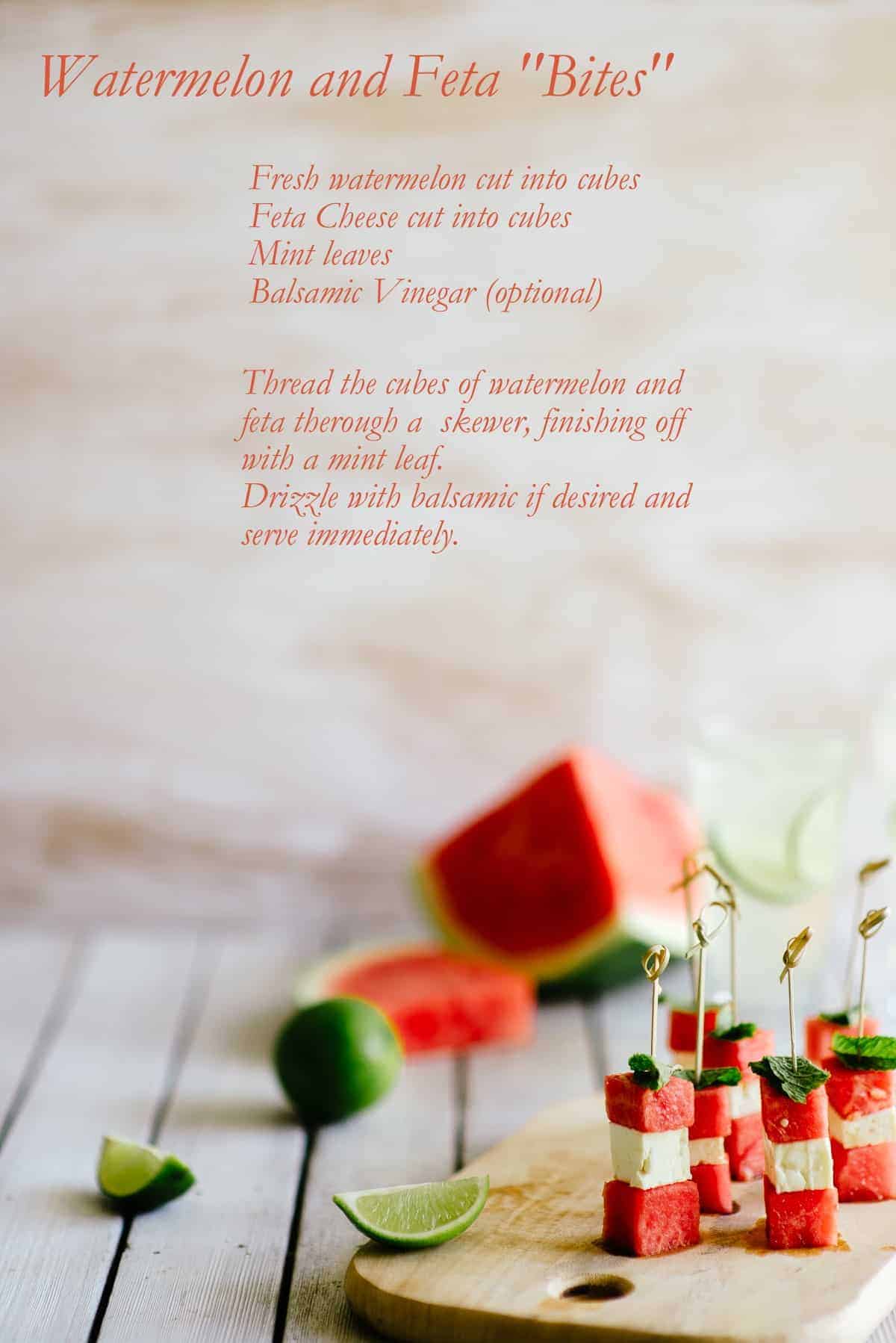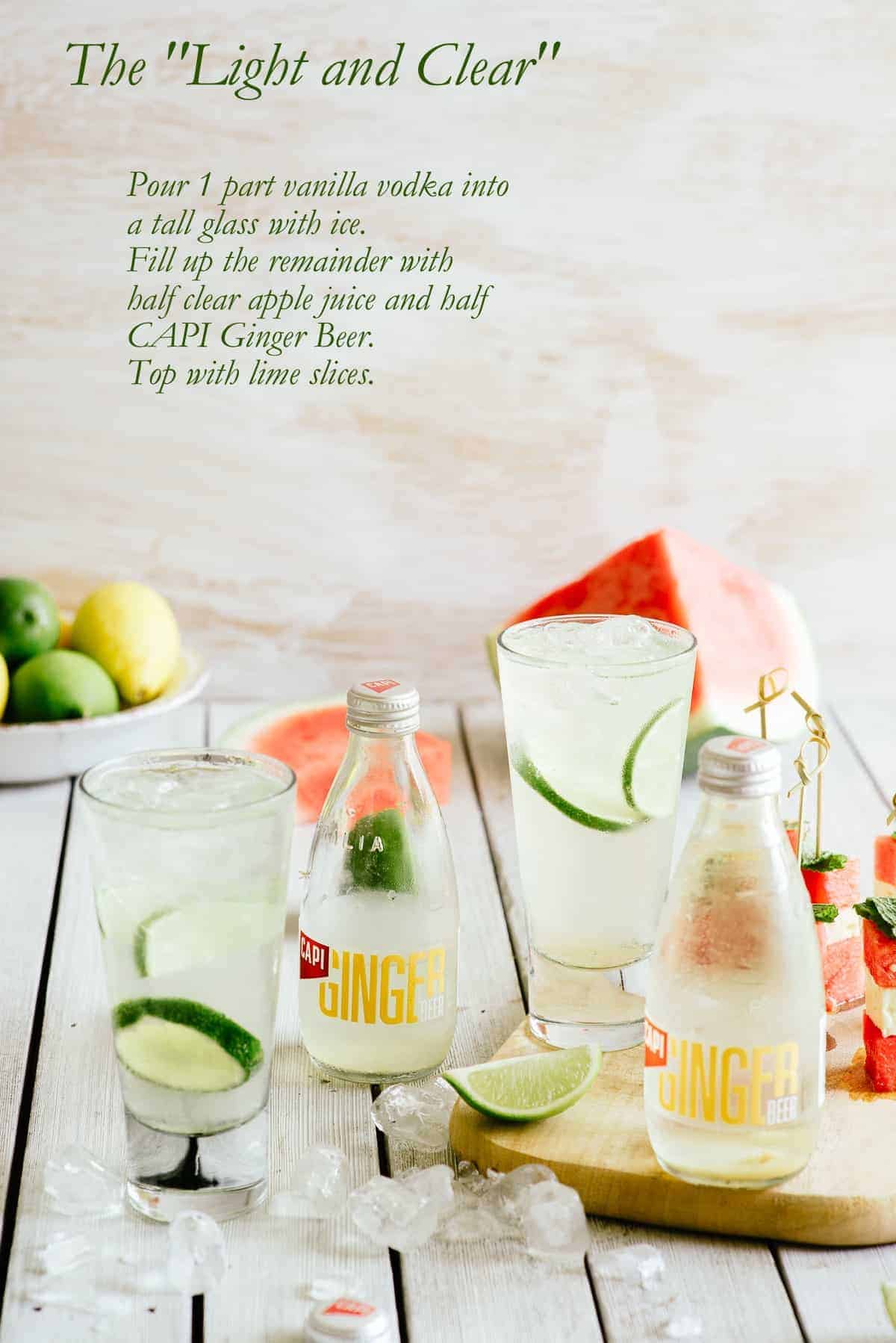 For a main course I wanted to be a little "bolder" so I tinkered with the lamb souvlaki idea and put it on a pizza. I know it sounds odd but trust me this was a real winner with the taste testers!
The base is made with spelt flour and I've topped it with chargrilled capsicum, crurumbled feta and lamb fillet. Once the pizza has rested it's topped with freshly shredded cos lettuce, red onions, tomatoes and a dollop of tzatziki.
Now this was unbelievably good. I dream of having a big back yard with a built in pizza oven and making these for all my guests!
To accompany this pizza I made my version of a Pimms cocktail. I only recently discovered Pimms and I am totally hooked. I adore its herbacious and fruity aroma.
I made a big batch of this and mixed it with CAPI Ginger Ale and Capi Lemonade and added sliced cucumbers, limes and mint sprigs.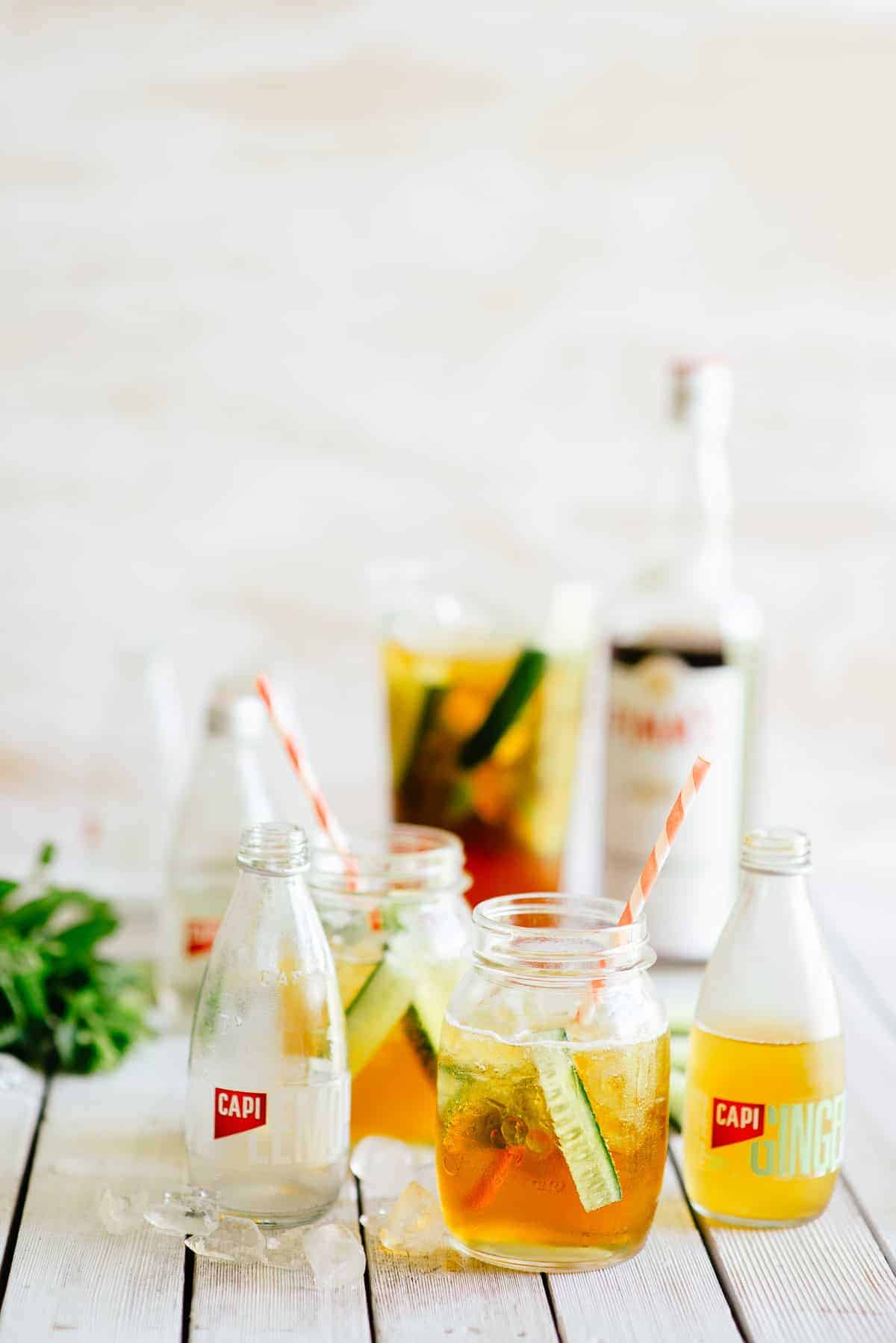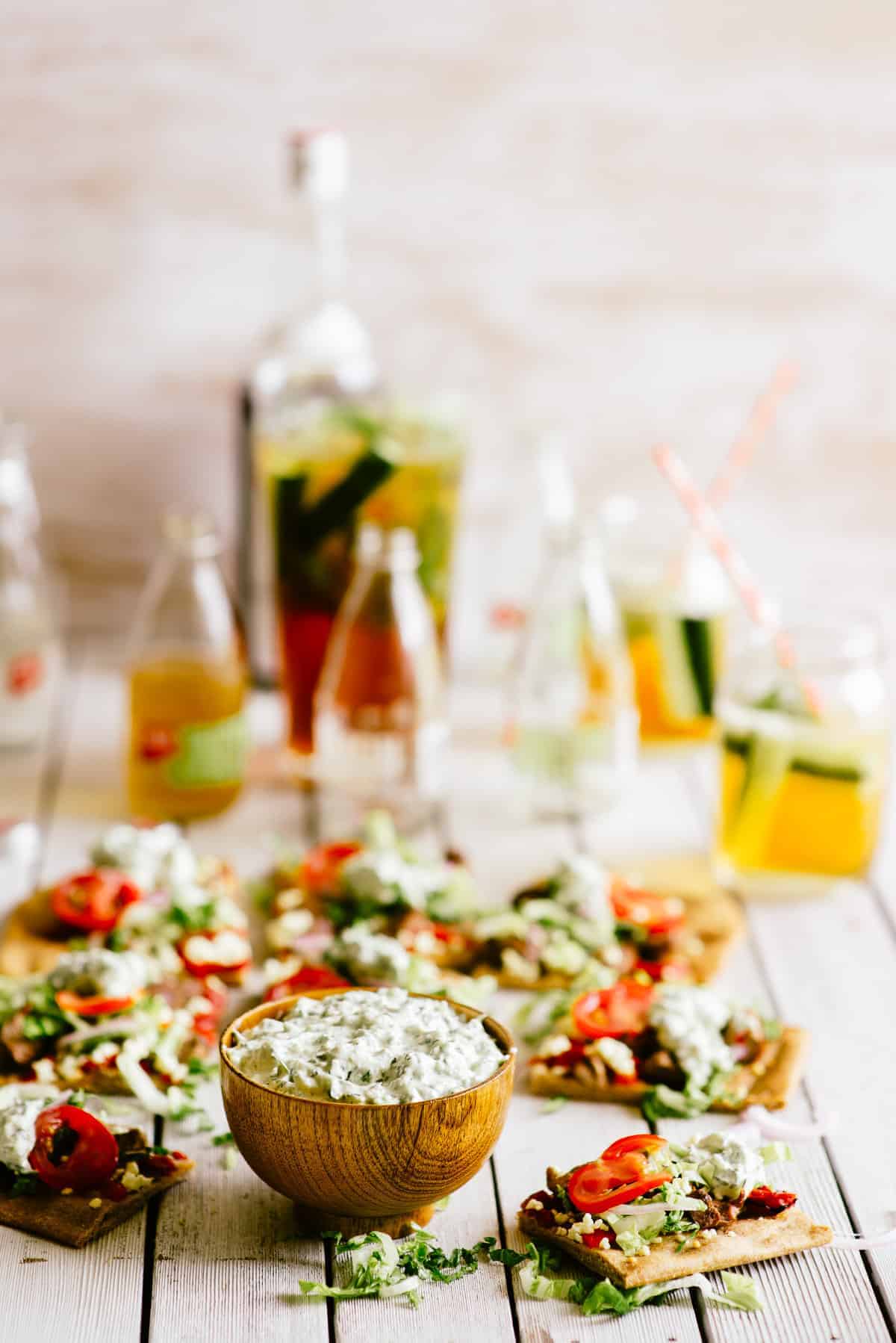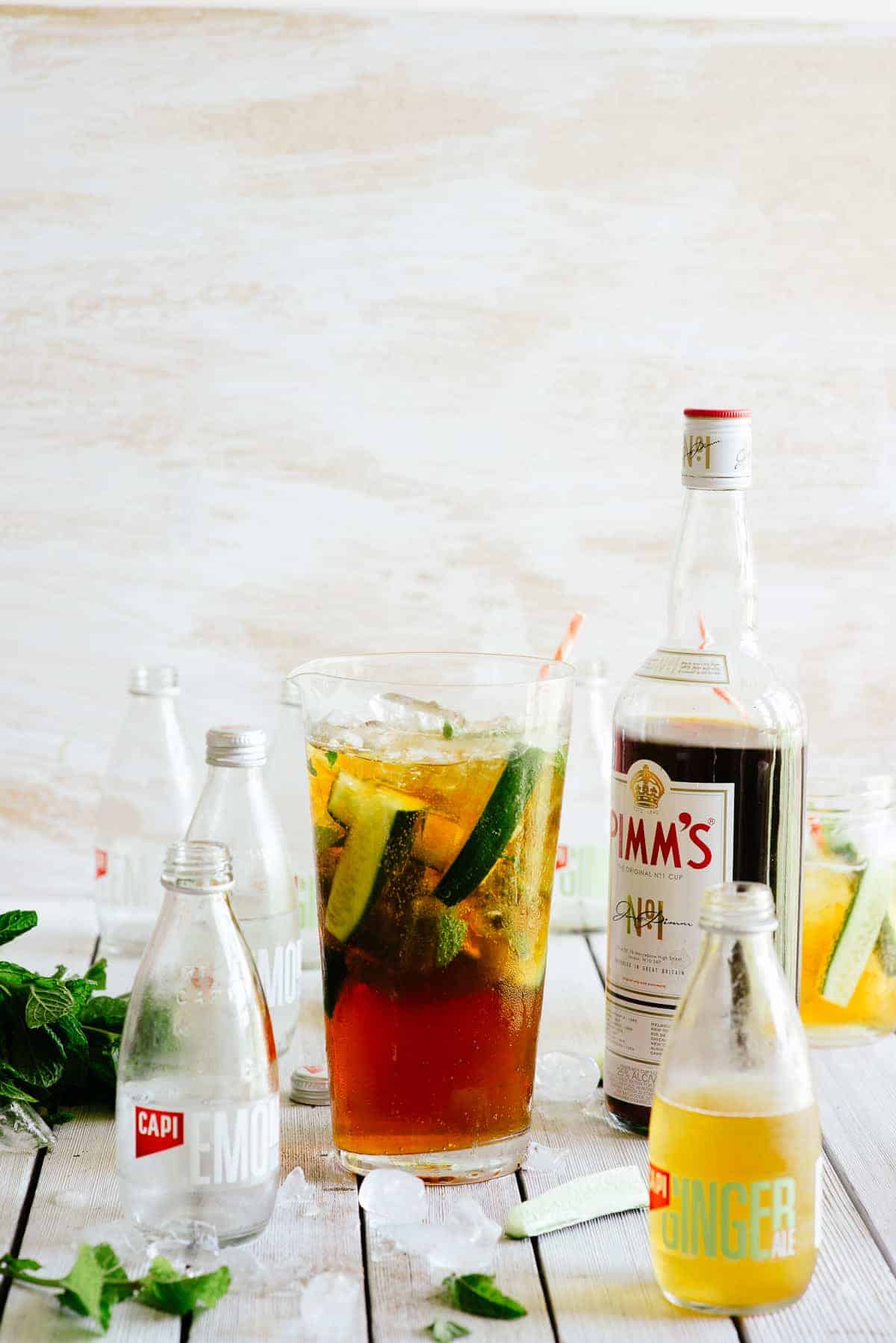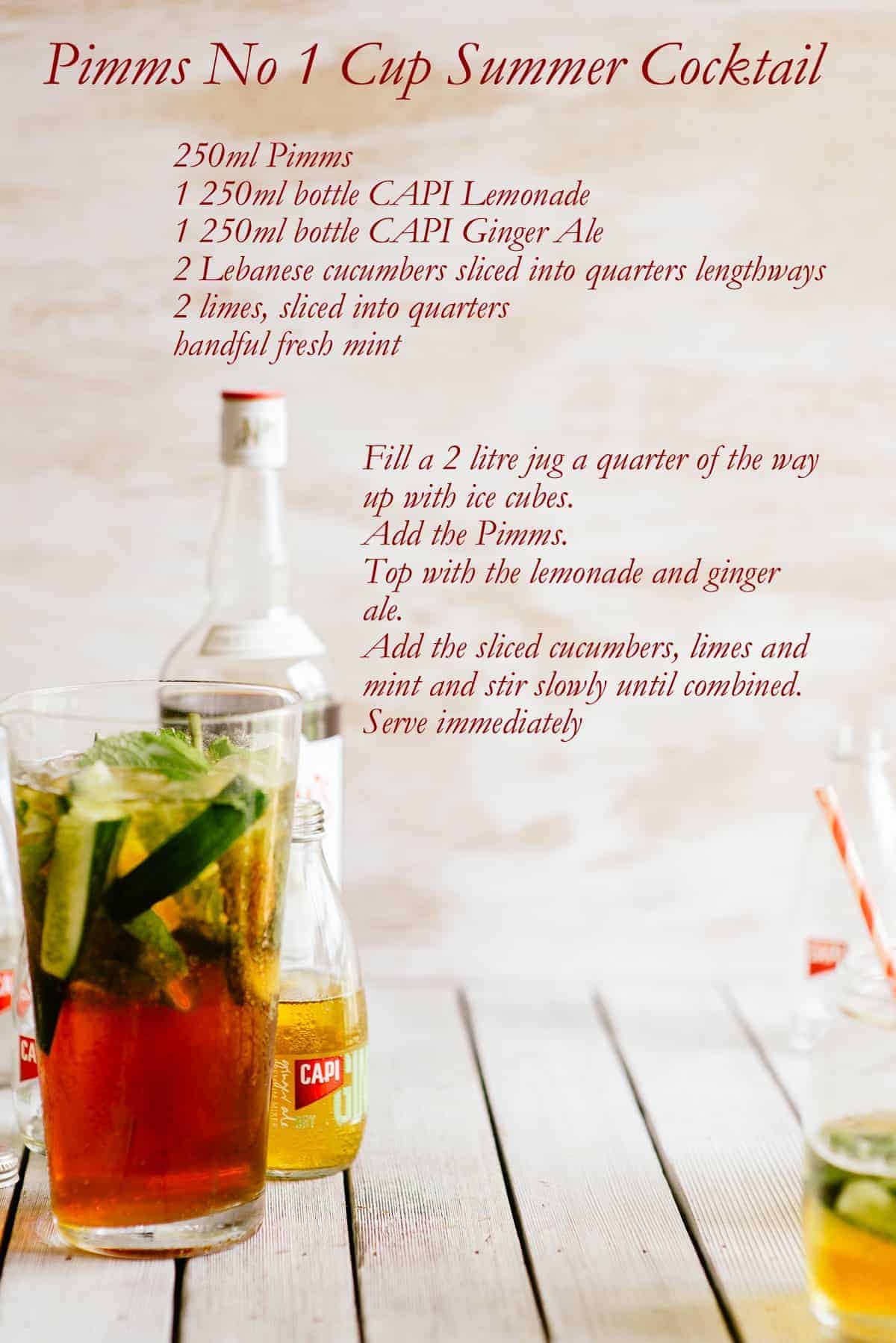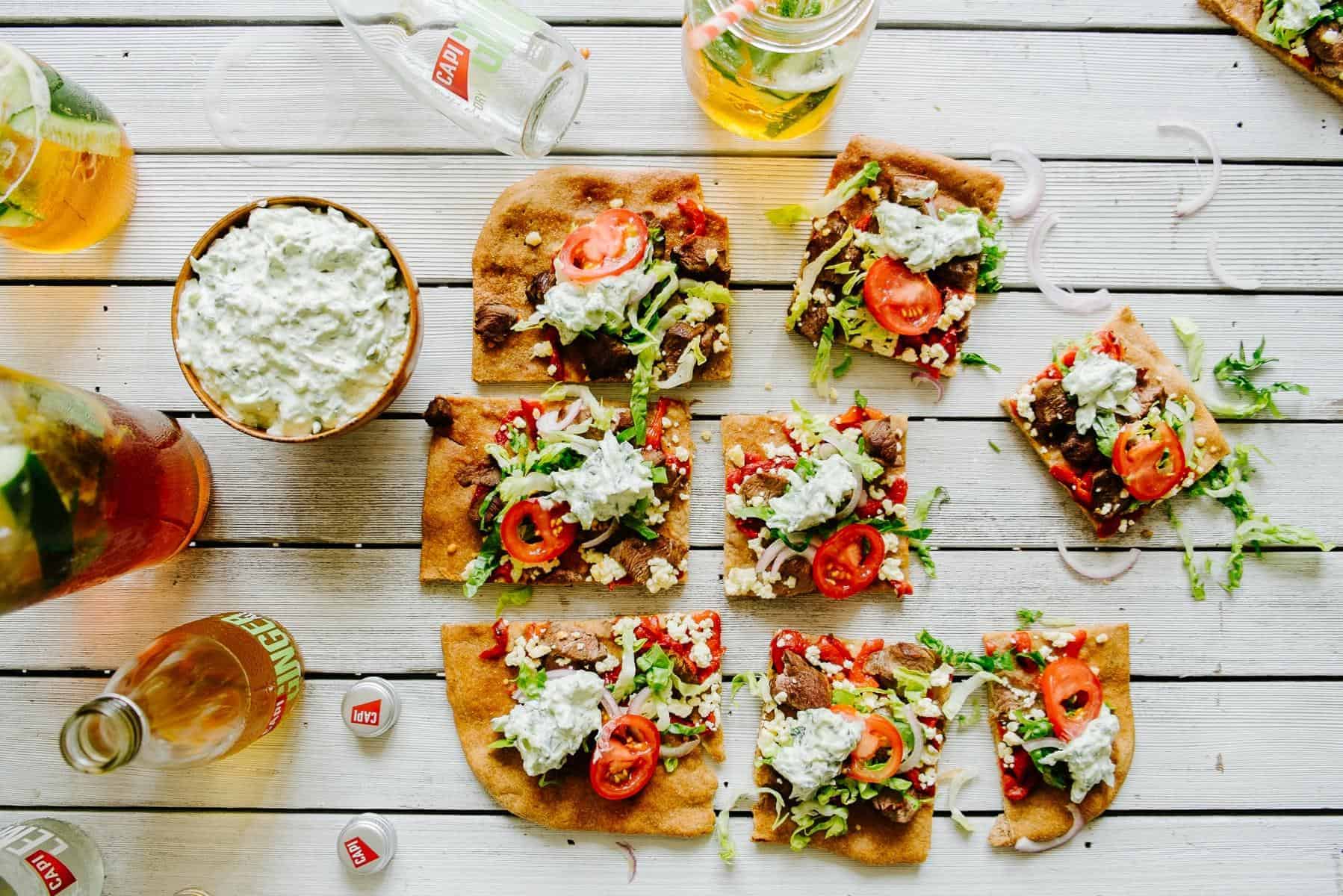 LAMB SOUVLAKI PIZZA RECIPE
Ingredients:
For the base
2 1/2 cups wholemeal spelt flour
1/2 cup warm water
2 tsp baking powder
pinch salt
1 tsp garlic salt
1 tsp caster sugar
3 tbsp olive oil
Toppings
200gr chargrilled capsicums, sliced into think strips
150gr crumbled feta cheese
300gr cooked lamb fillets (leftover roast lamb works well too)
shredded cos lettuce
1/2 red onion thinly sliced
2-3 tomatoes, thinly sliced
tzatziki for garnish
Instructions:
Preheat your oven to 180 deg C and grease a pizza tray with olive oil.
To make the base combine the all the ingredients in a large bowl. Mix until you have a smooth dough. Knead lightly for a few minutes, place the dough back into the bowl, cover and allow to rest for 10-15 mins.
Roll the dough to fit your pizza pan, brush generously with olive oil and cook for 20 mins (turning it around at the 10 min mark).
Place the capsicums, feta and lamb on the cooked pizza base and return to the oven for a further 5 mins. Turn your grill (broiler) on to HIGH and cook for a further 5 mins.
Allow the pizza to cool for 5 mins before slicing and topping with lettuce, onions and tomatoes. Garnish with tzatziki and serve immediately.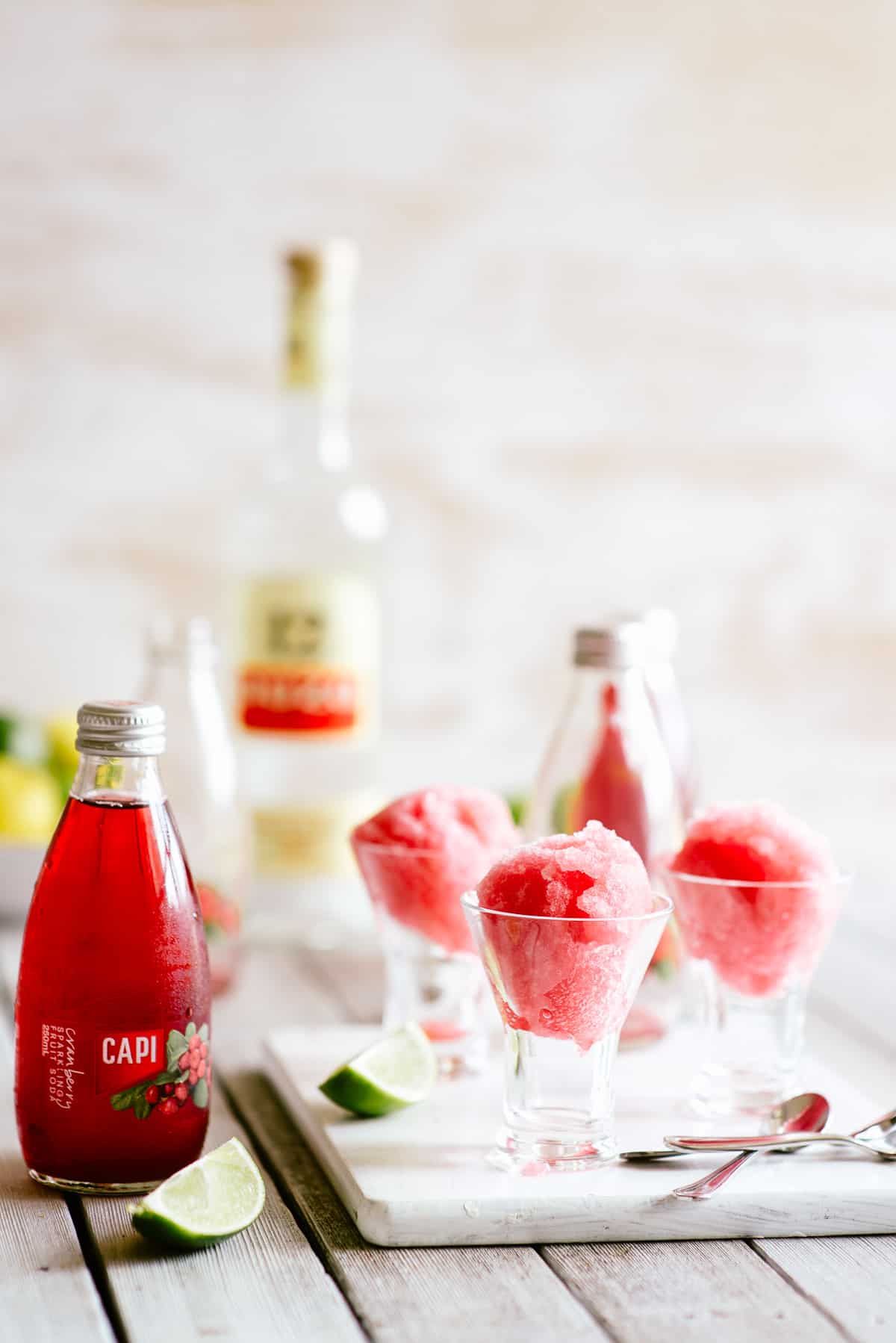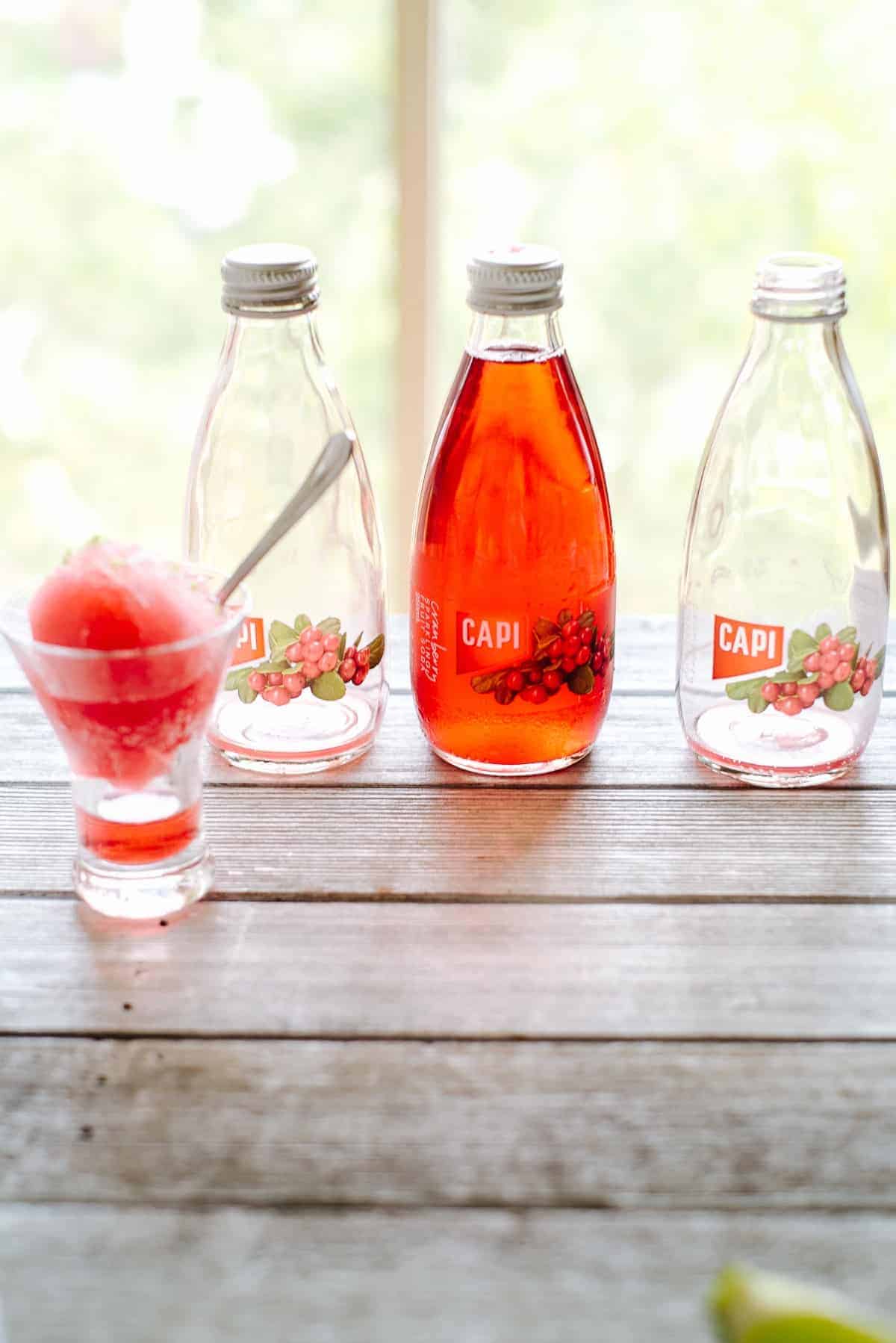 Continuing with my Greek theme I made use of my dusty ouzo bottle. If you loved my gin and tonic sorbet then you will fall head over heels with this ouzo and cranberry sorbet.
The CAPI Cranberry Soda worked perfectly in this recipe. It's slightly tart, a little sweet and perfectly perfumed with that wonderful anise flavour of the ouzo.
What's not to love?
If you're looking for something a little adventurous and a little different this summer, I highly recommend you make this!
I hope you enjoyed my little summer gathering of flavours. And don't forget to enter the competition for your chance to win a trip to Sicily. If you win I expect a postcard!
See you all later in the week.
Cheers!