Alfajores are the addictive biscuits that originate in South America. Sandwiched between dulce de leche they make an unforgettable treat. Nobody said they were calorie friendly!
Here's a little treat to get your working week started.
If you're not familiar with this delightful South American biscuit all I can say is you're missing out!
It's basically dulce de leche sandwiched between two shortbread biscuits.
The biscuits are made using a combination of corn flour and regular flour. I changed it up a little by using tapioca flour instead.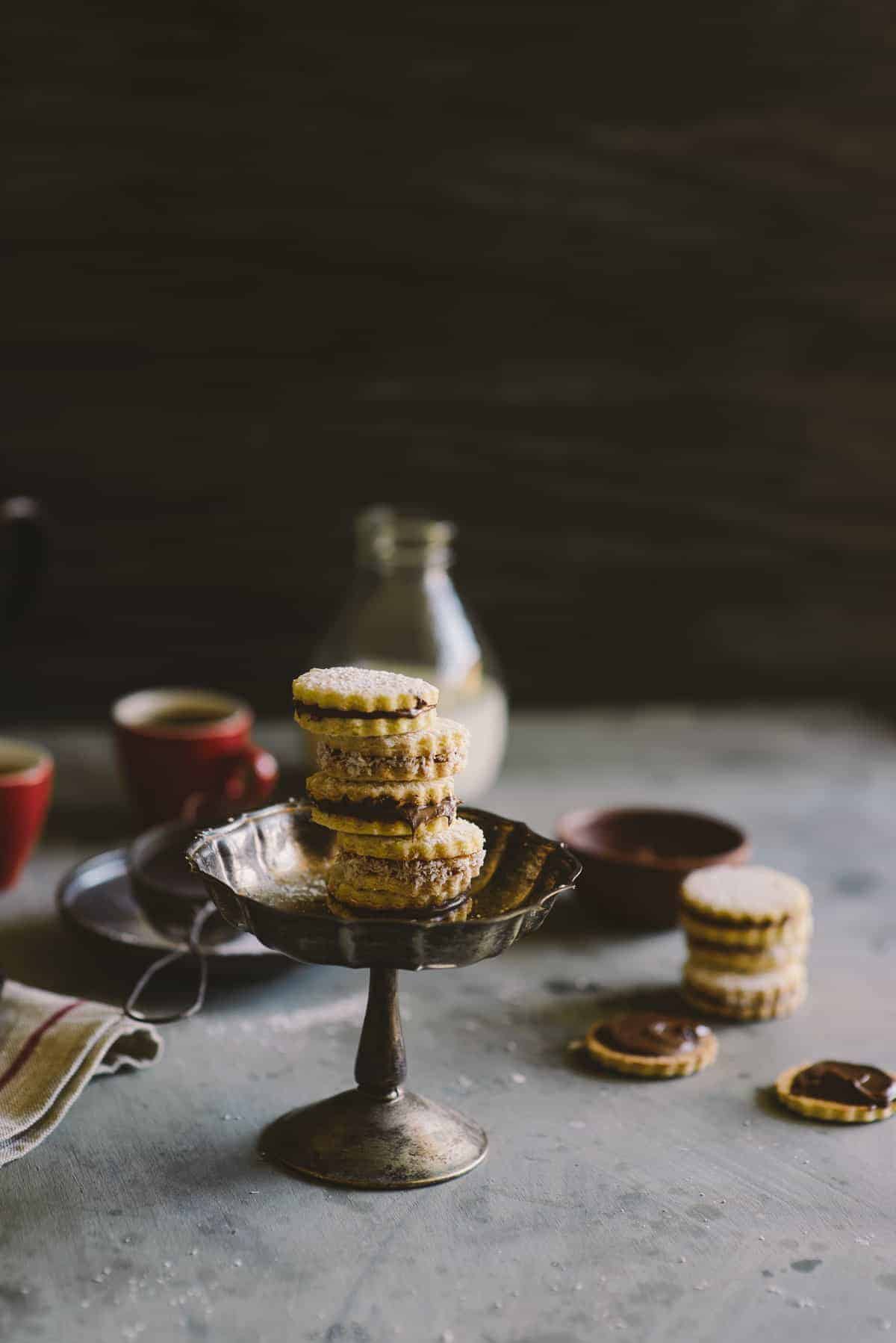 Alfajores are "very easy" to eat and before you know it you'll be joining a support group to stop the cravings! You have been warned!
When I first encountered these gorgeous morsels in Argentina many moons ago I was instantly obsessed. I then discovered they come in a variety of options, including a fully dipped chocolate version. (Sort of like a South American Wagon Wheel).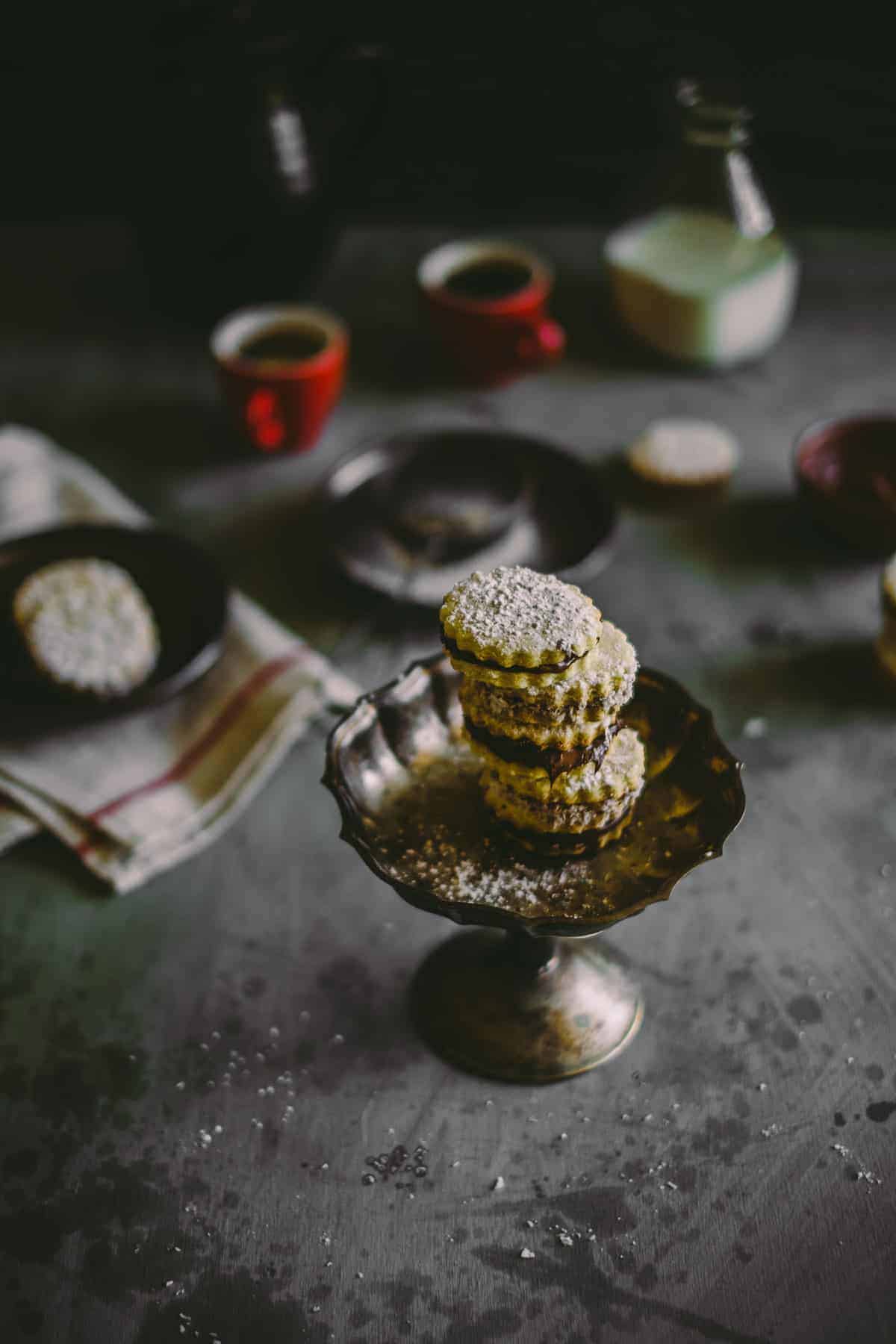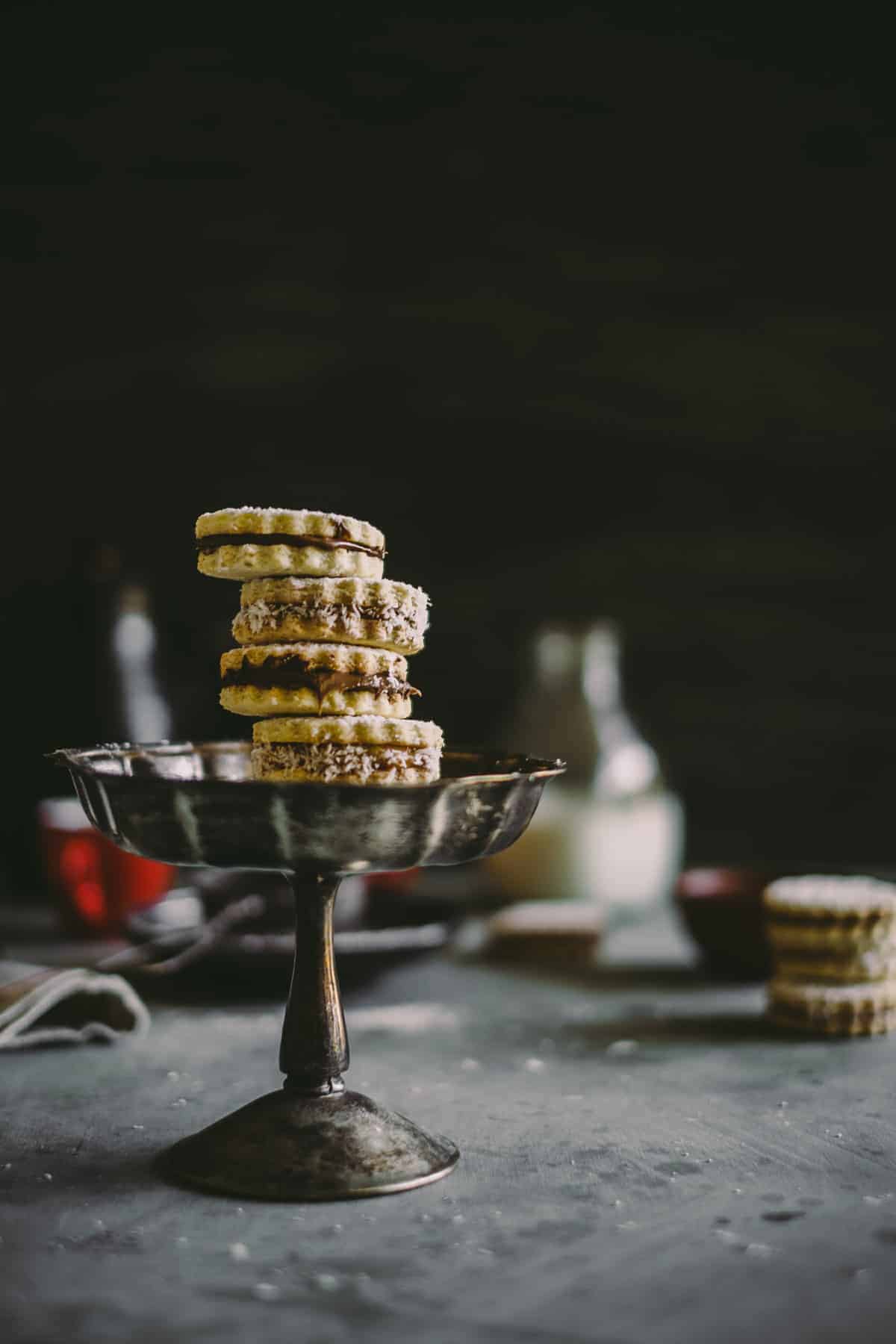 I've stuck to a mostly traditional version today and I am proud to say I even made my very own dulce de leche. Who knew that a can of condensed milk could transform into such a wonderful concoction.
The recipe yielded approx. 80 biscuits so when I sandwiched them together I had 40 alfajores in total.
I was getting a little bored with the dulce de leche (yes…I know!) so I ended up using some Nutella instead which ended up being a wise decision.
Using tapioca flour gave the shortbread a strong toothsome texture. The dough was a little sticky to handle but once it had rested in the fridge it rolled out perfectly.
Even though these two took the better part of a day to make they were absolutely worth it.
Now I have another dilemma on my hands.
What should I do with the leftover Nutella and dulce de leche?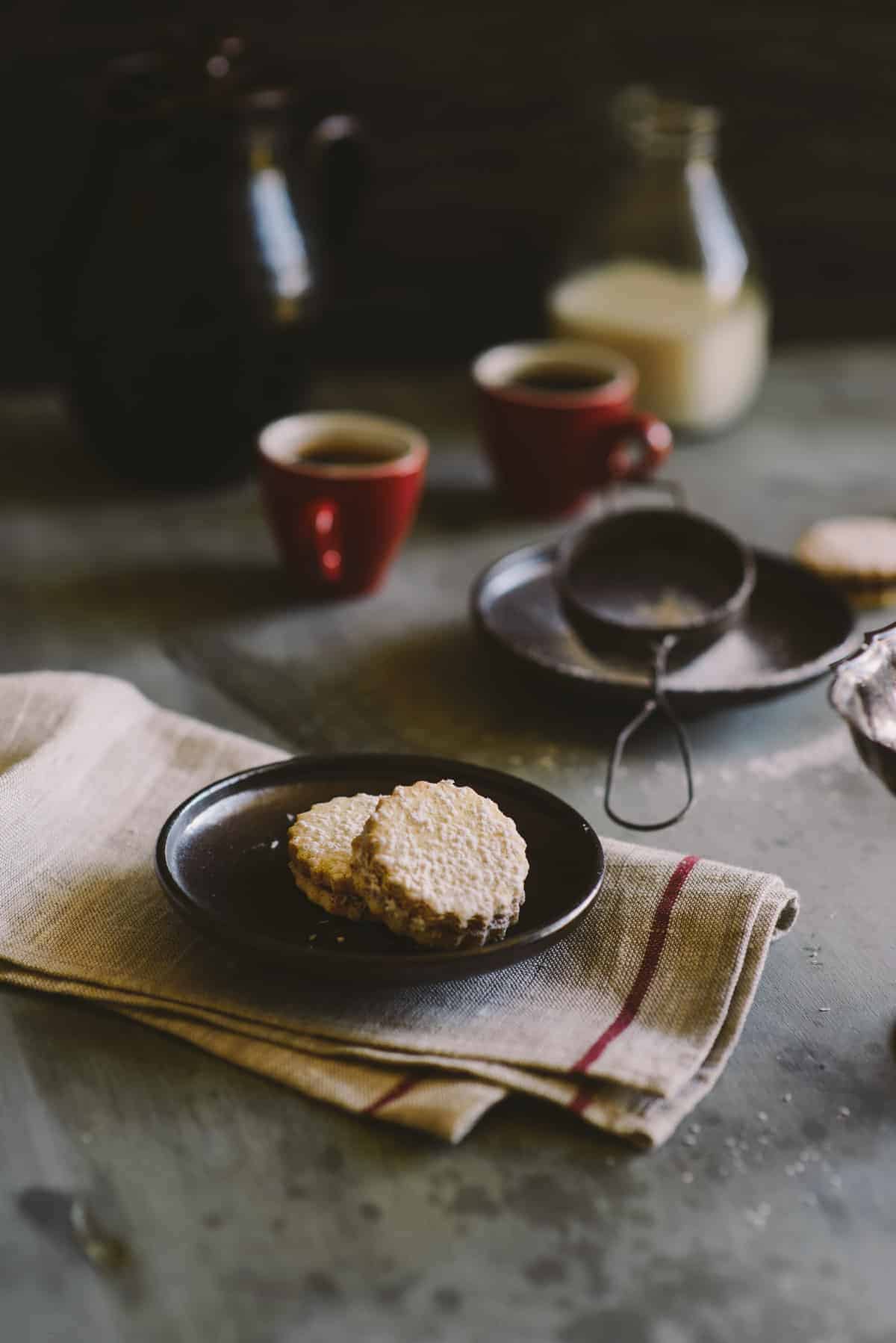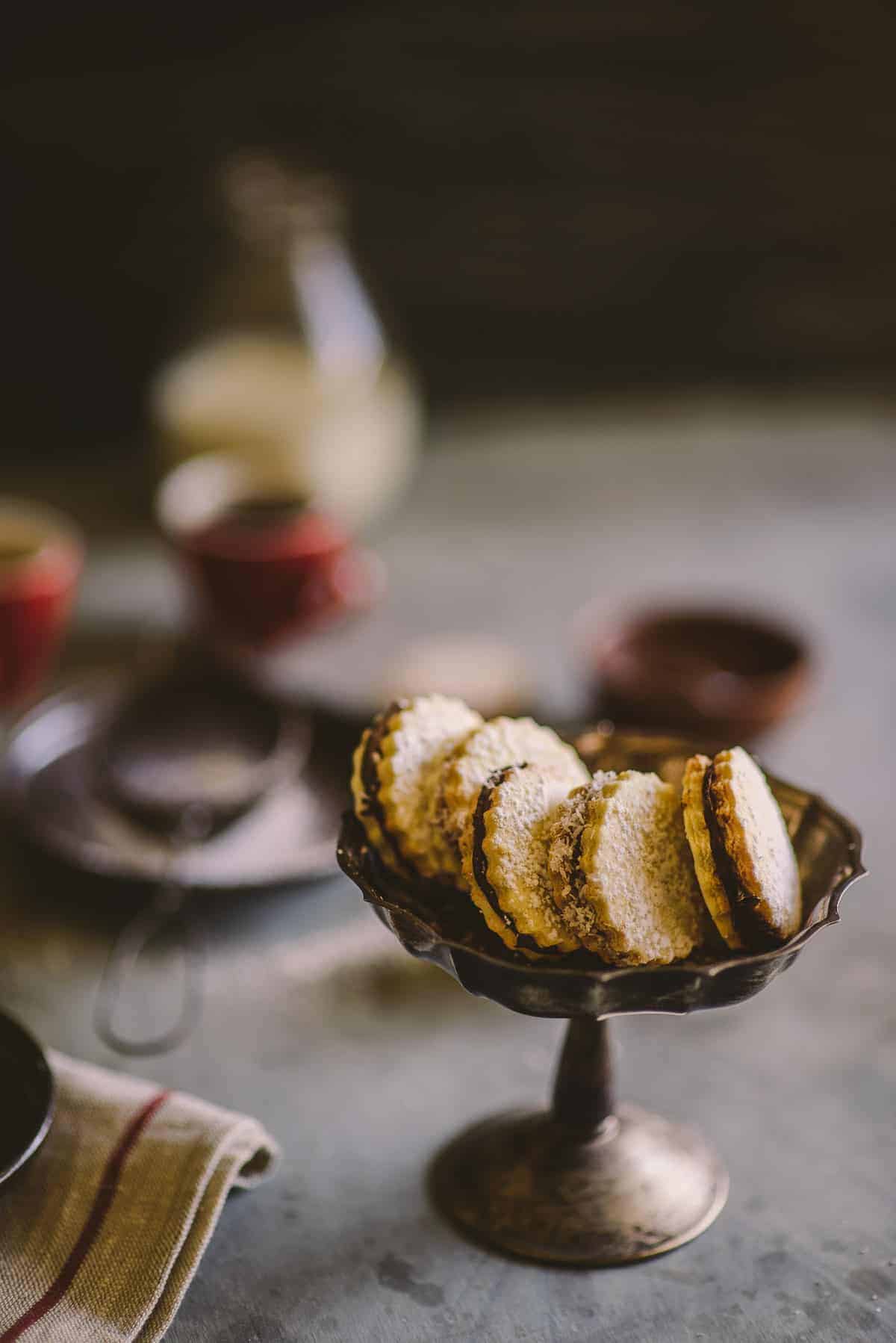 ALFAJORES RECIPE
Recipe was adapted from here
Ingredients:
250 grams unsalted butter, softened and cut into even sized cubes
150 grams caster sugar
2 eggs
1 tsp vanilla essence
300-350 grams tapioca flour
175 grams plain flour
Dulce de leche
Nutella spread
desiccated coconut
Instructions:
Place the butter and sugar in a stand mixer and cream until the butter has become lighter in colour and the sugar is completely dissolved (approx. 3-5 mins).
Add the eggs one at a time until fully incorporated and finally add your vanilla.
Sift 300 grams of the tapioca flour and the plain flour and slowly incorporate it into the batter. Allow it come together to form a smooth dough. If it feels sticky add a little more of the tapioca flour until you have a smooth dough. Wrap in cling film and place in the fridge to rest for 2 hours.
Remove the dough from the fridge, preheat your oven to 180 deg C and line a few trays with baking paper. Divide the dough into four even pieces. Roll out one piece between two sheets of baking paper approx. 1/2 cm thick. Using a 5cm cookie cutter, cut out the alfajores, place on baking tray and cook for 8-10 mins. Allow them to cool completely before using. Repeat with the remaining dough pieces.
To make the alfajores, carefully spread a generous heaped tbsp of dulce de leche on one biscuit and sandwich with another on top. Roll the sides in desiccated coconut for extra enjoyment and dust with icing sugar.
Notes
You can also use Nutella or your favourite chocolate spread to spread between the alfajores.